An aircraft of US-Bangla Airlines from Dhaka to Kathmandu crash landed at Tribhuwan International Airport on Monday. The plane has caught fire after landing. Online Deshsanchar quoting security sources reported that Almost 50 passengers reportedly killed in the crash.  
Security forces and fire-brigade controlled the fire.However,the fire completely destroyed the airplane.  The plane carrying 71 passengers including 4 crew members.
According to Daily Star, thirty passengers were pulled out and rushed to the hospital while the fire-fighters are trying to rescue other remaining passengers, a journalist from Nepal told The Daily Star.

17 years old aircraft was produce in Canada Toronto Downsview (YZD) and Aircraft Type is De Havilland Canada DHC-8-400. The aircraft delivered in April, 2001.
The 76-seated aircraft took off at 12:30pm from Hazrat Shahjalal International Airport in Dhaka with around 70 passengers, said -Bangla airlines' General Manager of Marketing (support) Kamrul Islam.
Contacted over phone, Abdullah al Mamun, managing director of US-Bangla Airlines, told The Daily Star around 3:20pm that they were trying to contact with the control tower of TIA to know what exactly happened to the craft and would inform immediately.
The aircraft with call sign S2-AGU took off from Dhaka and landed at TIA at 2:20 pm.
Tourism Ministry Joint Secretary Suresh Acharya said 17 injured passengers have been rescued and sent to different hospitals for treatment.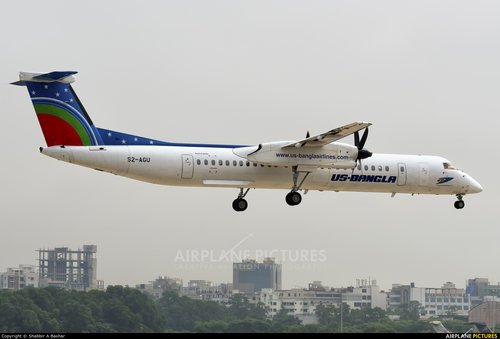 According to TIA spokesperson Prem Nath Thakur, the aircraft caught fire after it careened off the runway during landing and crashed onto a football ground near TIA. The aircraft with call sign S2-AGU took off from Dhaka and landed at TIA at 2:20 pm.

Rescue team of TIA and Nepal Army personnel have been engaged in rescue operation.
Some passengers are brought to hospitals for treatment.The heavy smog covered entire airport.  The plane was coming from Bangladesh capital Dhaka.