The round table meeting unleashing future prospects in sugarcane value chain in Nepal has brought together the major actors of sugarcane value chains to discuss on the current issues, challenges and future prospects of sugarcane industry of Nepal.
The forum has also attempted to voice the grassroots issues at the policy level and attempted to facilitate for a one stop solution by bringing in all the stakeholders at a single forum.
"Through the workshop, we are expecting to accelerate demand driven actions ay the concerned authorities to address the gaps in sugarcane value chain in Nepal and unleash the potential the subsector has," said a press release issued by Practical Action.
Also addressing the program, Kapil Muni Mainali, the President, Nepal Sugarcane Producers Federation mentioned government should take stern and immediate actions to address delayed payment issue to make the sector more vibrant.
 Ram Krishna Rajak, Director, National Sugarcane Research Program including Kamal Kushwaha from Sugar and Sugarcane Development Committee also shed light on government's current efforts for sectoral development to establish Sugarcane Tissue Culture Laboratory and Sugarcane and Sugar Development Board. Raju Shrestha from Shakshyam Program shared their current initiative of receipt payment which has been started in Mahakali Sugar Mills, Kanchanpur.
Dev Das Manandhar, Executive Director, Morang Sugar Mills shared the organization's endeavor towards farm mechanization. Milan Joshi, Project Manager of PPCR project, Practical Action provided highlights of the project and shared his ideas regarding scaling up the climate resilient agriculture farming in other districts of the country.
Nepal has tremendous opportunities in commercial sugarcane farming. However, pertaining to gaps in pricing and payment, availability of improved plant variety and farm mechanization including trade issues, Nepali sugarcane market is unable to flourish. There has always been a tug-of-war amongst the sugarcane farmers and sugar mills as yearly confrontation amongst sugar mills and sugarcane producers' prevail.
 Sugar mills are found to have hold payment for up to three years despite farmers' regular complaints to authorities including Prime Minister's Office, Agriculture Minister and Chief Secretary2
Though Nepal Agricultural Research Council (NARC) Sugarcane Research Program has been mandated the state agriculture research wing has remained unable to introduce new plant varieties since decades. The sector has certainly seen a paradigm shift due to technologies like Ratoon Management Device and harvester in few places of Sunsari, which is a major sugarcane production pocket of Nepal. Nevertheless, complete farm mechanisation has still a long way to go.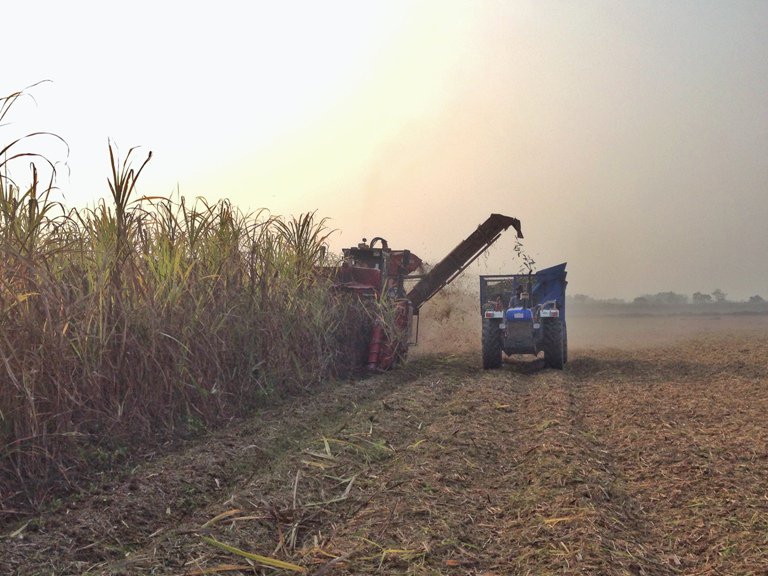 At the trade level, India has recently scrapped 20 per cent sugar export tax to boost overseas sales of the product amid surplus production, the decision which is expected to further push down sugar price in the country and make domestic produce price marred by uncompetitiveness .
Similarly, Sugar import from Pakistan has been increasing in recent months after the Pakistani government, in October, approved a cash freight subsidy of Rs 10.7 per kg on sugar to bridge the gap between domestic and global sugar prices, making Pakistani sugar cheaper.