For many Nepalese politicians, Bijaya Niwas, a house just opposite to TU Teaching Hospital is not a strange name. From this house, a part of Laxmi Niwas, a resident of his grandfather and last Rana Prime Minister Mohan Sumsher Rana, used to issue decrees and orders.

On March 24, as I entered, along with my British intern, for his interview, there was still a rush of his political workers at the courtyard.  From this house, late Bijaya Sumsher Rana, father of Pashupati Sumsher Rana, negotiated in 1951 and ushered a new democratic era and end of 104 years of Rana Oligarchy. From the same home, Pashupati Sumsher Rana negotiated with Nepali Congress and Seven Party Communist Alliance to end the 30 years old Panchayat regime in 1990.
With the recent election debacle of his party, Bijaya Niwas is gradually losing the political charm it had. However, Bijaya Niwas can still reveal many hidden incidents of the modern history of Nepal.
If he wishes, Pashupati Sumsher Rana, an Oxford graduate, can make it. "I am writing a book, but I cannot say when it will complete," said Rana, who is also known to have a wide knowledge of water resource negotiations as he was part of several delegations.
His great-grandfather Rana Prime Minister Chandra Sumsher Rana signed the first water-sharing agreement with British India on Sharada Agreement on 23 August 1920. What a coincidence, when Nepal and India signed Mahakali Integrated Treaty in 1997 Pashupati Sumsher Rana, the great-grandson of Chandra Sumsher Rana, was the minister for Water Resources and tabled the agreement for ratification of the treaty by a two-thirds majority of the parliament.
As his father late Bijaya Sumsher Rana negotiated the end of the Rana rule in 1950, Pashupati Sumsher Rana negotiated the end of the Panchayat political system in 1990, with whom he had been associated since 1975.
When his father was accidentally electrocuted in his bath at the Nepalese Embassy, New Delhi, 29th December 1953, Rana was just 12 years old. He stayed a few years with his grandfather in Bangalore and later moved to England for study.
Rana was completely cut off from Nepal for almost a decade. When he started to visit Nepal, he was attracted to stay here and make the country his destiny. His contacts were very few when Rana used to visit Nepal in vacation from London. Among others, he always paid a visit to Prabhakar Sumsher Rana, who is also an asset of the history of Nepal.
Former speaker of House of Representatives and leader of Nepali Congress Tarannath Ranabhat, who negotiated with the team led by Rana in 1990, still holds a high regard for the negotiations skill of Rana.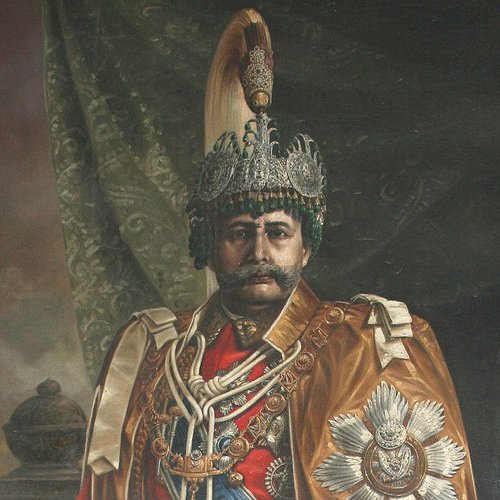 "Rana handled the power-sharing agreement very well at a tense situation in Royal Nepal Academy. Had not Rana convinced King Birendra, there would likely be bloodshed," said Ranabhat.
Late Sardar Bhim Bahadur Pande in his book Tes Bhakhatko Nepal ( Nepal Of That Period) described brilliant diplomatic skills and knowledge of Late Bijaya Sumsher Rana, who was heading Nepal's foreign affairs when Nepal signed the 1950's Peace and Friendship Treaty with India.
Although Nepal's communists and rightists denounce the 1950 Nepal-India Peace and Friendship Treaty as unequal, this is a treaty under which India recognizes Nepal as an independent and sovereign country, giving it an equal status.
Former Minister Rana defends Mahakali Integrated Treaty as a milestone in water sharing between Nepal and India on an equal basis. However, there is a group of people, who describe this treaty as a blunder.
Completing Masters from Patna and Calcutta Universities, Bijaya SJB Rana led a number of Nepali Delegations in the international arena and established Nepal's independent status. He was the leader of Nepalese delegation to Afro-Asian Relations Conference held at New Delhi in 1946. During his tenure as the director general of Foreign Affairs between 1950 and 1951, late Rana played a crucial role.  He also served as a Nepalese ambassador to India from 1951 to 1953.
Born on 7th May 1941, Pashupati SJB Bahadur Rana was educated in  Bishop Cotton Sch,  Simla, Haileybury, and New Coll, Oxford Univ. (BA). Founder and Executive Director of Centre for Economic Development and Administration (CEDA) 1969-1973, Rana also served as Rastriya Panchayat member from 1975-1989. With a vast knowledge and experience of Nepal's politics, economic, development, and water resources, Rana also served as a minister in important portfolios of Nepal.
Author of "Nepal in Perspective" and "Bikas Tatha Yojana," Rana married to Rani Usha Raje Rana, daughter of Maharaja Scindia of Gwalior and mother Vijaya Raja Bai Sahiba. Although Rani Usha Raje Rana never came to the forefront of politics of Rana, she is said to be a key player in politics of Sindhupalchwok.
Pashupati SJB Rana is a politician from Rana dynasty. He led the Ministry of Foreign Affairs, Ministry of Finance, Ministry of Water Resources and Communication after the Panchayat era.
Unlike other Ranas of his age, who even enjoyed playing golf and other sports, Pashupati SJB Rana still enjoys articulating the issues of his people or people from Sindhupalchwok. As a leader of RPP Democratic, Rana also has to listen to hundreds of cadres about the fading role of his party in Nepali politics.  Although his party did not secure any seat, Rana has not lost his hope and holds the view that his party will perform better in coming elections.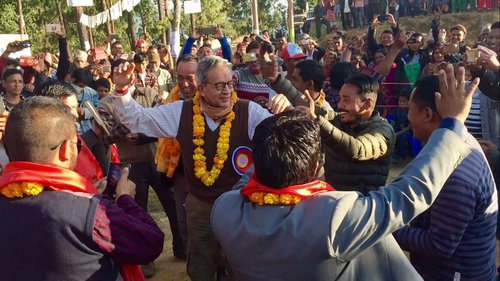 At a time when Nepalese politics is full of politicians with third and last benchers, starting their political career with violent and street demonstrations, Rana is a cream of politicians with vast knowledge of books and first-hand experiences of last six decades of Nepal's politics. 
His grandfather Mohan Sumsher and father Bijaya Sumsher had made great contributions to liberalize Nepal's social and political system and he himself has played a prominent role. The time has come people know him better.