KOICA in coordination with Trisuli Hospital Nuwakot organized the ground breaking ceremony of the Trisuli Hospital building being supported by the Korean government on Tuesday 24 April 2018. The Korean Ambassador to Nepal Park, Young-sik and Honorable State Minister of Health and Population Padma Kumari Aryal jointly conducted sand sable-ing to mark the ground breaking ceremony at the hospital construction site. The ceremony was briefly addressed by various high level dignitaries including UNDP Deputy Country Director, Mayor of Bidur Municipality, Central district Officer, Medical Superintendent and Chairman of Trisuli Hospital.

The brief ceremony was accompanied by authorities of local government agencies of Nuwakot, implementing partners (GNI, GIZ) and local beneficiaries.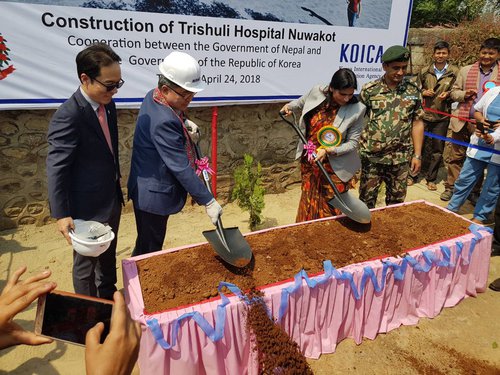 Similarly, the Belkot Health Post was inaugurated by State Minister for Health and Population Padma Kumari Aryal, Korean Ambassador Park, Young-Sik, UNDP Deputy Country Director Sophie Kemkhadze, KOICA Country Director Dr Kim Hyungkyoo and Mayor of Belkot Municipality.
According to press release issued by KOICA, the Memorandum of Understanding (MOU) on the project "Post-Disaster health Service Recovery Program in Nuwakot District" was signed on 14 September 2016 between the Government of Republic of Korea (GOK) and Government of Nepal (GON). The project worth of USD 8.6 million will construct a 50 bedded Trisuli hospital building in Bidur Nuwakot and 10 health posts in villages of Nuwakot.
Apart from the post-disaster reconstruction program in Nuwakot, KOICA has been supporting the Government of Nepal in the area of Health, Education and Agriculture and Capacity building of Human resources.