Indian government has unilaterally imposed provision to restrict the free mobility of Nepalese citizens entering India through certain countries. This decision has come out on the eve of the visit of Indian Prime Minister Narendra Modi to Nepal.
As per the recent requirement of Ministry of Home Affairs of India, a citizen of Nepal and Bhutan must have visa if she or he is entering India from China, Hon Kong, Macau Pakistan and Maldives. Hence it is clarified that no airlines shall bring Nepalese and Bhutanese national on their way from those countries without Indian visa.
In its letter on April 23, Air India instructed to concerned airlines about this new provision. According to a leading Nepalese online Deshsanchar.Com, India introduced identity card since hijacking of Indian Airlines in 1999 to citizens of both the countries. Indian immigration office also has started to stamp Passport of Nepalese citizens since the last five years.
"Failure to comply with these instructions would imply that the airlines have brought the passengers without visa and accordingly. In such cases, provisions of Carrier Liability Act would also be imposed upon the defaulting carriers," said a letter.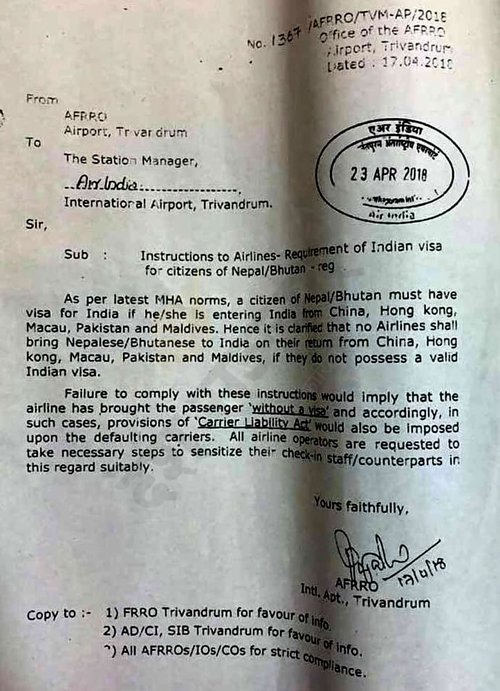 All operating airlines are requested to take necessary steps to sensitize their check-in staffs and counterparts in this regard suitably.