As soon as CPN-UML leaders and Maoist Center leaders applied for registration of a new party at Election Commission, four decades old CPN-UML and two decades old CPN-Maoist were formally dissolved, paving the way for a new party with new ideology and new leadership at the helm.
Although the decision of merger was very accidental and surprising for many including CPN-UML leaders, as both the parties do not share many things in common, Nepal has a history of events happening accidentally but regularly. The unification of two ideologically hostile parties is also part of the series of events.
Nepal's recent political development is also strange in the regional political context as well. At a time rightist political force under the leadership of Prime Minister Narnedra Modi is gaining his strength all over India, communists are gaining strength in Nepal. Interestingly, the announcement of unification of communist parties has taken place just a week after the religious visit of Prime Minister Modi to Nepal.
"I had not thought that our two parties would unite so quickly," wrote Kamal Koirala, senior CPN-UML leader and son of former prime minister late Matrika Prasad Koirala, on his Facebook wall.
In the history of Nepali politics, there are many impossible events that have turned into reality. Nepali Congress, Nepal's oldest liberal democratic party, giving all its political ideology, launched agitation jointly with extreme and moderate communist parties against Panchayat regime in 1990.
Just a decade later, Nepali Congress and all other communist parties, including the Maoists launched a joint agitation to overthrow monarchy and established Nepal as Federal Republic state. After earthquake, Nepali Congress backed two communist factions to promulgate the current constitution, which is against the spirit of liberal democracy.
Just a year ago, Maoist Center and Nepali Congress jointly contested local elections against CPN-UML. All these political events were unimaginable for many. However, all the events as they unfolded looked like regular phenomenon of Nepalese politics.
PM Oli and Prachanda: Two In one
After the dissolution of two communist parties, Maoist Center leader Pushpa Kamal Dahal and prime minister K.P. Sharma Oli are two main winners. With the mandate to continue for two years as co-chair, these two are likely to rule the party in a decree as they decide.
Strategically Maoist leader Prachanda, who was unable to wipe out CPN-UML in his decade long armed struggle and the three elections, is a main beneficiary as he is able to constitute a new party dissolving the largest communist party with strength and structure.
Prachanda has also found opportunities to lead underground communist party as a rebel leader in a bloody civil war and finally secured the co-chair of a largest communist party of Nepal in electoral politics.
With his politically cunning nature, co-chair Prachanda will now slowly move to dismantle the UML's old structure. He needs to dismantle all of them to establish his leadership in the new party.
For PM Oli, who has shown that power is the only way in politics, the unification gives stability to run the country for at least two years as he wishes. As Prime Minister Oli has already achieved what he aspired as an individual political leader, he has nothing to lose individually.
"Pushpa Lal Shrestha would be happy today to see his dream of one strong communist party ruling the nation with comfortable majority being realized and now we have achieved that," said Prime Minister Oli. "The unification will now help government to achieve the goal of prosperous Nepal."
Maoist Gain over UML's Strength
With well organized party structures and party management, CPN-UML is like corporate party with everything under it. CPN-UML has a wide network throughout the country in all the sectors including NGOs, Civil Service, business transport, farmers and various social groups.
With its strong base in school teachers, with almost 200,000 memberships, CPN-UML's organizational strength reaches at the lowest level of village and it has a good influence in the hill dominated middleclass with anti-Indian radical nationalistic orientation.
Establishing as a party reaching all different sectors of society and resources required to run organizational set up, CPN-UML is strong in competitive politics of Nepal. CPN-UML leaders were able to retain their strength even during 10 years old Maoist violence. Although they suffered badly in the first elections of Constituent Assembly in 2008 reaching to the third position, they recovered their position pushing Maoists in the third position.
In the local and national elections, CPN-UML again proved its strength winning the elections in all the seven provinces and national parliament. With equal status as co-chairman of the party, Maoist leader Prachanda will play a crucial role within the divided house of UML. Taking the decision after meeting with CPN-UML leader Madhav Kumar Nepal, Dahal has already shown his way of playing politics in new party.
Politically, the unification gives a lion's share to Maoist Center, which is virtually at the state of losing its ideological base with most of its rebel cadres joining new Maoist Party led by Netra Bikram Chand Biplab. Senior and revolutionary leaders who were with Prachanda are now with Mohan Vaidya. Ideologue Dr. Baburam Bhattarai is leading his own party leaving Maoist. So, unification was Prachanda's wish.
Getting over 45 percent of position in the central committee and standing committee in the unified party, Maoist Center leaders have gained as much as their own strength.  
Given the costly elections and losing its own identity, Maoist Center leaders are likely to gain much more in unified communist with CPN-UML than contesting the elections on their own.
CPN-UML's Gain
Although CPN-UML has given a lot more than Maoist Center, the unification has also strengthened the position of Prime Minister K.P. Sharma Oli. With the unification, Prime Minister Oli's government is stronger now.
Despite giving almost equal numbers of executive positions to Maoist Center, Prime Minister Oli is the kingmaker in the party as a co-chair. For coming two years till holding the general convention, Prime Minister Oli's only challenge is to keep Prachanda in good humor.
Proving as a man of command in the leadership forcing all CPN-UML's leaders to agree on his proposal for unification, prime minister Oli has shown that he can dictate his terms in the party.
Although there is a certain disenchantment within the party, prime minister Oli has completely sidelined those who are against his decision to unify the party. For senior leaders of CPN-UML, Oli seems to have thought the positions.
Challenges Ahead
Although officially two communist parties got united, the unification of the party up to the grass root level is not easy. The forthcoming general convention, which it is agreed, will be held within two years, and it will choose the leaders of the party. In that process, the main political tussle is likely to focus on controlling the grass root level organizations.
The decision to allocate the number of members at the district and provincial level is yet to be taken. Grass root levels will have to see more political tussle.  Groomed in Maoist and Leninist ideology, Maoist Center cadres are more aggressive and oriented by violence than CPN-UML.
Before completing the total unification of the party, CPN-UML and Maoist center will likely face much turmoil generated by the internal dissentions and disenchantments. According to the Prime Minister Oli, the committees in all levels will be unified within three months.
"Six months back people did not believe that a unified party would take shape, the credit of this unification goes to our voters, cadres, well wishers and all the people who want Nepal as a prosperous nation, not just to leadership of two parties," said PM Oli, co-chair of Nepal Communist Party,
 "Now there will be no UML or Maoist Centre, we are Nepal Communist Party and there will be no issues among the leaders of the unified party," thundered Dahal.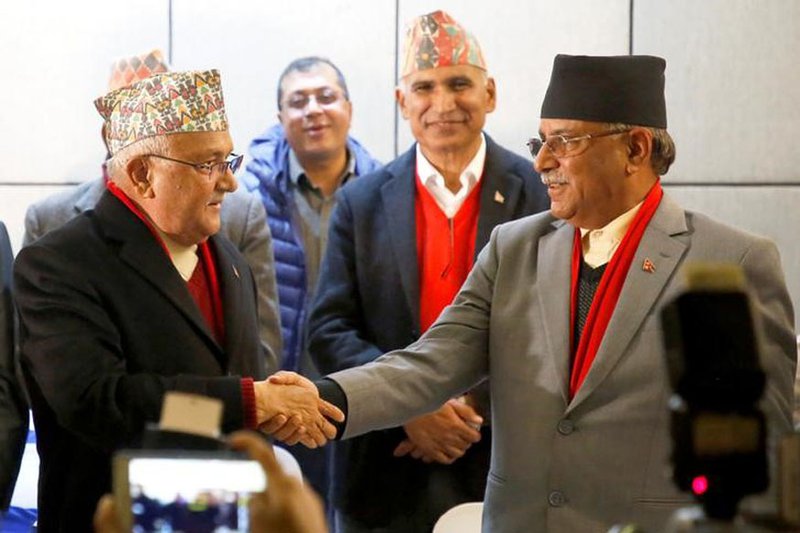 Dissolution of Mother Party
The date of unification was also significant. They declared the dissolution of old party on 25th Madan-Ashrit Memorial Day. After a decision of unification, Nepal Communist Party-UML which was constituted by Madan Bhandary and Jeev Raj Ashrit was dissolved.
According to the agreement, the new party will be guided ideologically by the philosophy of Marxist –Leninist and on political line, People's Democracy will be adopted and leadership of the new party will be shared alternatively. The new party will have 441-member central committee (241 members from the UML and 200 from the Maoist Center).
Likewise, it will have a 43-member standing committee with 25 representatives from the UML and 18 from the Maoist Centre. The party will have 'Sun' as its electoral symbol, the one the UML has been using for long.
Registered at Election Commission
Following a decision to unite, CPN-UML Chair KP Sharma Oli and CPN (Maoist Centre) Chair Pushpa Kamal Dahal went to the Election Commission and filed an application for registration of the 'Communist Party of Nepal'.
They told the EC that the two parties have become one; hence the registration was for a new unified party called Communist Party of Nepal. UML Chair and Prime Minister Oli said, "We have come for the official recognition with the formation of a joint central committee," he said.
Maoist Centre Chair Dahal said the new party was being registered as per the democratic procedure to forge a unity between the two parties. The commitment made before the people for unity for development and prosperity of the nation.
Although there is a jubilant mood in certain sections, how the dissolution of two major communist parties and emergence of new communist parties will bring stability to the country is still to be seen. However, CPN-UML, Nepal's largest and strong communist party is moving from stable and strong path to uncertain and rough course.
Inner Pages E-copy 2-38 inner may 2nd final.pdf