As Nepal and Israel complete 58 years of establishment of diplomatic ties, he Embassy of Israel, handed over some historic photographs of late BP Koirala, the first elected Prime Minister of Nepal, during his visit to Israel in 1960 to BP Museum at Sundarijal. Nepal and Israel established diplomatic relations on 1 June 1960.

 Marking this historic day, on 01 June 2018, the Embassy of Israel, handed over some historic photographs of late BP Koirala, the first elected Prime Minister of Nepal, during his visit to Israel in 1960 to BP Museum at Sundarijal. While handing over Benny Omer, Ambassador of Israel to Nepal, said, 'Israel will always remember and deeply appreciate the visionary contribution of late BP Koirala and other leaders of Nepal to establish diplomatic relations with Israel, at the time when Israel was struggling to stand as a nation. I hope that such gestures of friendship and solidarity will continue in the future as well'.
 While welcoming Ambassador Benny Omer and the Embassy team, the Chairperson of B.P. Museum Parasuram Pokharel highlighted courageous decision taken by B.P. Koirala to established relations with Israel despite pressures from within home and international communities and said "Nepal-Israel relations was established 58 years ago and since then both are enjoying friendly and productive bilateral relations in many fields."
 Ambassador Benny Omer and Mrs. Tal Omer paid a tribute to B.P. Koirala and planted a Camphor tree in the museum premises to mark this day.
 Nepal was the first country in South Asia to recognize Israel as a State. Two men with extraordinary visions and respect for their countries and their peoples, late BP Koirala and late David Ben-Gurion, both the then Prime Ministers of their respective countries, were able to see this friendship standing strong to this present time. Soon after the establishment of the ties, BP Koirala paid a state visit to Israel in August1960 and also addressed the Conference on the Role of Science in the advancement of New States.
 "Since then, the two countries have been enjoying deep friendship, which is being demonstrated by many high level visits and undertaking of numerous mutually benefitting cooperation. Apart from government level visits, both countries have seen business groups traveling for potential economic collaborations. Nepal is one of the most loved travel destinations for young Israelis and around 10,000travel enthusiasts come to Nepal every year to enjoy the beauty of the country," said a press release issued by Embassy of Israel.
 Israel is also known as a start-up nation and is one of the pioneers in the development of technologies. It shares its expertise learned in the course of its development with friendly nations in many fields through MASHAV (Israel's Agency for International Development Cooperation). Till date around 3,500 Nepalese have been trained in various courses in Israel. In an average, 35 officials from different professional backgrounds (affiliated with government as well as non-governmental organization) go to Israel every year to participate in the trainings. The number of trainees participating in on-the-spot training conducted by Israeli experts in Nepal nears the total number of participants trained in Israel.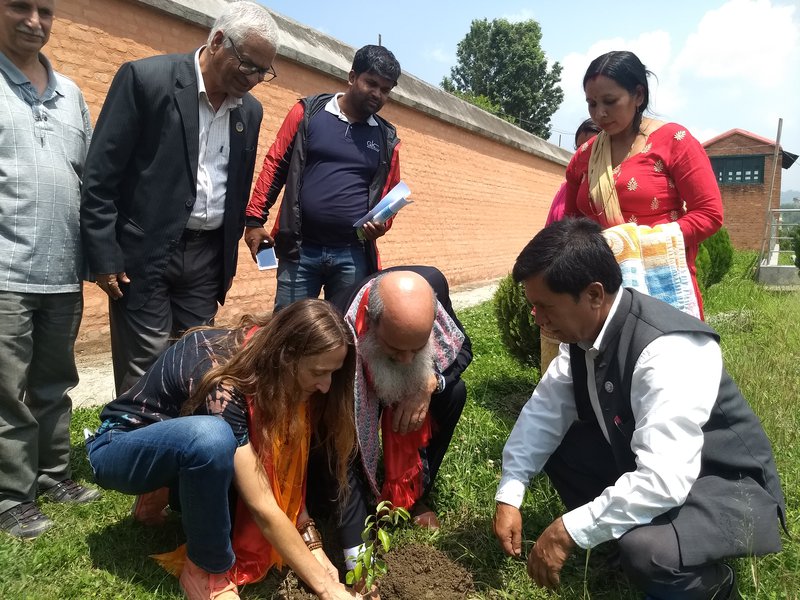 Many Nepalese, especially women, are working in Israel as caregivers and they are very much appreciated for their dedication and caring for the elderly people by their families.
 The Embassy has joined hands with Sana Kisan Bikas Bank Ltd. (SKBBL), to send the youths from marginalized and underprivileged farmers associated within the networks of Small Farmers Agricultural Cooperative Ltd. (SFACL) for study and training program in Israel known as'Learn and Earn'in the field of agriculture. SKBBL selects students from among SFACL's7-lakh member families extended to68 districts. Every year, since 2013 more than 500 students have been trained in different agricultural fields. The students returned from Israel are presenting themselves as role model farmers in their communities and contributing in Nepal's agricultural sector development.
 "Nepal and Israel are working together to further strengthen this already strong bond of friendship not only at government to government level but also at people to people level," said a press release.