Two Health Posts supported by the Korean Government were inaugurated in Nuwakot District on June 8, 2018. Ratomate Health Post was inaugurated by Rajendra Raman Khanal, Mayor, Belkot Municipality and Charghare Health Post was inaugurated by Sanju Pandit, Mayor, Bidur Municipality. The inauguration and handover ceremony was witnessed by Ramesh Adhikari, Chief Administrator, MoHP, KOICA Country Director Dr Kim Hyungkyoo, Basant Adhikari, DPHO Nuwakot, Renaud Meyer, UNDP CD, Min Ho Choi, GNI CD.  KOICA constructed Health Posts and supplied necessary medical equipment with an objective to recover the public health service in Nuwakot District by reconstructing health facilities and normalizing health services.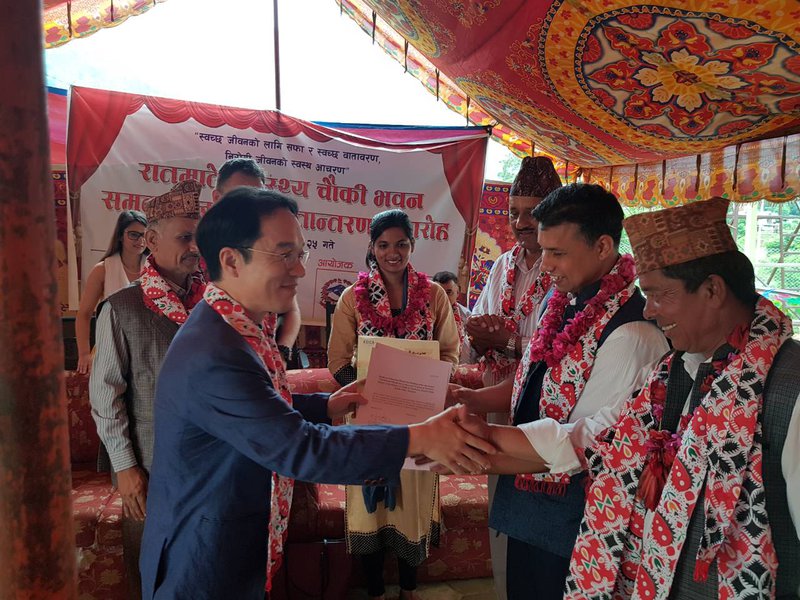 According to press release issued by KOICA, the project "Post-Disaster health Service Recovery Program in Nuwakot District" was signed on 14 September 2016 between the Government of Republic of Korea (GOK) and Government of Nepal (GON). The project worth of USD 8.6 million will construct a 50 bedded Trisuli hospital building in Bidur Nuwakot and 10 health posts in villages of Nuwakot. KOICA has handed over 3 Health Posts and started the construction of Trishuli district Hospital. Along with this KOICA has carried out various public health programs focusing on women health through GNI and Health Information Management System (HIMS) of entire Nuwakot District through GIZ. KOICA partnered with UNDP for site preparation and eventually for construction of 10 Health Posts.
Apart from the post-disaster reconstruction program in Nuwakot, KOICA has been supporting the Government of Nepal in the area of Health, Education and Agriculture and Capacity building of Human resources.