Day 6 of World Cup 2018 is done, headlined by Russia's 3-1 thrashing of Egypt, which gives the host nation six points and brings it to the cusp of a place in the knockout stage. The headliner was preceded by a pair of notable victories: Japan's historic 2-1 win over Colombia (for reasons explained below), and Senegal's 2-1 win over Poland, which was the first victory by an African team in the tournament.
Japan-Colombia Had The Biggest Momentum
With their 2-1 victory, the Samurai Blue became the first Asian team ever to beat a South American team at the men's World Cup. The talking points added up quickly from the start: Colombia's Carlos Sánchez got sent off for a deliberate goal-denying handball in the third minute–the second-fastest red card in World Cup history–and Japan took an early 1-0 advantage.
Then, Colombia picked up its game despite having just 10 men. Then, Los Cafeteros equalized on Juan Quintero's free kick (hit under the wall!) that came after a phantom Japanese foul. Then, Japan rallied in the second half and Yuya Osako scored the game-winner. Colombia coach José Pekerman was daring in his substitutions—it's rarely to see a team at a man disadvantage make such attack-minded changes—but Colombia actually played worse once James Rodríguez, who was nursing a calf injury, came onto the field just before the hour mark.
Still, you get the feeling that with group favorites Colombia and Poland losing their first games, there are going to be more momentum swings in this group as the tournament progresses.
Host Russia Leading
Every nation has now played at least once in Russia, where there has yet to be a scoreless draw, though there have been five own goals and a number of VAR interventions.
The host Russians slammed Egypt 3-1 in Saint Petersburg and all but clinched a berth in the round of 16. That was the minimum goal for "success" for the home team, but nobody predicted that the Russians would run rampant over their first two opponents.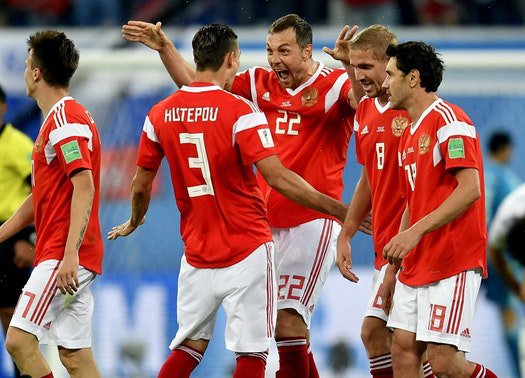 In hindsight, the injury that caused Alan Dzagoev to come off early in Game 1 was one of the best things that could have happened to Russia. His replacement, Denis Cheryshev, has scored three goals in two games and was Russia's brightest player on Tuesday. Russia was winless in seven matches entering the World Cup and had not won a match since last October, but none of that matters now.
In fact, winning the group is even a possibility if Russia can get a result against Uruguay in Group A's Matchday 3. Unbelievable.
Mohamed Salah had a transcendent season with Liverpool, inspiring soccer fans around the world and causing people to paint his smiling face on buildings from Cairo to New York City. His joy was absolutely infectious. That's why it's awful that Salah has had to deal with so many difficulties over the past month.
Salah scored on a penalty to pull Egypt within 3-1 with 17 minutes to go, but it was hard to smile at that point. I hope Smiling Mo Salah Face comes back soon with Liverpool.
Senegal Made It
Coach Aliou Cissé was on the last Senegal team to make the World Cup—the one that upset France and reached the quarterfinals—and his current team picked up where the '02 heroes left off with a 2-1 victory over favored Poland.
Yes, the decisive goal came off a truly strange play, in which the fourth official allowed Mbaye Niang to re-enter the game and run onto a pass before splitting the Polish defenders who were confused about his presence on the field. But the Senegalese were deserving of the three points in the end. They kept Polish superstar Robert Lewandowski from making a significant impact on the game and delivered just the second loss for a European team so far at Russia 2018.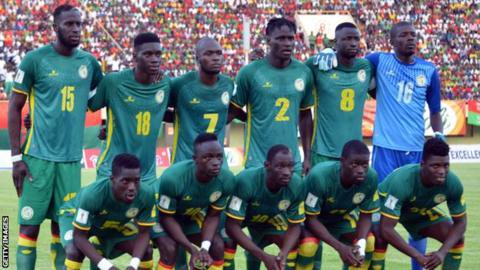 That Senegal won without a huge contribution from star Sadio Mané showed that the West Africans have solid contributors besides the Liverpool forward.