BRAZIL has moved into the top eight after a 2-0 victory over a courageous Mexican pack in the round of 16.
Superstar Neymar again drew a mixed reception with the Brazilian gun accused of diving. Neymar kicked off the scoring early in the second half after cleaning up a perfect cross from Willian and later set up Roberto Firmino in front of goal to double the score and seal the deal.
Mexico coach Juan Carlos Osorio hit out at Italian referee Gianluca Rocchi's handling of its 2-0 World Cup quarter-final loss to Brazil, claiming Neymar play-acted.
Neymar broke the deadlock with a 51st minute opener at Samara Arena and set up Roberto Firmino for a late second.
But tensions flared following a tussle with midfielder Miguel Layun as Mexico battled to stay in the tournament.
Brazil coach Tite said Layun had "stepped" on Neymar.
But Neymar's exaggerated reaction — the player dramatically writhed on the turf after Layun approached him — suggested a repeat of the play-acting that marred his play in the group phase.
The 56-year-old Osorio refused to identify Neymar by name following the defeat but claimed the play-acting, and the ensuing delays in play, had been badly handed by Rocchi.
"I think it's a shame for football," said Osorio. "We wasted a lot of time because of one single player … we lost our style in the second half, because of the referee.
"There were too many stoppages and my players got more and more tired of that situation. At one point there was a four-minute stoppage.
"I think this is a very bad example for the world and the world of football."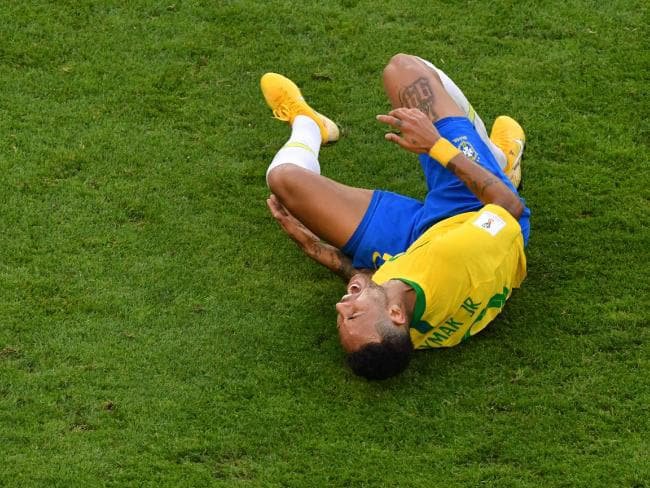 Neymar, voted man-of-the-match, was stopped by Tite afterwards as he was about to reply to reporters' demands to clarify the incident. Tite was adamant: "They stepped on him. I saw it on the screen." Neymar attempted to play down the incident.
"Look, I think it's more an attempt to undermine me than anything else," said the Brazilian. "I don't care much for criticism, or praise, because this can influence your attitude.
"In the last two matches I didn't talk to the press because I don't want to I just have to play, help my teammates, help my team.
"I'm here to win. I can always improve. Today I feel much better and I'm very happy for this win."
A series of shock upsets have rocked the 2018 World Cup to its core and Japan looked like adding another to the tally as it went up 2-0 early in the second half against Belgium.
But Belgium launched a stunning comeback that culminated in Nacer Chadli scoring the winner with the last kick of the game to win 3-2.
There were almost no words to describe the stunning scenes the world witnessed as Belgium pulled off the most remarkable comeback of the World Cup to break Japanese hearts in the final seconds of extra time.
Down 2-0 after Japan's breathtaking ambush early in the second half, it looked like Belgium would become the latest victim in a tournament that's been full of upsets. Ranked 61st coming into the World Cup, Japan seemingly had no right to test the third-ranked Belgium, but it provided the mother of all scares.
Facing a two-goal deficit, the favourites clawed one back when Japan failed to clear its line with 20 minutes remaining. Jan Vertonghen pulled off an astonishing — albeit probably accidental — long range header from an acute angle that somehow lobbed over the keeper and made it 2-1 with 20 minutes remaining.
"Vertonghen was having a horrible match until he somehow conjured up the most fortunate goal you have ever seen in your life," SBS football analyst Craig Foster said. "He tried to head the ball back across and it got in the goal."
Five minutes later it was substitute Marouane Fellaini's turn to lift Belgian spirits. After Eden Hazard turned his defender he whipped in a cross from the left and the big striker jumped above the pack to head home an equaliser and send the stadium into raptures.
"Everybody around me in my commentary position is open-mouthed, shaking their heads and clapping hands," the commentator said.
The craziness continued when Japan's shot-stopper Eiji Kawashima was forced to make two diving saves within a few seconds as Belgium stormed home in a desperate bid to find a winner.
But Japan had its chances to regain the lead too as Belgium slacked off without the ball. Keisuke Honda's ambitious free kick from more than 35m out was a pearler and forced Thibaut Courtois into a brilliant save as he tipped the ball past the post.
Japan pushed nearly all its players up for the resulting corner — an approach which came back to haunt it.
Courtois swallowed the corner and set his teammates off on a counter-attack that a stretched Japanese defensive unit was unable to handle. Belgium moved up the field at pace and delivered a smart ball into the penalty area.
Romelu Lukaku dummied and let it go by for an unmarked Nacer Chadli, who slotted the ball home from a few metres out with the last kick of the game to secure a 3-2 win for Belgium — and heartbreak for Japan.
Japan coach Akira Nishino said: "I am devastated. Yes we took the lead but we couldn't win. It might have been a very small difference but I felt there was nothing in it. Maybe it was my decisions as a coach or my tactics, and we couldn't keep up with Belgium, who upped their game."