How do you see KMC's recent argument?
Even if Bagdurbar was built by Bhimsen Thapa as claimed by KMC, it is our heritage. The Palace should not be demolished under such a ridiculous criteria. All neo-classic durbars of the Rana period are our heritage sites and part of our history, which cover 103 years of development in Nepal.
Why does Nepal need to keep these buildings?
When we are talking about the new development, we need to look back at our history beyond, to the104 years of rule by Rana prime ministers. During their period, a number of Neo Classic Rana Durbars were built by Jogbir Sthapit and Narsur Bista, two renowned engineer-brothers Kumar and Kishore Narsing Rana to Pioneer Engineer of Nepal Chief Engineer (Chief Col) Brig .Col Daly Jung Thapa, who studied civil engineering at Thomson college of Roorkee university with highest mark scored on Architect, who was the first Urban planner of Nepal.
How do you find the contribution of chief engineer Thapa?
He built more reformed neo Classic Rana Durbars. Almost 80 percent of all damaged Rana Durbars due to 1934 EQ were rebuilt , renovated and newly Built by Brig .Col Chief eng .Daly Jung Thapa along with Ghantaghar and Dharahara , not only the exterior, but all the interiors, including furniture, the sofa, carpet and curtain, were imported from Europe and London . Beautiful priceless chandeliers and iron beams to grill were imported and built with traditional theme of ours, Bajra, brick and carved windows and painted embossed ceilings, which are all sweat, craftsmanship and brain of our Nepalese manpower.
Why was Rana period important for development?
During the period of Ranas, foundations of development were laid. First Railway, rope way, Bhimphedi pilot track road ,Chandra Nahar Barrage, town planning of Rajbiraj , construction of Char Khal Adda etc were built by none other than my Grandfather Chief Eng Brig Col Daly Jung Thapa.
What arguments do you have against KMC's points?
Various Rana prime ministers, which are part of our history of development, have made great contributions. Hence I strongly protest against the criteria set by mayor of KMC Bidhya Sundar Shakya to demolish the Bagdurbar, quoting this building is not Durbar of Bhimsen Thapa and built by PM Judha SJB Rana for his son Field Marshall Hari SJB Rana. He argued that this palace is called Hari Bhawan, which is not 100 years old Durbar, hence it can be Demolished.
What was the state of Bagdurbar?
I have visited Bagdurbar several times before earthquake and after earthquake. Even though I am not an expert technician, I have been visiting durbars in the last three years. Under my own observation, what I can say with confidence is Bag or Hari Bhawan can be easily retrofitted. I request the Department of Archaeology and KMC to at least save the front face of this beautiful neo classic durbar and built their new buildings at the back. I don't understand why they don't take lease at some locality instead of demolishing this Durbar. All I can say is that all those who cannot preserve the History cannot make a New Nepal! Please, I request all the heritage lovers of the country to help stop the demolishing of Bagdurbar.
What steps are you taking now?
I have handed over the protest letter to stop the demolition of historical Bagdurbar requesting the CEO of NRA, Director General of Department of Archeology and Mayor of Kathmandu Metropolitan City, demanding they retrofit the palace, not pull it down.
KMC has been saying that retrofitted buildings are unsafe. How do you look at it?
They don't have any logic. What I have been saying is that there is no need to demolish Bagdurbar, it can be easily retrofitted. Our Rana Durbars are our heritage.
I visited Department of Archaeology and met all top officials and asked why, last year, DOA issued a letter to stop the demolition and now agreed to demolish it. I got the answer that last year they had done a superficial study of the damage and now they got a report from Director General Technical. The KMC argues that due to constant high flow of people at KMC, retrofitting is not that safe and very costly too. My argument is that if Gaddi Baithak, Gallery Baithak, Sita Bhawan and many other buildings can be retrofitted and preserved, why not Bagdurbar, which looks to have suffered lesser damages.
I have requested them to see what harm there will be to save the front facet, which is neither costly nor impossible. I find all officials agree with that. However, there is a question over KMC. I suggested DOA officials to write a letter to KMC to stop demolishing the front facet urgently. I have submitted the letter of protest to KMC as well. I insisted it to save the facet. KMC can build the new building at the back of it by buying new property somewhere with that more than one billion fund which they say they are going to spend to build ugly concrete structure replacing the heritage of the country.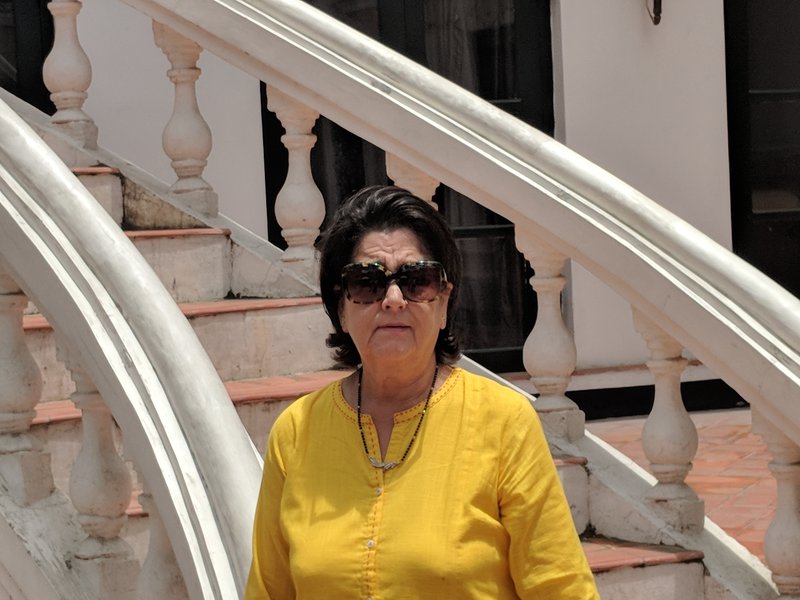 How do you respond to the response you get through your social media campaign?
I have been receiving enormous support through social media. Social media is so powerful that it disseminates views much earlier. In a recent Facebook sharing, renowned Indian Architect Engineering Satyen Hora thanked me for sharing it. According to him this is so very important effort and said that Bagdurbar's loss would be tragic and Bagdurbar remains one of the few great landmarks of Kathmandu.
What did he say about your effort?
Architect Engineering Satyen Hora commended my effort. He said, "I really applaud the tireless effort you are undertaking to save this heritage property. I wonder why the powers that be cannot accept the fact that demolition is the easiest thing that one can do. It is the preservation of history which one cannot bring back that's most important. As an architect/engineer I can see the symmetry of the arches, windows, the whole layout as a matter of fact to be so perfect which cannot be replicated in any modern form. It will be very sad if the process of demolition is carried out. A part of history of Nepal will go with it.
Have you also received comments from others?
I also received comments from Maureen Drdak. She said Ars longa--vita brevis! (Art is long, life is short.). She holds the view that the Kathmandu Valley is becoming progressively uglier by the day--precisely because of such shortsightedness and barbaric lack of appreciation of Nepal's architectural heritage. She argued that regardless of the political/historic "baggage" ascribed to these wonderful buildings by the regime-du-jour, these landmark buildings must be preserved. The building itself offers so many possibilities--it baffles me how its demolition can be justified--politically, financially, culturally, or economically. She concluded the comment saying "Yo Nepal ho!" It is unfortunate when Maureen and renowned architect Engineer of India love our heritage so much, I don't understand why can the Mayor of KMC not do so.