A group of conservation activists organized a silent protest program in front of Kathmandu Metropolitan City office urging KMC official to preserve historic Bag Durbar.
As KMS has announced it plans to float a tender to demolish Bag Durbar, the conservation activists from different walk of life and different age groups came publicly to draw attention of concerned authorities.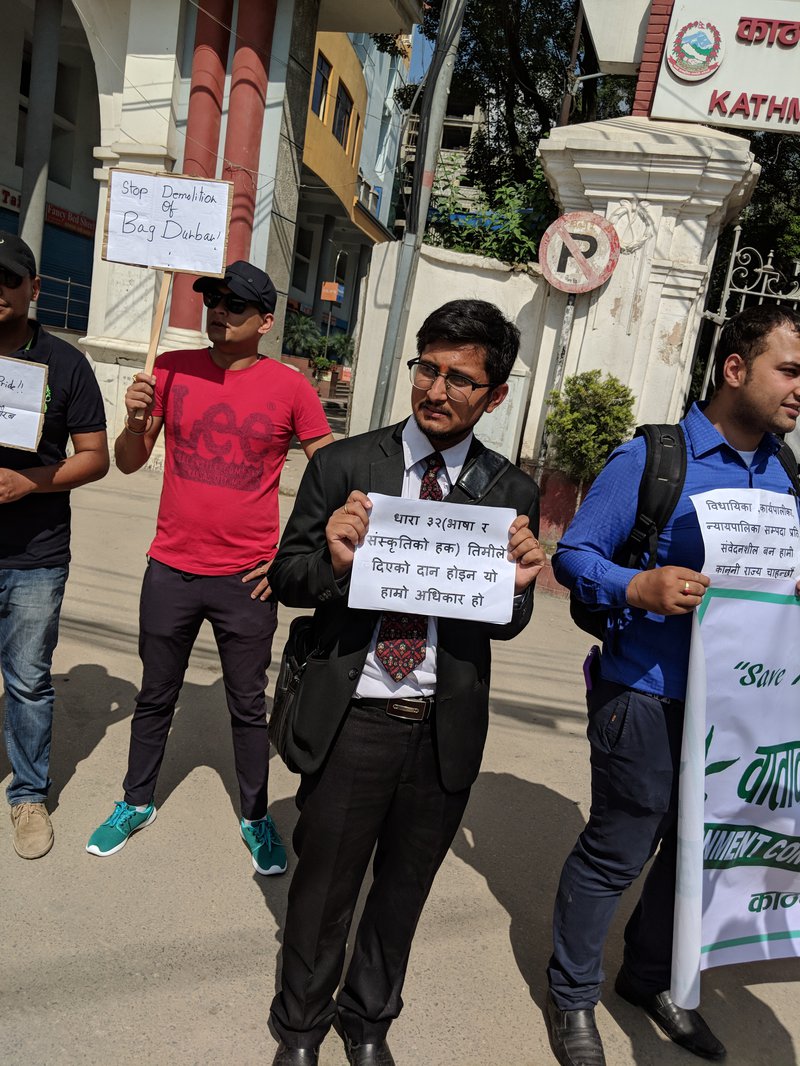 "We organized the protest program to prevent to prevent demolition. This is a voice to the cause of saving Bag Durbar for its historic, artistic and architectural values,"said Chanda Rana, a leading conservationist activist
Save Bag Durbar Group, a group consists of people from different walk of life, calls people to join silent gathering at the main entrance of Bag Durbar to press Kathmandu Metropolitan City to change its decisions to demolish historical palace.
"We are considering filing a petition at Supreme Court against demolition. Since the palace is almost over 150 years, it is against existing act and rules," said Sanjaya Adhikary, a young lawyer and heritage activist.
Hosted by Save Bag Durbar, the peaceful, silent gathering at the main entrance of Bag Durbar holding play cards with various slogans draw the attention of people about the about the preservation of heritage, art, architecture, culture and history.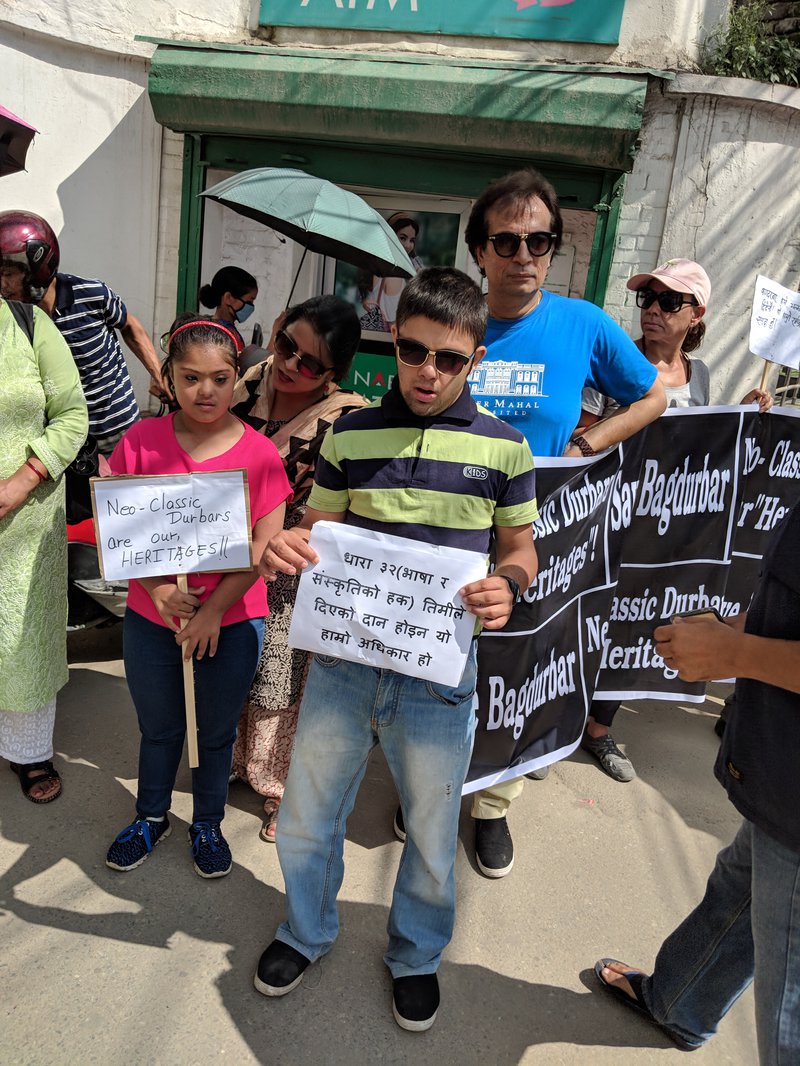 Saguna Shah, who grew and born in the Bag Durbar, also joined the protest. With #Standingagainst #ThedemolitionofBaghdurbar! She reveals very interesting part of the palace. "It is appalling to imagine the demolition of my roots- from where I am and to where my heart belongs," said Shah. "I wonder how many people are aware that Prince Upendra Bir Bikram Shah Dev was never cremated. He still remains a mystery behind the closed door which exists in one corner of the Palace that is called Bag Durbar," said Shah.
."Although this protest was just as a token, we are able to show strength of heritage lovers of Kathmandu," said an activist of Save Bag Durbar Alok Siddhi Tuladhar.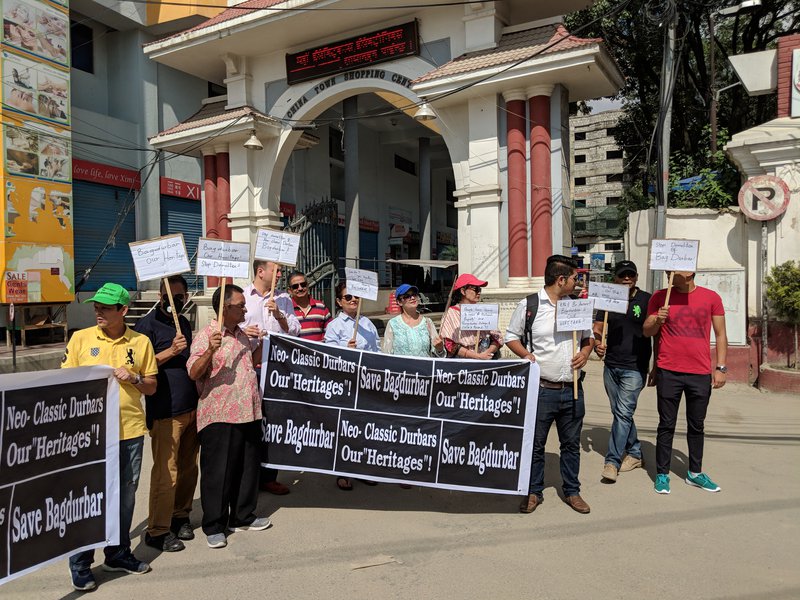 "As Kathmandu Metropolitan City has announced it plans to float a tender to demolish Bag Durbar, we don't have any option other than to build pressure to prevent that from happen," said Tuladhar.
This is the first step on street expressed our concern in a descent way to make issues be heard to the concerned, knocking at the door to correct the wrong," said Rana. I have been fighting to preserve our heritages of the country no matter which era the heritage was built," said Rana.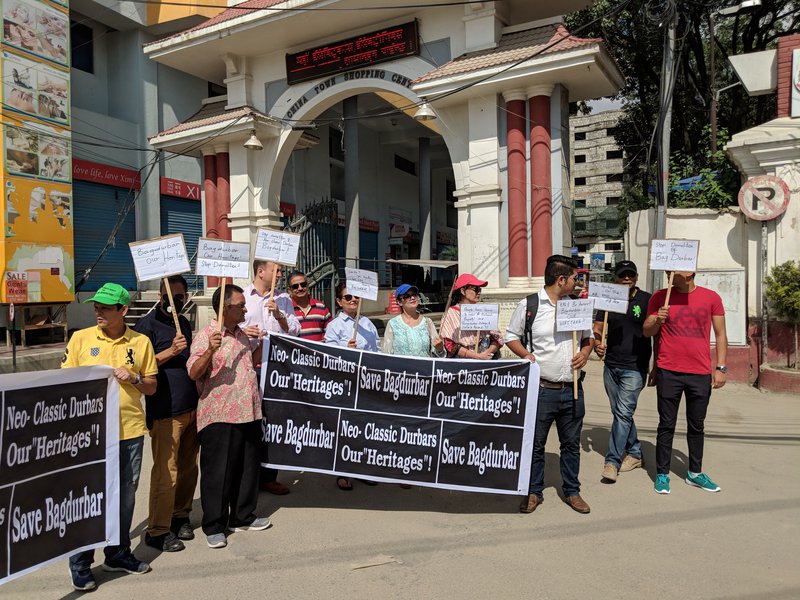 Contradictory to my bitter experience on our blockade protest rally when we were even deprived of medicine and fuels, the participation of people as highly encouraging," said Rana.