Police have fired multiple rounds of teargas shells after members of Tarun Dal tried to breach the restricted zone at the same place where a protest rally was being carried out in support of medical activist Dr Govinda KC.
According to The Himalayan Times, Tarun Dal members pelted stones at a ministry vehicle parked at Indreni Complex which led to the police firing a few more shells of tear gas to contain the protestors.
Meanwhile, a peaceful rally that converged into a corner meet remained unaffected and proceeded despite the clash between police and Tarun Dal cadres in the nearby vicinity.
According to eye-witnesses, the police took the situation under control very effectively to allow the peaceful corner meet proceed without any disturbance from the agitated mob.
Former Chief Justice Sushila Karki, litterateur and political commentator Khagendra Sangraula, human rights activist Krishna Pahari, popular Bollywood actor Manisha Koirala, and leaders of parties in opposition, among others were present at the rally attended by hundreds of citizens.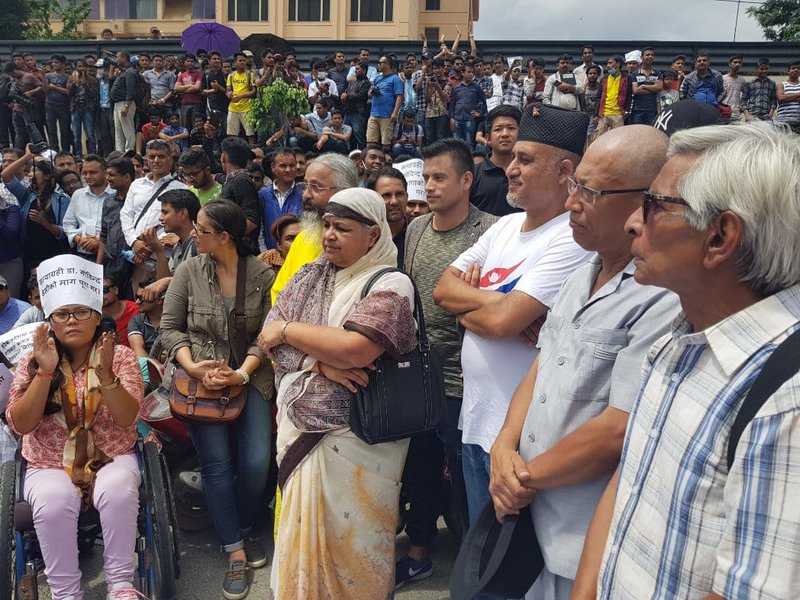 Dessanchar on line reports that various groups had gathered at Maitighar Mandala to carry out protest against the government for ignoring Dr Govinda KC's demands as his fast-unto-death enters the 22nd day today.