38 North group says commercial satellite imagery indicates Pyongyang has begun taking down facilities that had been used to test liquid-fuel engines for ballistic missiles
North Korea appears to have started dismantling key facilities at a rocket-engine test center, a group of experts said Monday, potentially marking a significant step after last month's summit between Kim Jong Un and US President Donald Trump.
According to the respected 38 North group, commercial satellite imagery of the Sohae satellite launching station indicates Pyongyang has begun taking down a processing building and a rocket-engine test stand that had been used to test liquid-fuel engines for ballistic missiles and space launch vehicles.
Sohae, on the northwest coast of North Korea, has been used to test rockets, with the aim of putting a satellite into orbit.
But rocket engines are easily re-purposed for use in missiles and outside observers say nuclear-armed Pyongyang's space program is a fig leaf for weapons tests.
38 North analyst Joseph Bermudez called the move an "important first step" for Kim in fulfilling commitments he made to Trump during their June summit in Singapore.
Since Sohae is "believed to have played an important role in the development of technologies for the North's intercontinental ballistic missile program, these efforts represent a significant confidence-building measure on the part of North Korea," Bermudez said.
A US defense official, however, told AFP that the Pentagon was not closely tracking activities at Sohae in terms of how it relates to the denuclearization of North Korea.
"It's not on the radar, so to speak," the official said.
On Monday, Trump said he was "very happy" with how talks were progressing with North Korea, after observers and the media highlighted an apparent lack of concrete results since the summit with Kim.
US President Donald Trump said yesterday he was "very happy" with how talks were progressing with North Korea, as observers and the media highlight the lack of concrete results one month after his summit with Kim Jong Un.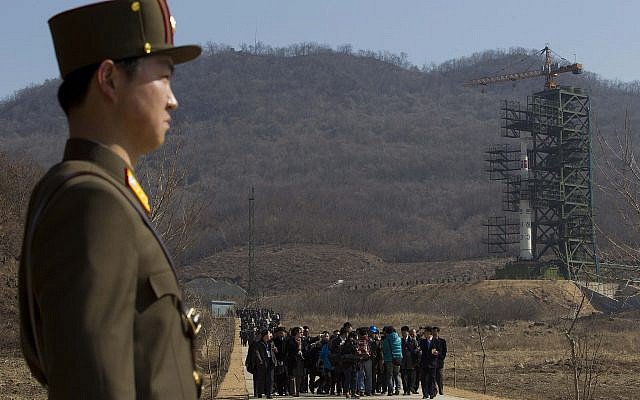 Other media added, "A Rocket has not been launched by North Korea in 9 months. Likewise, no Nuclear Tests. Japan is happy, all of Asia is happy," Trump tweeted.
"But the Fake News is saying, without ever asking me (always anonymous sources), that I am angry because it is not going fast enough. Wrong, very happy!" Trump appeared to be referring to an article in The Washington Post on Sunday that claimed the president was frustrated with the lack of immediate progress, despite his public statements claiming the talks were a success The article cited unnamed White House aides, State Department officials and diplomats.
Trump hit out at the Post in a series of tweets on Monday, saying the paper, which is owned by Amazon boss Jeff Bezos had "gone crazy against" him.
In a joint declaration after his historic summit with Trump on June 12 in Singapore, the North Korean leader "reaffirmed his commitment" to work towards the "denuclearization of the Korean Peninsula." But the actual details of the process, including how and when the North's nuclear program is to be dismantled, have yet to be hammered out.
A month ago, the US administration insisted on the "urgency" of denuclearization, and said it would begin "very quickly." "We're hopeful we can get it done" by 2020, before the end of Trump's term, Secretary of State Mike Pompeo said at the time.