United States Agency for International Development (USAID) and Search for Common Ground – Nepal announced that season two of Singha Durbar which will begin airing on 28th July, 2018 (12 Saun, 2075 BS).
The 13-episode tele-drama will air every Saturday on Nepal Television from 8:50 to 9:30pm. Season two of this popular political drama series is again made possible due to the support of the American people through USAID.
The show is produced by Search for Common Ground – Nepal and production partner Shubha Media Home Pvt. Ltd. Search has also received financial support from the United Nations Agencies in Nepal as 'thematic partners' to advance the Sustainable Development Goals(SDGs) adopted by Nepal and all other UN Member States.
As Nepal is committed to achieving the SDGs which align with social, economic and environmental aspirations of the country in the most comprehensive roadmap to 2030, the tele-drama will help promote positive messages amongst the audience in achieving the Sustainable Development Goals in Nepal.
"The idea of Singha Durbar is to promote the series as a 'road map' for governance and collaborative leadership in Nepal. For that purpose, we partnered with various private sector companies, government line-agencies, and development partners to promote the TV series locally and internationally by engaging the people and elected representatives," said Bhola Prasad Dahal, Country Director of Search for Common Ground – Nepal.
"The TV series aims to bridge the gap between the people and the government, and aspires to capacitate them on issues related to governance and federalism," said Dinesh Thapaliya, secretary of Ministry of Federal Affairs and General Administration (MoFAGA).
This season focuses on the challenges and opportunities that Nepal faces under its new federal structure. The series continues to highlight the political journey of the main protagonist and Nepal's first reel life Prime Minister, Asha Singh, played by veteran actor Gauri Malla. It will profile how she leads the country to successfully adopt the federal structure as well as related policies and plans. The series will also touch upon issues related to federalization; human trafficking; disaster risk reduction and management; and Lesbian, Gay, Bisexual, Transgender and Intersex (LGBTI) rights.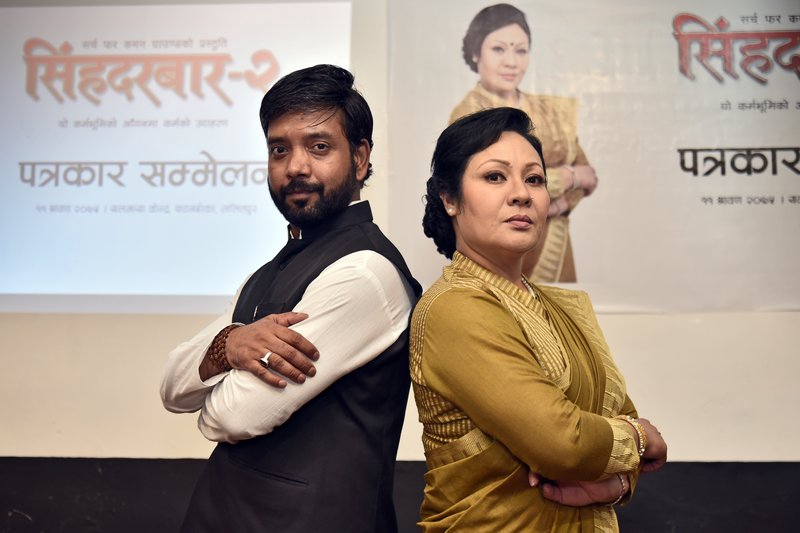 Directed by Nabin Subba,the show features actors such as, Ramesh Ranjan Jha, Pramod Agrahari, Ramesh Budhathoki, Alok Thapa, Badal Bhatta, Desh Bhakta Khanal, Prakash Ghimire, Hemanta Chalese, Prabhat Rimal, Suresh Chaudhary, Sabina Gopali, and Rem B.K.
The script writers team consisting of Prabin Adhikari, Sampada Malla, and Suraj Poudel is led by Abinash Bikram Shah and Tsering Choden. The scripts writers were guided by the Executive Producer, Yubakar Raj Rajkarnikar.
"We have presented a more humanized character—a Prime Minister who is afraid to fail the expectation of the people, and an ensemble of characters who represent current day leaders and the public," said Director Subba.
According to a press release issued by Ayush Joshi, Senior Coordinator, Program Development & Communications, Search for Common Ground, Singha Durbar season two teamed up with the Nepal America Film Society in the United States to promote the series amongst the Nepali diaspora living in America and collaborated with Sasto Deal—Nepal's largest online store, Nana Group of Companies, and Sparrow SMS to reach out to diverse audiences through strategic outreach and communications.