Nepal is playing its first historic ODI match with Netherland today. It's been a long road for Nepal. At Amstelveen, in the picturesque environs of the Amsterdamse Bos, VRA cricket ground will be the site where Nepal will become an ODI nation. In the first of a two-match series against the Netherlands Nepal will make what is arguably the most anticipated debut in One Day internationals cricket since South Africa's inaugural one-dayer against India at Eden Gardens back in 1992, which also marked their return to the international fold after 22 years of isolation.
It's taken Nepal longer to get there than it should have really. In the early years of the new millennium they were Asia's leading Associate, their under-19s were racking up regular wins against Full Members at successive World Cups. But held back in part by the same neglect from the games' great powers that affects every Associate to some degree, but arguably more by the chronically shambolic administration at home, Nepal have lingered on the periphery of the Associate top flight for over a decade.
They have since seen rivals emerge and eclipse them - most notably, of course, Afghanistan. In the early stages of the latter's precipitous rise, the two enjoyed the Associate world's noisiest rivalry, but these days even the most ardent Nepal fan (a keenly contested title, to say the least) would concede that the Afghans have passed them. As Afghanistan were awarded Test Status in June of last year, Nepal languished in the relegation zone of the World Cricket League Championship and indeed were lucky to have even been a part of Associate cricket's premiere 50-over competition (only a retroactive rule-change following 2015 WCL Division 2 in Namibia saw them and Kenya take the two places made available by Ireland and Afghanistan's elevation to the ODI FTP). https://www.cricbuzz.com/cricket-news/
It was the first time Nepal had reached the WCL's top division, having bounced around between the second and fourth divisions since the league's inception a decade ago, and despite running Scotland close in their first match at Ayr, it would take them five games to record their first victory - a five wicket win over Namibia in front of a capacity home crowd at Tribhuvan University Ground at Kiritpur. They would win just three more in the end, and finish second from bottom. Relegated back to the all-too-familiar Division 2, the odds were against Nepal even reaching the World Cup Qualifier. They made it. Just. The 2018 WCL Divison 2 in Windhoek turned out to be the most extraordinary, close-fought, hair-raising tournament in the league's ten year history. Last-ball wins, last wicket stands, recoveries and reversals, Nepal would scrape through by the skin of their teeth.
Once in Zimbabwe, however, Nepal would make good use of their good fortune, eventually. After three successive defeats they staged an upset win against Hong Kong (who had looked on course to progress to the Super Sixes) with the two youngest players in the team, 15 year-old Rohit Kumar Paudel and the newly-famous Sandeep Lamichanne the stars - much as they had been in Namibia. The win almost saw Nepal through to the next stage, but in the end it was their old rivals Afghanistan who profited, edging through on a three-way tie with Nepal and Hong Kong, and going on to win the tournament and a place at the World Cup. Nepal and Hong Kong were relegated to classification play-offs, where owing to the Netherlands' failure to progress and the questionable new system for awarding status, there was only one ODI spot on offer.
It came down to one game in the end, and Nepal won it comfortably. The youngsters again led the way, four wickets for Lamichhane and a fantastic all-round effort from Dipendra Singh Airee saw them skittle Papua New Guinea for 114 and chase down the runs with more than half their overs to spare. PNG's four-year stint as an ODI nation came to an end, whilst Nepal had a nervous couple of hours ahead of them.
It is fitting that they will be now be facing the Dutch in their inaugural ODI, for it was in fact the Netherlands that sealed Nepal's elevation by then besting Hong Kong later the same day as the Nepal squad frantically refreshed a live scorecard at Miekel's hotel, and indeed were it not for the utterly baffling decision to delay the awarding of status until after the tournament this time round (at the last Qualifier status was stripped or awarded immediately after decisive matches) the two sides would have already marked Nepal's ODI debut at Kwekwe in the 7th place play-off. Instead it was Hong Kong and Papua New Guinea, playing for the wooden spoon in their last ODI for at least four years, who were accorded the honour of contesting the game's 4,000th One Day International.
The Dutch won that ODI-that-wasn't comfortably, and even missing most of their externally-contracted players (Roelof van der Merwe, Logan van Beek, Timm van der Gugten and Ryan ten Doeschate won't be making the trip this week) the hosts are probably favourites to win two from two at home. Paras Khadka's side has seen some remarkable renewal in the last few months, with seasoned campaigners such as Binod Bhandari and Sagar Pun making way for a new generation, of whom Paudel, Airee and Lamichhane are the leading lights.
Yet though Nepal's fresh faces have shown remarkable maturity in the campaign that won them their new status, they remain comparatively inexperienced at the one-but-highest level, talented but callow, and indeed it looked like the Dutch were on course to expose that inexperience in Sunday's abortive T20I at Lord's, racking up 174 runs in 16.4 overs before the rain came. Lamichanne, for all his talent, looked altogether lost with a slippery ball in hand as Michael Rippon and Scott Edwards took the attack to him.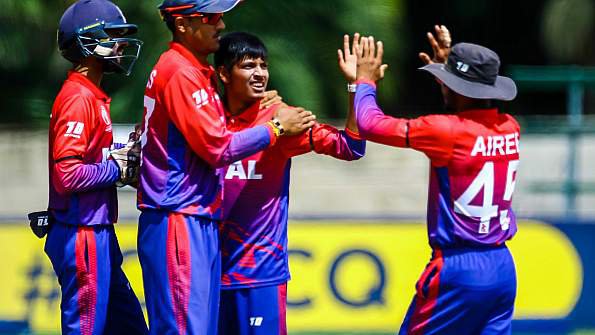 Nepal's Rhinos can take some heart from the past of course, they sprung an upset on a strong Dutch side at the same ground on their last visit, winning the second of two WCL Championship games at VRA back in 2016. But in truth their legions of fans would do better to dwell on the future, not least because it is the fans themselves - more than status, more even than the promise of their young team - that gives such cause for optimism.
In the end the official status conferred on these games by the ICC is little more than a cypher, a point of pride, certainly, but in the end of interest primarily to statisticians of the less imaginative sort. There is no funding attached to it, nor guarantee of fixtures. Nepal in fact have no fixtures confirmed after these two ODIs besides the Asia Cup Qualifier in Malaysia in four weeks' time, and indeed with the future of the World Cricket League still uncertain, their match against the UAE on the 30th is the only other ODI on the calendar. Immediately after the win that sealed their status, Paras Khadka described Nepal's schedule after the WC Qualifier as "a bit of a wilderness," and beyond this oasis in Amstelveen it still looks that way.
This should come as no surprise. Hong Kong and PNG, who lost their ODI status as Nepal gained theirs, held it for four years without either playing a single ODI against full member opposition outside of ICC tournaments. In total, they played just eleven bilateral ODIs between them, five of which were quite literally between themselves. If there is any reason to believe that Nepal will be more fortunate, at least in terms of bilaterals with fellow associates, it lies off the field, on the other side of the screen, where hundreds of thousands of eyeballs make playing Nepal a cheaper, perhaps even profitable proposition for their opponents.
Those same thousands are the reason why - even if the fixture list looks sparse, the administration ineffectual, and on the field the team still underdogs against their fellow Associates as often as not - in the long term Nepal's rise has taken on an air of inevitability. There may and likely will be setbacks, cricket's top tier remains inexplicably hostile to newcomers, Nepal's board remains suspended, and Khadka's young side still boasts more promise than prowess.
But Cricket has taken firm root in the foothills of the Himalayas, and these are but its first fruits.
Nepal: Paras Khadka (c), Gyanendra Malla, Anil Kumar Sah, Subash Khakurel, Rohit Kumar Paudel, Sharad Vesawkar, Dipendra Singh Airee, Arif Sheikh, Sompal Kami, Basant Regmi, Shakti Gauchan, Lalit Bhandari, Karan Khatri-Chhetri, Lalit Rajbanshi, Sandeep Lamichhane.
Netherlands: Pieter Seelaar (c), Stephan Myburgh, Max O'Dowd, Ben Cooper, Wesley Barresi, Dan ter Braak, Michael Rippon, Scott Edwards, Hidde Overdijk, Bas de Leede, Shane Snater, Fred Klaassen, Paul van Meekeren.
Source: www.cricbuzz.com