Masamichi Saigo, Ambassador of Japan to Nepal, attended an official signing ceremony held at the premises of the Nepal Olympic Committee, Satdobato.
During the ceremony, Tamura City Government of Fukushima, Japan, the Nepal Olympic Committee (NOC), and the Athlete Society, a Japanese NGO working on strengthening the bond among the Asian countries through sports, signed an agreement on pre-games trainings camps in Japan for Nepali athletes attending the 32nd Olympiad (Tokyo 2020 Olympic and Paralympic Games).
A five-member delegation from the concerned Japanese organizations, headed by Kawagoishi Naoyuki, Deputy Mayor of Tamura City, arrived in Kathmandu on 2nd August.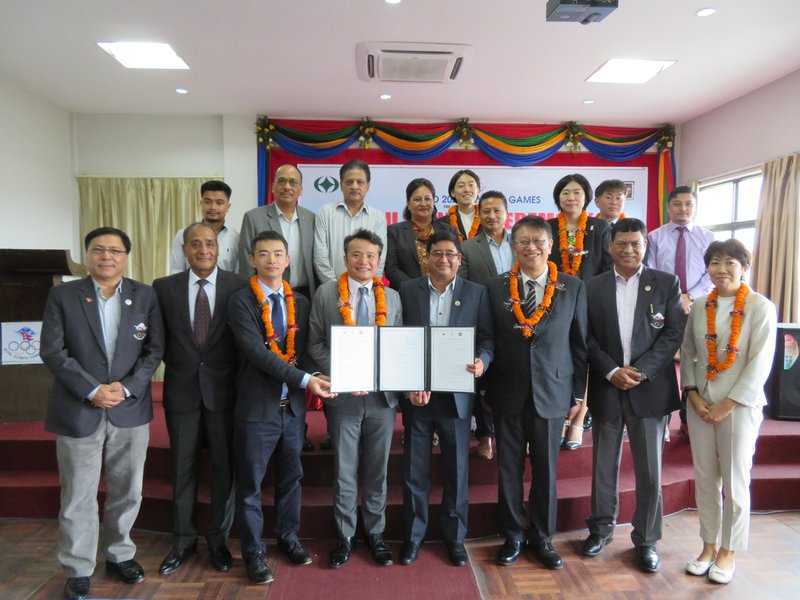 According to a press release issued by Embassy of Japan Kathmandu, the team will stay in Nepal for three days, consulting with sports related personalities and holding an indoor and outdoor sports workshop.
Yurika Nakamura, a representative from the Athlete Society and a former marathon athlete who participated in Beijing 2008 Olympic Games, will instruct the Nepali athletes on 4th August at the NOC Building, Satdobato, and at the Nepal Army ground, Lagankhel.
The Embassy of Japan believes that the NOC's collaboration with Tamura City and the Athlete Society will enhance further friendship and sportsmanship among the athletes and promote positive impact and bring Nepali sporting activities to a new height.