"As it is a matter of pride to see the arrival of second A300-200 at Tribhuwan International Airport. The arrival of new Aircraft is matter of pride for all of us. The commercial flights by new aircraft will enhance trust of Nepal Airlines all over the world. Congratulations for successful flight," Rabindra Adhikary, Minister for Culture, Tourism and Civil Aviation, wrote in a tweet on the day when NAC's second A300-200 landed at the airport.
As the Tourism Minister has declared his zeal to bring 2 million tourists by 2020 in Nepal, Minister Adhikary's enthusiastic statement on the arrival of new aircraft is understandable.
In recent months, Adhikary is actively taking part in different activities related to tourism promotion. For any tourism promotion, national flag carrier with new aircraft can play an important role and Nepal Airlines is not an exception.
To fulfill Adhikary's mission to bring 2 million tourists, these two wide bodied aircraft are going to be instrumental. In his last three months as a minister of tourism, Nepal's tourism sector has seen a certain momentum.
In his own initiative, India's prominent entertainment channel Z Entertainment Enterprises agreed to hold Z Cine Award in Nepal in Coming December. The Enterprise also declared to establish cine-city in Nepal.
Meeting tourism entrepreneurs to foreign investors and promoting tourism spots, minister Adhikary is taking the lead in promoting the tourism in Nepal. With the arrival of second aircraft, Nepal Airlines Corporation (NAC) will also help in his mission.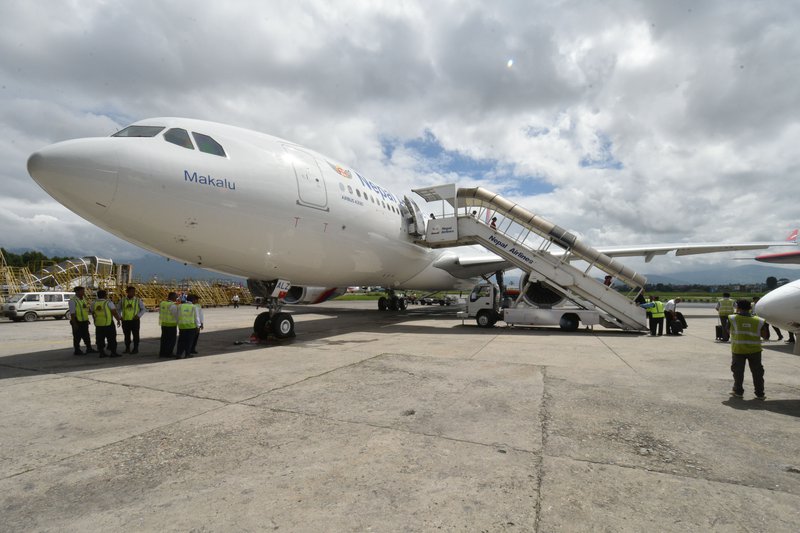 Adhikary, who has moved from place to place to accelerate the development work during his tenure as a chairman of Development Committee, is now tirelessly working to promote Nepal's attractive tourism destinations.
More
In this context, arrival of Nepal Airlines Corporation's (NAC) A330-200, second wide-body aircraft; at the Tribhuvan International Airport (TIA is a major milestone. The Airbus with the registration mark 9N-ALZ has been named Makalu.
Powered by Rolls-Royce Trent 700 engines, the jet has a capacity of 274 passengers in two-class cabin configuration, including 18 in business class. With a strong management team headed by Sugat Ratna Kansakar, who played a key role to add four new aircraft in NAC fleet, the mission of minister Adhikary to bring two million tourist should not be far away.
With the arrival of this, NAC has now five jets including one aged Boeing 757 which Nepal Airlines is planning to sell this year. NAC's first wide body will operate its first maiden airport to Doha on August 1.
With additional aircraft in NAC and enthusiastic Adhikary as a tourism minister, Nepal's tourism sector will see certain drastic changes in the coming days.