Manuj Babu Mishra, Nepal's prominent artist and father of Sajha Bibekshil Party Rabindra Mishra, died today at the age of 83. According to his family sources, he died due to cardiac arrest.
For decades, Mishra dominated Nepal's painting world with his own style. According to his daughter Principle of College of Journalism and Mass Communication Manju Mishra, artist late Mishra confined to his own residence.
Manuj Babu Mishra, an artist and litterateur who is held in the highest esteem by intelligentsia nationally and internationally, lived in confinement for 20 years.
According to his family sources, he will be cremated on Thursday because one of his son Roshan,a computer animator, is arriving from London tomorrow.
A die heart opponent of multi-party democracy, artists late Mishra has his own way to live.
One of his interview with Amar B Shrestha of ECS Nepal Magazine, late Mishra said "I have seen Indian soldiers patrolling the area around my house in 2017 BS (1961)," he says. "That was when the first movement for democracy succeeded in bringing multiparty politics into the country. Since then, I have never trusted the multiparty system." It must have been a bitter pill to swallow for an intellectual of his kind. "And, in 2046 (1990), while people celebrated the return of multiparty democracy, I retreated into a shell."
"Mishra is originally from Gorkha . An old photograph in black tie and suit attests to the fact that he was a handsome specimen of Nepali manhood in his younger days. The highlight of his once ordinary life was when he became a deputy secretary in government service. "I left the service after three-four months," he says. "I realized that signing papers all day long was not my forte. I believed I was meant for something different." His wife brings us cold curd water drinks. Mishra smiles and says, "That was the first time my wife cried," Amar B Shrestha writes in ECS Nepal.
"Once I was assigned to paint my version of Mona Lisa for a European connoisseur. The painting, after it was finished, stayed here for some time before being taken abroad. Once it was gone, I felt a void in my life. I was used to looking at her every day. To fill this void, I have made Mona Lisa an integral part of many paintings," artist Mishra told to ECS Nepal in 2010.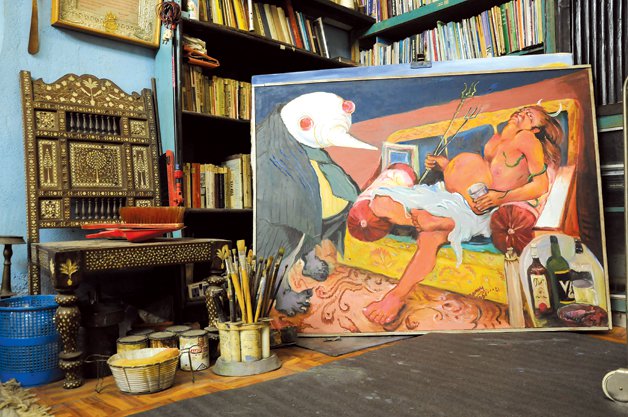 Photo Courtesy: ECS Magazine
"Mishra is an atheist through and through, a trait perhaps handed down from his father who was likewise one. "For me, if I have to say it, then the late king Mahendra, was a god." One notices the late king's photos around the room, some on old calendars. It must be surmised that the hermit has quite a few definitive opinions. And these opinions are not based on outdated information and knowledge only of the yesteryear. A stack of newspapers in the room, added to a radio and many magazines on the table, make it obvious that he keeps up to date with the goings on around the world - another feature of his lifestyle that makes it difficult to believe that he is really living the life of a hermit, as he claims to do,"writes Amar B Shrestha in ECS Nepal in 2010.