NA Chief of General Staff Lt. General Purna Chandra Thapa took over the responsibility off the acting Chief of Army Staff (CoAS) from incumbent CoAS General Rajendra Chhetri who goes on leave from Friday before his scheduled retirement on account of age.
General Chhetri, who will formally retire on September 10, handed over responsibilities to General Thapa amid a program at army headquarters.
After taking the responsibility, acting COAS General Thapa has commenced the paperless digitization office. Similarly, General Thapa also handed over his responsibility as a chief of Kathmandu-Terai Express way to Lt General Hemant Raj Kunwar.
The government had promoted General Thapa to the post of acting chief on July 26 paving the way for his elevation to the post of army chief.
As a tradition of Nepal Army, CoAS General Chhetri takes a leave a month ahead of his formal retirement. In his message yesterday to entire rank and file of Nepal Army, outgoing Chief of Army Staff General Chhetri took pride in the achievements for "successful" security arrangements during the three tire of elections.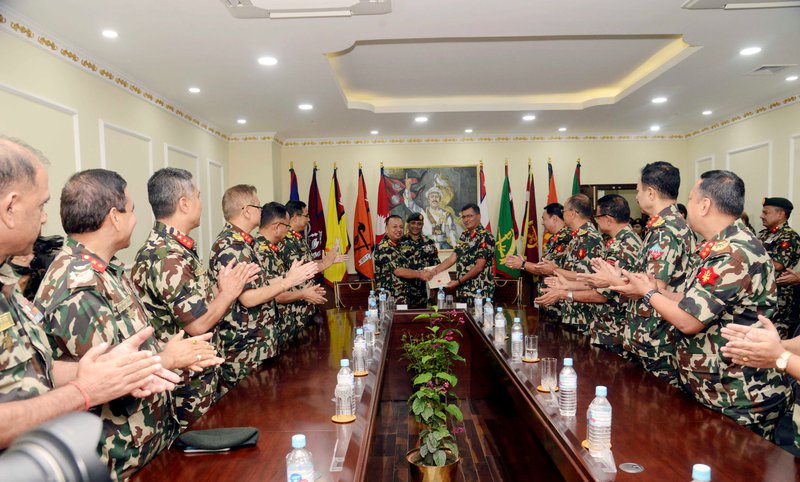 Recalling his three-year terms, CoAS General Chhetri highlighted those two achievements as successful chapters in the history of holding three tire of elections and carrying out rehabilitation of earthquake victims.
"After the political transition of armed insurgency through peace process and elections, NA has proved its institutional capability," CoAS Chhetri's message reads.
"I had to overcome lots of challenges as I took charge during a difficult political phase and, at the same time, had to fulfill my own roadmap related to professionalism development, operational preparation for restructuring the Nepal Army, he said.
"I feel proud at the fact that an environment of meritocracy in promoting officers to leadership position was created during my tenure," he said in his concluding remarks.