Ambassador of Japan to Nepal Masamichi Saigo handed over ophthalmological equipment to the Rural Health Education and Service Center (RHESC) in Gokarneshwor Municipality.
Along with Ambassador Saigo, Krishna Kumar Rai, Member of Parliament Rameswor Phuyal, Member of Parliament of Province 3, and a Japanese nurse and supporter of the Center Ms. Masako Yamane attended the ceremony.
The Project for the Installation of Ophthalmological Equipment for the Community Health Center in Gokarneshwor Municipality is funded under the Grant Assistance for Grassroots Human Security Projects (GGP) of the Japanese Government. The total grant assistance for the Center is USD 84,138 (NPR approximately 8.6 million).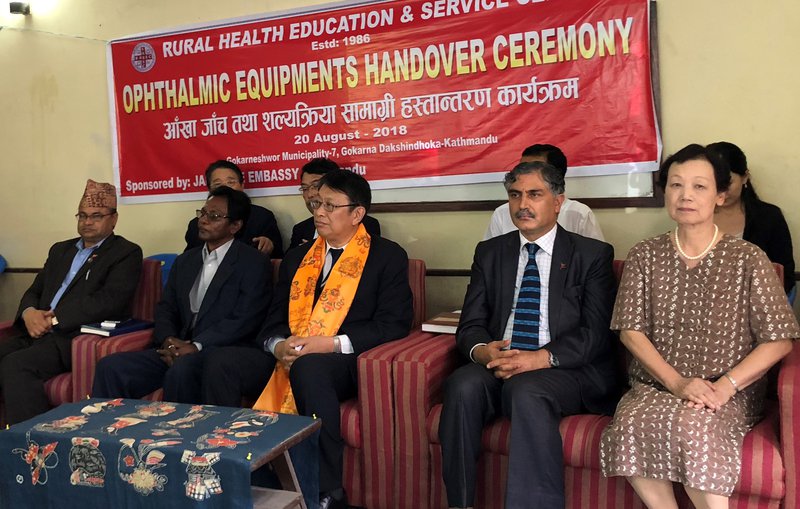 According to a press release issued by Embassy of Japan, Kathmandu, the project supports the installation of cutting-edge equipment such as an operating microscope, slit lamps, retinoscopes, and a phaco emulsification system for use in diagnosis and surgery. The project assists the center to widen its range of services to include accurate check-ups, surgeries, and eye camps for schools in the suburbs of Kathmandu.
RHESC was established in 1986 with the support of Ms. Masako Yamane, and a Japanese NGO, namely, the Japan-Nepal Human Development Association. Since then it has been providing medical services to people at low cost.
The Embassy of Japan hopes that this project will contribute towards enhancing the ophthalmological services provided by the center and assist towards reducing eye diseases in the suburbs of Kathmandu. We also hope that, with the success of the project, the bilateral friendship between Japan and Nepal will be further enhanced.