Families meet for first time since they were divided by Korean War more than six decades ago. Around 330 South Koreans from 89 families, many in wheelchairs, embraced 185 separated relatives from the North. Some struggled to recognize family who they had not seen in more than 60 years.
Before the reunions, nearly 20,000 people had participated in 20 rounds of face-to-face reunions since 2000. Another 3,700 exchanged video messages with their North Korean relatives. None have had a second chance to see or talk with their relatives.
During the three years since the reunions were last held, North Korea tested three nuclear weapons and multiple missiles which demonstrated they potentially could strike the continental United States.
However, in recent months North Korea has shifted to diplomacy and its leader, Kim Jong-un, agreed to resume the reunions during the first of two summits with South Korea's president, Moon Jae-in, in April.
A 92-year-old South Korean woman cried as she met her 71-year-old North Korean son as around 90 families from the two countries met for the first time almost seven decades after they were divided by the Korean War.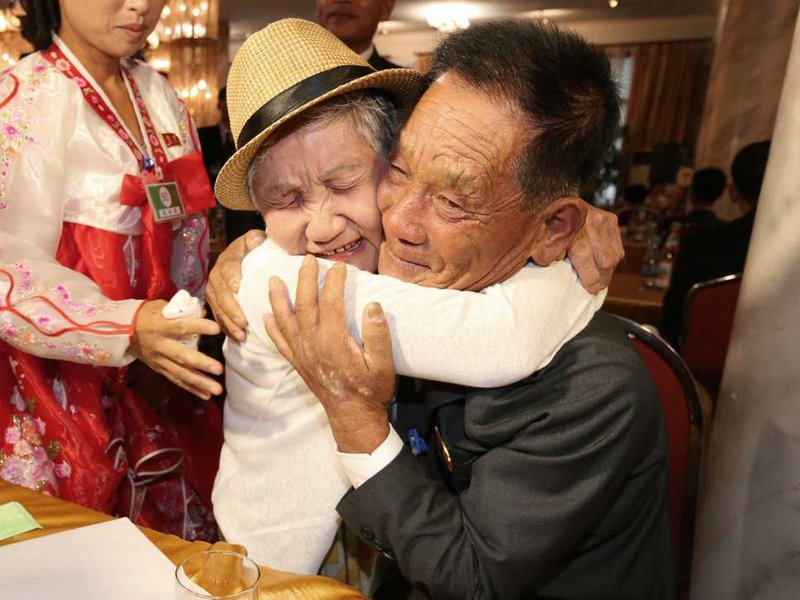 "How many children do you have? Do you have a son?", Lee Keum-seom asked her son, Ri Sang-chol, during their long-awaited encounter at the North's Diamond Mountain resort.
The two Koreas held their first reunion events in three years on Monday, with families from the South crossing the heavily fortified border into the North to temporarily meet their relatives.
The brief reunions are set to last just 11 hours over the following three days.
It comes as the rival nations boost reconciliation efforts following a standoff over Pyongyang's nuclear and missile program.
When they met, Mr Ri hugged his mother, who he had last seen when he was four, and showed her a photo of her late husband, who had stayed behind in North Korea with him after being separated from his wife while fleeing south.
"Mother, this is how my father looked," Mr Ri told Ms Lee.
"How are you so old?" Kim Dal-in, 92, asked his sister, Yu Dok, after gazing at her briefly in silence.
"I've lived this long to meet you," replied the 85-year-old, wiping away tears as she clasped a photograph of her brother in his youth.
Han Shin-ja, a 99-year-old South Korean woman, was at a loss for words after she reunited with her two North Korean daughters, both in their early 70s. Not knowing their separation would be permanent, she left them behind in the North during the war while fleeing south with her third and youngest daughter.
She could only say "Ah" and "When I fled..." before choking up with tears.
South Korea sees the separated families as the largest humanitarian issue created by the war, which killed and injured millions and cemented the division of the Korean Peninsula into the North and South.
The Unification Ministry estimates there are currently about 600,000 to 700,000 South Koreans with immediate or extended relatives in North Korea. More than 75,000 of the 132,000 South Koreans who have applied to participate in reunions have died, according to a ministry record.
On Monday, Mr Moon reiterated that time is running out to expand the reunion programme, saying it would be a "shameful thing" for both Koreas to see many elderly people dying without even finding out whether their loved ones are still alive.
Mr Moon attended a 2004 reunion to meet his aunt. "As a separated family member, I deeply share their sorrow and pitifulness," he said during a meeting with his aides.
North Korea is reluctant to accept calls for more reunions. Analysts say it sees the reunions as an important bargaining chip and believes more reunions would give its people a better awareness of the outside world.
While South Korea uses a computerised lottery to pick participants for the reunions, North Korea is believed to choose based on loyalty to its authoritarian leadership.
Courtesy: The Independent