The Ambassador of Japan to Nepal, Masamichi Saigo, laid the cornerstone of a school building for Shree Akala Secondary School in Palungtar, Gorkha District. Along with Ambassador Saigo, Dr. Baburam Bhattarai, former Prime-Minister, attended the ceremony.
The Project for the Reconstruction of Classrooms for Shree Akala Secondary School in Gorkha District is funded under the Grant Assistance for Grassroots Human Security Projects (GGP) of the Government of Japan. The grant assistance amounts to USD 90,760 (approximately NPR 9.4 million).
According to press release issued by Embassy of Japan, the Shree Akala Secondary School was established in 1973 and currently accommodates nearly 800 students who study in grades 1 to 12. Four school buildings out of five were destroyed by the earthquake that occurred in 2015.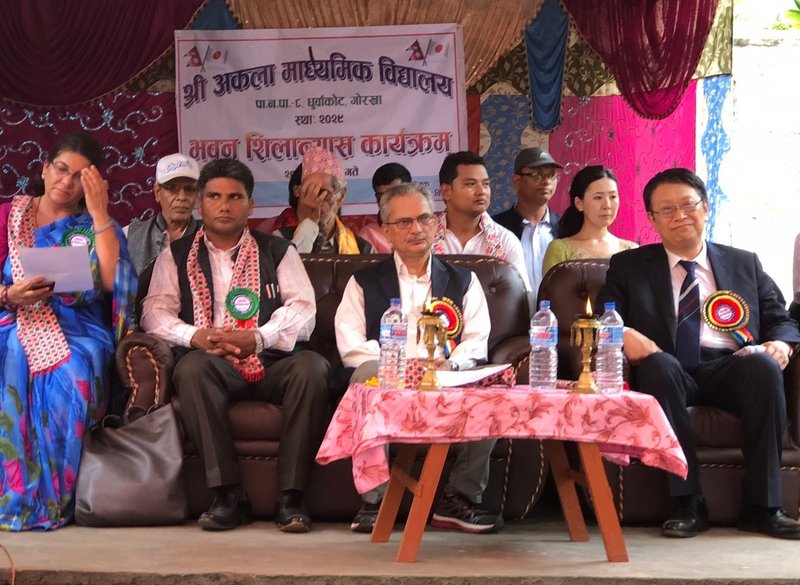 The project supports the reconstruction of one two-storey school building that will contain eight classrooms. In this area, there are only two schools providing higher secondary levels of education, Shree Akala Secondary School being one of them. This school has been contributing to the education of local children in this remote area who seek to study as much as possible in their own neighborhood.
The Embassy of Japan believes that this project will contribute towards the aim of "Build Back Better" that the Government of Nepal has included as a concept of the reconstruction plan. We also hope that, with the success of the project, the bilateral friendship between Japan and Nepal will be further enhanced.