Speaker of the House of Representatives of Federal Parliament of Nepal Krishna Bahadur Mahara and Luosang Jiangcun, Chairman of the People's Congress of the Tibet Autonomous Region (TAR) of the People's Republic of China jointly launched the reconstruction project of the Consulate General of Nepal buildings in Lhasa and also the reconstruction project of the friendship bridges in Tatopani-Zhangmu (Khasa) and Rasuwagadhi-Jilong (Kerung) on 9 September 2018.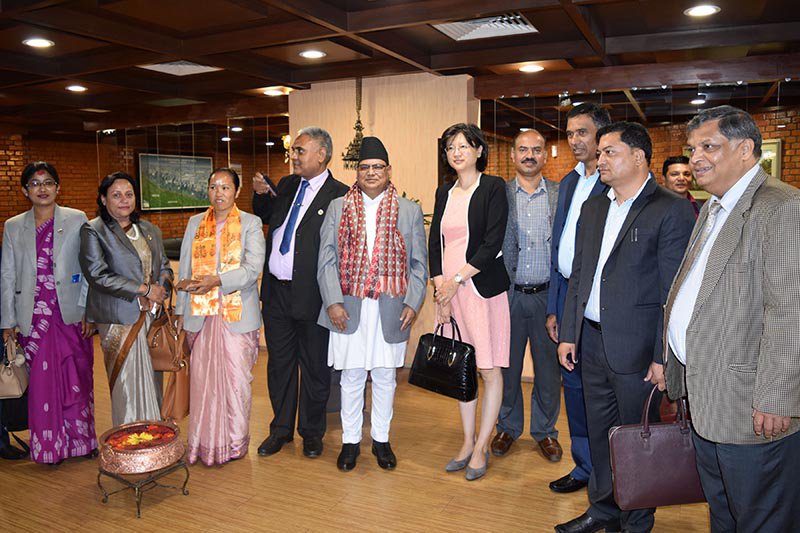 The ceremony was organized in the premises of the Consulate General of Nepal in Lhasa in Norbulingka Road-13 in the morning. During the ceremony, Speaker Mahara and Luosang Jiangcun laid the foundation stone for the reconstruction of Consulate General buildings. They also launched the reconstruction of the two friendship bridges through video assistance.
Speaker Mahara's delegation includes Nepal-China Himalaya Friendship Society, Nepal; the Consul General of Nepal in Lhasa; a Joint Secretary of the Ministry of Foreign Affairs of Nepal and a Deputy Director General of the Department of Urban Development and Building Construction of Nepal attended the ceremony. Also present in the ceremony were officials from various departments of TAR Government.
Speaking in the ceremony, speaker Mahara mentioned that Nepal and China, including TAR, have been enjoying excellent relations since immemorial times. Speaker noted that the Consulate General of Nepal in Lhasa is the only foreign diplomatic mission in Tibet, and therefore a symbol of perennial friendship between the Nepal and China. He also said that TAR is very important for enhancing connectivity between Nepal and China and the reconstruction of historical friendship bridge in Tatopani-Zhangmu--the first road connection between Nepal and China, and also the reconstruction of another border bridge in Rasuwa-Kerung is a step further towards this direction.
Luosang Jiangcun, the Chairman of the People's Congress of TAR and Qi Zhala, the Chairman of the People's Government of TAR, also spoke in the ceremony. Both of them expressed happiness over various types of assistance provided to Nepal. They also underscored the cordial relations between Nepal and China, and highlighted the Belt and Road Initiative of China, which would enhance Nepal's importance as a link to South Asia.
According to a press release issued by Consulate General of Nepal, Lhasa, in the afternoon, Speaker Mahara reached Lulang town of Linzhi Municipality of Tibet to deliver speech as the keynote speaker in the Trans-Himalayan Belt and Road International Economic Cooperation Forum to be held on 10 September 2018. Upon his arrival in Lulang town, he was welcomed by Ma Shengchang, Vice-Chairman of the People's Congress of TAR and Party Secretary of CPC (Communist Party of China) Committee of Linzhi Municipality.
\