Finance Minister Dr. Yuba Raj Khatiwada said that issue of fiscal federalism is very complex but Nepal has been managing in a systematic way in the last six months.
Delivering a keynote speech on Fiscal Federalism on Nepal in South Asia Workshop on Fiscal Policy, organized by the World Bank in partnership with Nepal Economic Forum, Minister Dr. Khatiwada said that the central government is building institutions and legislation to bring the financial order and resource sharing.
The session began with a speech by Faris Hadad-Zervos, World Bank Country Manager for Nepal. After the key note address, a panel discussion held on the opportunities and challenges ahead for Nepal's economy, as it transitions to a federal state.
Participants include Ila Patnaik, Professor at National Institute of Public Finance and Policy (India) and former Principal Economic Advisor to the Government of India; Faris Hadad-Zervos, World Bank Country Manager for Nepal; Kene Ezemenari, World Bank Senior Country Economist for Nepal and Dr. Posh Raj Pandey, Executive Chairman of South Asia Watch on Trade, Economics and Environment (SAWTEE).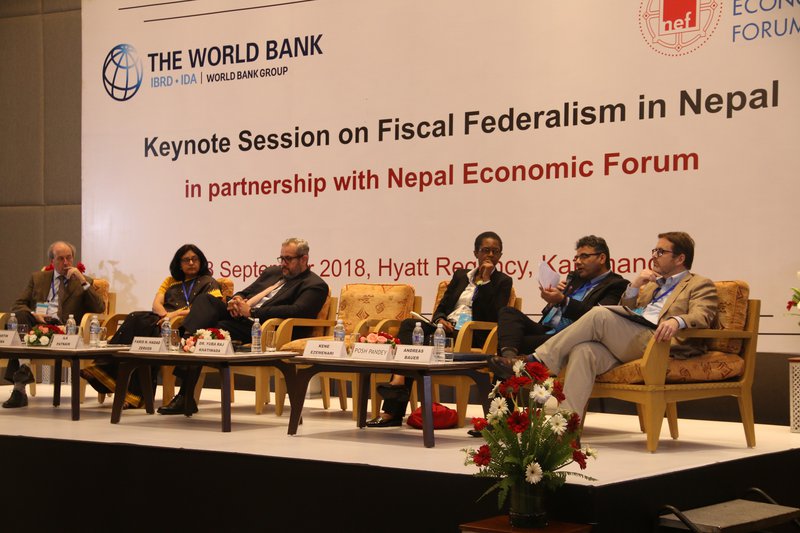 Andreas Bauer, IMF Senior Resident Representative for India, Nepal and Bhutan spoke on struggles and benefits of fiscal federalism in Nepal, South Asia and beyond. The session was chaired by Dr. Martin Rama, World Bank Chief Economist for South Asia.
See Video
An update on fiscal federalism in #Nepal. Live with Yuba Raj Khatiwada, Finance Minister of Nepal. The keynote is part of our recent workshops on fiscal policy in South Asia.

Posted by World Bank Nepal on Tuesday, September 18, 2018