Killed forty-five days ago, parents of thirteen years old late Nirmala Panta, who was raped and murdered in Kanchanpur, have lost a faith in entire police system which have made nothing but to cover up the incidents brining drama after drama.
When people in Kanchanpur saw no signs of arresting culprits of brutal murder, they launched agitation where two demonstrators were killed. Following the police firing, the incident took a new turn.
After growing media coverage and public pressure, Home Ministry suspended head of police of Kanchanpur other four. However, it was too late for police administration and ministry of Home Affairs.
The pressure has grown in such a manner that Home Ministry, which failed to give due attention, finally formed another high level investigation committee suspending five more senior police officials charged to the proof against the culprit.
People have lost the faith. With a call of justice for Nirmala, tens of thousands people across Nepal gathered chanting the slogan justice for Nirmala. Backing the parents of late Nirmala Panta, a thirteen years old girl, raped and murdered by criminals.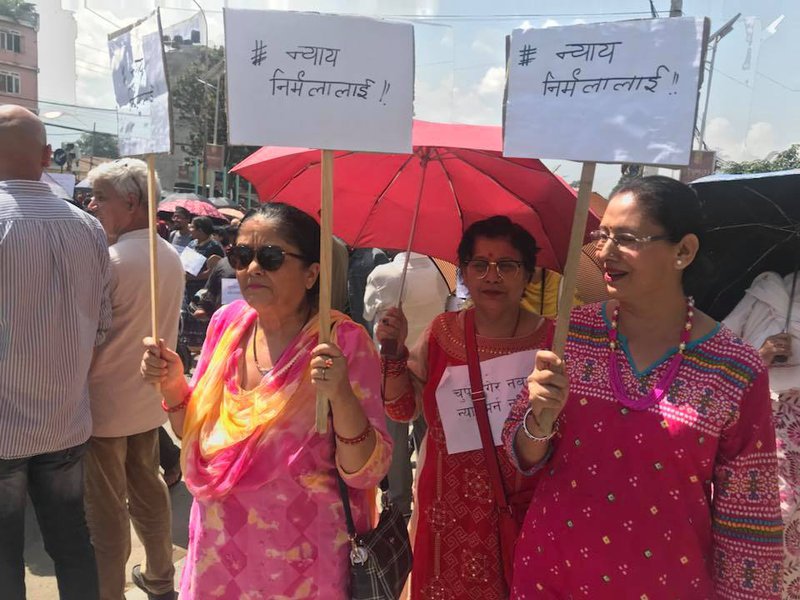 The rally was organized under the citizens' initiative #JusticeForNirmala, which had taken the social media by storm after the fateful Kanchanpur incident, turning into a forum where people could come together and collectively raise their voices against such a contemptible crime.
Despite growing public pressure, Nirmala's murders are yet to be arrested. From children to young and elderly people, there was a huge gathering of people from all walks of life with only one slogan, Justice to Nirmala.
In Pokhara, Bharatpur, Kakadvitaa and Kanchanpur, people also came out the street to hammer out work and to pressure the government.
Finally, the voice for justice to Nirmala has even reached to Prime Minister's office. Prime Minister K.P. Sharma Oli invited late Nirmala's parents and assured them that she will receive justice. She is like my daughter and I will take all necessary steps to punish those involve in the heinous crime.
Minister of Home Affairs Ram Bahadur Thapa Badal said that he feel sad to over the murder and rape of girl Nirmala Panta in Kanchanpur and expressed commitment to bring those persons involved in the incidents will be brought to justice.
Although late Panta's parents left for their home hoping to get justice, nothing is certain now given the past two-months' drama. For Nepal Police, this also involves its credibility and prestige.
Incidents related to violence against women continue to increase. As there is growing pressure to curb violence, two young girls were admitted to a hospital in Gaur of Rautahat District injured in an acid attack.
The condition of two girls is reportedly critical but it was not coverage in the media as the previous one. Minister of Home Affairs Badal said that the government will launch special program to minimize the incidents related to violence against women.
People's march in demand of justice to Nirmala gave a message that Nepalese society cannot tolerate violence against women. Till victims get justice in due time nothing can work. Whether Nirmala or victims of acid, what they need is justice against crime else .