Prime Minister K.P. Sharma Oli, who is leading the delegation of Nepal to the United Nations General Assembly (UNGA), participated in the High-Level Meeting on Action for Peacekeeping (A4P) organized by the United Nations Secretary-General today.
Speaking in the event, Prime Minister Oli paid tribute to the brave peacekeepers including seventy-three Nepalis who made sacrifice in the line of duty. While reaffirming Nepal's commitment to international peace and security through UN peacekeeping, the Prime Minister added that Nepal continued to provide troops and police personnel for UN peacekeeping even at the height of the national difficulty.
According to a press release issued by Lok B. Chhetri, Counsellor/Spokesperson of Permanent Mission of Nepal to the United Nations, Prime Minister Oli also delivered a public lecture on the theme "Peace, Democracy and Development" at an event hosted by the Asia Society. Prime Minister Oli stressed that Nepal's commitment to democracy and fundamental freedoms is total. Nepal's efforts will be to promoting a rule-based, just and equitable international order in which all States –small and big– fulfill their international obligations in good faith, and all countries enjoy equitable opportunities to fulfill aspirations for development and prosperity, he added.
In the session moderated by former Prime Minister of Australia Kevin Rudd, PM Oli expounded the Government's vision of 'Prosperous Nepal and Happy Nepali'. Responding to questions from the audience, the Prime Minister underlined the importance of foreign investments, connectivity and sustainable environment, among other things.
Earlier Prime Minister Oli attended the opening of the General Debate of the 73rd session of the UNGA. The opening featured statements by the UN Secretary-General Antonio Guterres and the President of the General Assembly María Fernanda Espinosa Garcés.
Following the opening, the presidents of Brazil, Ecuador and the United States addressed the Assembly as the first three speakers. The opening was preceded by a short SDG Moment to highlight the importance of investing and achieving SDGs.
The Prime Minister will address the Assembly on 27 September 2018.
In the margins of the UNGA, Foreign Minister Pradeep Kumar Gyawali met his counterparts. Foreign Minister Gyawali met with Shah Mehmood Qureshi, Minister of Foreign Affairs of Pakistan. The two sides exchanged views on the revitalization of SAARC and other matters.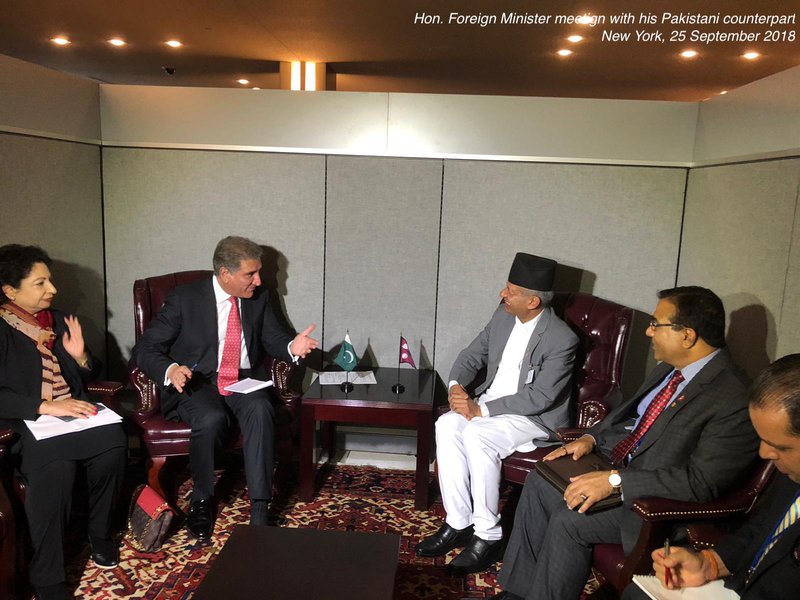 In a bilateral meeting with Ekaterina Zaharieva, Deputy Prime Minister for Judicial Reform and Foreign Minister of Bulgaria, the two ministers agreed to explore further avenues of cooperation in various sectors including education and IT. Mark Field, State Minister for Asia Pacific Affairs of the United Kingdom called on the Minister Gyawali. During the meeting, matters including Nepal-UK cooperation, as well as cooperation at the regional and international platforms were discussed.