Thugs of Hindostan, starring Amitabh Bachchan, Aamir Khan, Katrina Kaif, Fatima Sana Shaikh and Llyod Owen, will be dubbed in Tamil and Telugu to reach a wider audience upon its release.
Yash Raj Films on Wednesday released a video of Amitabh and Aamir announcing the film's release in Tamil and Telugu.
Thugs of Hindostan director Vijay Krishna Acharya said the coming together of two stars for the first time will be a treat for the audience.
"We are a nation of film lovers, and films have often been a cultural glue that binds us all in a way that transcends geography. We hope that in Thugs of Hindostan, the audience will find a story that's universal in appeal and unique in its presentation. If there's one thing we Indians know as a family is to share, and it is in this spirit that we'd like to share our film with our audiences across India. This Diwali let the Thugs entertain you all over Hindostan," Acharya said in a statement.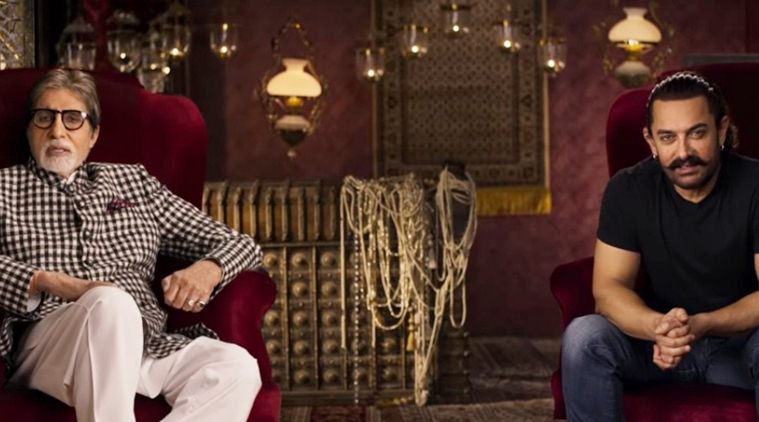 Rohan Malhotra, VP – Distribution, Yash Raj Films, said, "Thugs of Hindostan will be the biggest ever release a Bollywood title has ever had in the history of Indian cinema. We want to give the film a release scale that justifies its humongous hype."
On Tuesday, the first poster of Thugs of Hindostan and the trailer release date was revealed by Yash Raj Films. The makers have already released the character posters of Aamir's Firangi, Amitabh's Khudabaksh, Fatima's Zafira, Katrina's Suraiyaa and Llyod's John Clive. Now, fans are waiting for the trailer which will be out on September 27.
Backed by Yash Raj Films, mega action adventure Thugs of Hindostan is scheduled to hit screens on November 8.
Courtesy: The Indian Express