Ambassador of Republic of Korea to Nepal Youngsik Park has hosted reception on the occasion of the Korean National Day. Chief guest of the program was vice president Nanda Bahadur Pun.
The reception was attended by ministers, former prime minister, parliamentarians, political leaders; Kathmandu based heads of the diplomatic mission, Korean national leaving in Nepal and people of different walks of life.
Addressing the reception Korean ambassador Youngsik Park said that people to people relations between Korea and Nepal are very close despite the geographic distance. Korean ambassador said that known as the roof of the world and birthplace of Shakya Muni in Korea; more than 30,000 Korean tourists visit Nepal.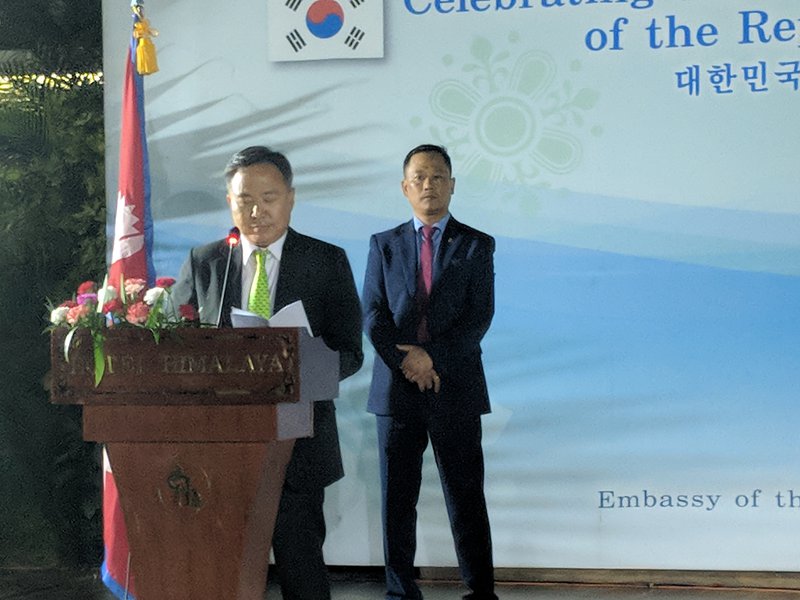 Ambassador Park addressing the reception
Ambassador Youngsik Park reminded two visit of president Moon Jae-in the past and working in Nepal during the earthquake in rehabilitation programs. "Since establishment of diplomatic relations in 1974, the relations between the two countries continues to strengthen," said ambassador Park. He also said that over 35000 Nepalese are currently working in South Korea and they are dedicated and competitive.
He highlighted the rapid change of situation in Korean Peninsula mentioning three high level summit in last one year.