Seven US law enforcement officers have been shot, one of them fatally, in an incident in South Carolina, officials say.
Police in the city of Florence had been responding to a call for help from the sheriff's office.
A gunman had been holding children hostage and was involved in a two-hour stand-off before surrendering and taken to hospital.
He has not been identified and the motive is unclear.
US President Donald Trump has tweeted about the shooting, quoting South Carolina Governor Henry McMaster.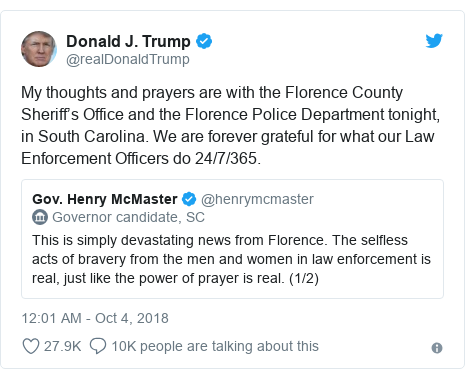 The Officer Down Memorial Page lists the names of 23,408 US police officers killed in the line of duty - 112 so far this year.
Over 15,000 people have been killed by guns in the United States in 2017, according to a list compiled by tracking website Gun Violence Archive.
That figure does not include an estimated 22,000 annual suicides using firearms.
Courtesy: BBC