Government of Japan extended Grant Assistance of three hundred million Japanese yen (JPY 300,000,000), equivalent to approximately 308 million Nepalese Rupees to the Government of Nepal for the 3rd year of the "School Sector Development Program (SSDP)."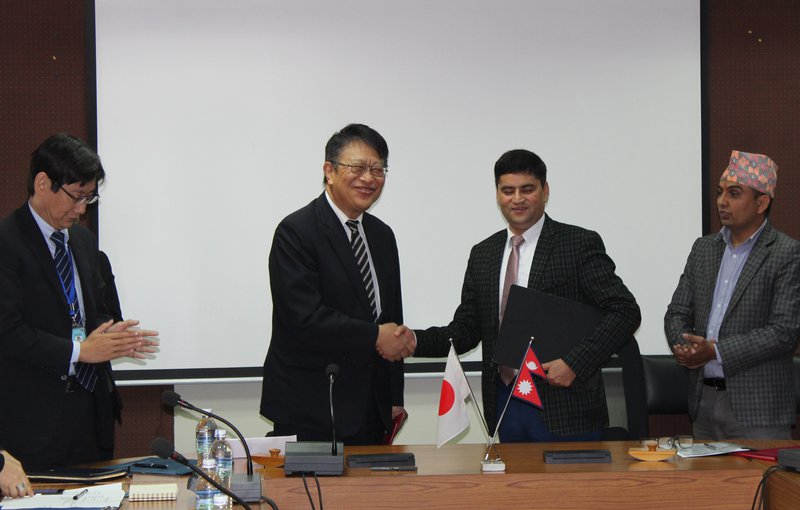 Exchange of Notes (E/N) for the assistance was signed and exchanged on 5th October 2018 between Masamichi Saigo, Ambassador of Japan to Nepal, and Shreekrishna Nepal, Joint Secretary, Ministry of Finance, on behalf of their respective Governments amid a function held at the Ministry of Finance in Signhadurbar, Kathmandu. On the same occasion, the Grant Agreements for both projects were signed and exchanged between Shreekrishna Nepal, Joint Secretary, Ministry of Finance, on behalf of the Government of Nepal and Jun Sakuma, Chief Representative of JICA Nepal, on behalf of Japan International Cooperation Agency.
According to press release issued by JICA, the SSDP fully aligns with Nepal's international commitment towards the SDGs Goal 4, "Ensuring equitable and inclusive quality education and promoting lifelong learning opportunities for all." The overarching mission of the SSDP is for Nepal's schools to produce the needed human resources to elevate the country's status from a least developed country by 2022 and to reach the goal of achieving the status of the level of the middle income country by 2030. The goal is thus to provide all citizens with the opportunity to become functionally literate and numerate, and to develop the life skills and knowledge required to enjoy a productive life, taking into account the diversity of context and the federalization of the country. To improve the equity, quality, efficiency, governance and management of the education sector, SSDP focuses on capacity and knowledge enhancement of both students and teachers by developing relevant teaching and learning methods and materials that ensures quality development.
Lately, SSDP also focuses on strengthening school-level disaster management and resilience to develop school as a conflict free zone.
The SSDP started implementation from July 2016 aims to consolidate gains from previous reform programs and continue crucial reforms needed in the school education sector through the Sector Wide Approach (SWAp) modality. JICA Nepal has joined the pool funding (SWAp modality) since 2014 to assist the school education in Nepal in partnership with other development partners, contributing to SDGs Goal 17, "Strengthen the means of implementation and revitalize the Global Partnership for Sustainable Development".
JICA's contribution in education sector is not limited to financing SSDP through Grant Aid. As a major Development Partner for Nepal, JICA mobilizes different assistance modalities such as Yen Loan, Grant Aid, Technical Cooperation and even dispatch of volunteers to support improvement of school management as well as capacity development of school teachers and improving teaching materials and construction and rehabilitation of classrooms. Development of education sector in Nepal is JICA's top priority and it assures to continue its support to this sector for effective implementation and output.