The Bangladesh Embassy in Kathmandu, Nepal in collaboration with Nepal Academy has translated "Unfinished Memoirs" of the Father of the Nation Bangabandhu Sheikh Mujibur Rahman into Nepali. The Embassy organized the book launching ceremony of Nepali translation of "Unfinished Memoirs" on Monday, 08 October 2018 at Hotel Yak & Yeti in Kathmandu.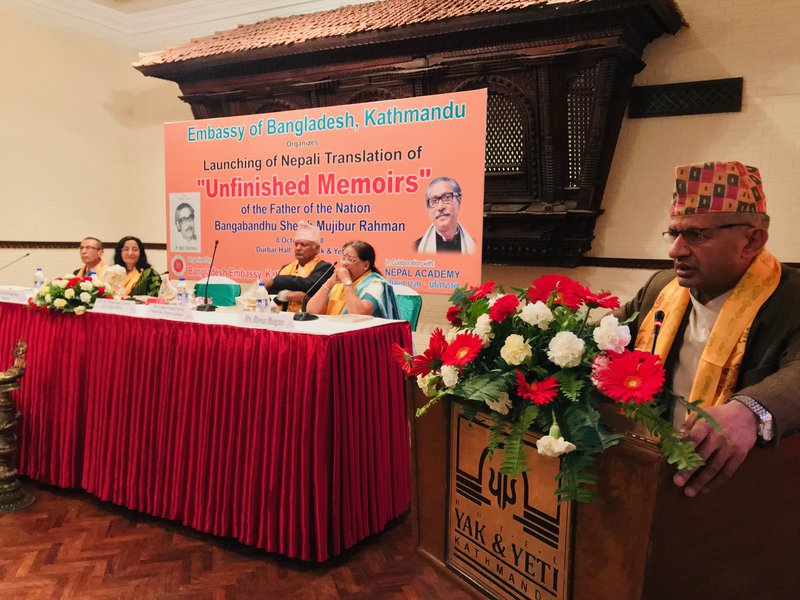 Foreign Minister of Nepal, Pradeep Kumar Gyawali was the Chief Guest at the book launching ceremony and launhched the book formally. The programme was also attended by Ganga Prasad Uprety, Chancellor of Nepal Academy. The translation has been done by Arjun Bahadur Thapa, former Foreign Secretary of Nepal and former Secretary General of SAARC and Mahesh Paudel, Professor, Department of Linguistics, Tribhuban University. While concluding the ceremony, Ambassador Mashfee Binte Shams stated that Father of the Nation Bangabandhu Sheikh Mujibur Rahman is a source of inspiration for not only people of Bangladesh but also for the people of Nepal. By this translation of "Unfinished Memoires" into Nepali language, Nepali people will learn more about the Bangabandhu, his legacy and his inspiration to Bangalees in their fight against injustice, exploitation, fundamentalism and bigotry. She also mentioned that Bangladesh is well on its way to achieving Bangabandhu's long cherished dream of "Sonar Bangla" under the leadership of Prime Minister Sheikh Hasina.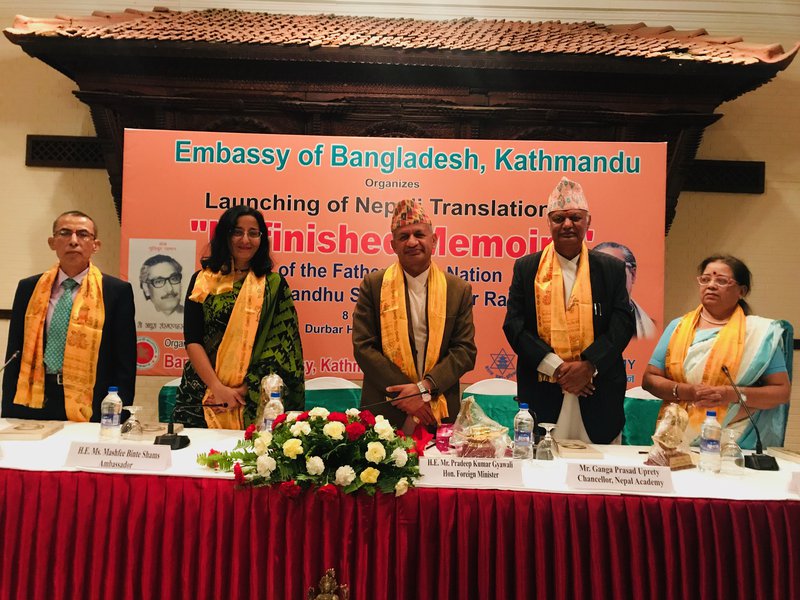 According to press release issued by Embassy of Bangladesh in Kathmandu, Nepal, the book launching programme was attended by Ambassadors, diplomats, officials of Nepal Government, political leaders, members of the civil society, members of Nepal-Bangladesh friendship association, members of Nepal Academy, writers, poets, Nepal Srashta Samaj and representatives of the print and electronic media and the expatriate Bangladesh community living in Kathmandu.