Minister for Energy, Water Resources and Irrigation Barsha Man Pun said that the Government of Nepal has given the foremost priority to overall economic development,
Addressing the Euro-Asian Energy Security Forum National Assembly of the Republic of Serbia, Belgrade, Serbia, he said that Energy has been main focus area as it is one of the key drivers for economic development.
"As energy plays a key role for economic development of a nation and overall well being of a society, its secured and uninterrupted supply has always been a prime concern of all the governments. Though electricity and other forms of energy, such as fossil fuels and natural gas, are tradable commodities, they are, time and again, given strategic importance. This has led many countries to consider Energy Security in their medium and long term development strategies," said Minister Pun.
Full Address of Minister Pun
It is indeed my honour and privilege to get this opportunity to participate in the Euro-Asian Energy Security Forum. Let me express my sincere thanks to the organizer of this forum to make excellent arrangements and to the Government of the Republic of Serbia to make this important event happen in this beautiful and historic capital Belgrade. I feel that the topics of thematic sessions of the forum are relevant to the current global energy supply and demand scenarios. I am confident that this inaugural international multi-stakeholder conference will pave the way for future fruitful conferences. The outcome of this forum will certainly help us in formulating future energy plans and policies.
Because of ever increasing demand of energy in modern times, most of the countries are not in a position to fulfill all forms of energy requirement from the supply available within the country. Since sources of energy, its availability and harnessing potentials, as well as quantum and timing of energy demand are different across the countries and regions, Global, Regional and Bilateral cooperation in energy can address the supply constraints. Energy cooperation and connectivity amongst the countries and across the region are good starting points.
Asymmetric energy supply and demand situations across countries and region may some time lead to difficult and compromising positions, but we believe that energy interdependency helps maintaining sustained cooperation. We cannot deny the role of Global and Regional Stability to our energy security concerns. For this, we have to diversify, as far as possible, energy sources and supply available within the country and outside.
About 74 % of our total energy demand is met by biomass which is traditional energy source. About 14 % of energy supply comes from petroleum products and 4 % comes from coal. About 4 % of energy comes from electricity supply whereas 3.5 % of energy comes from renewable sources such as solar, micro-hydro and wind. Our energy policy has focused to replace these traditional and petroleum sources by environment friendly clean energy sources, especially by abundant hydro potential existing in the country.
Modern electricity supply has reached to nearly 87 % of the population, out of which about 69 % is served by National Grid and about 18 % is served by alternative sources of energy such as solar home systems and micro-hydros. More than 66 % of the population is still using traditional solid fuel for cooking. Per-capita grid electricity consumption is around 200 kilowatt hour.
Hydroelectricity is our key source of energy which has a total theoretical potential of about 83000 MW. About 43000 MW out of this is techno-economically feasible. By far we have developed around 3 % of this feasible potential to meet our current demand of about 1500 MW.
The Government of Nepal has adopted policy for the optimum utilization of water resources to generate hydroelectricity through private sector involvement since 1992. With this initiative, more than 4000 MW capacity of various hydropower projects are in different stages of construction and in the next 3-5 years, electricity generation is expected to reach fivefold of the current capacity. On May 8 2018, our ministry has released a White Paper on current situation and future road map for "Energy, Water resources and Irrigation Sector". We have set a target to generate 15,000 MW of hydroelectricity in ten years and we intend to set aside 5,000 MW for external power trade with neighboring countries.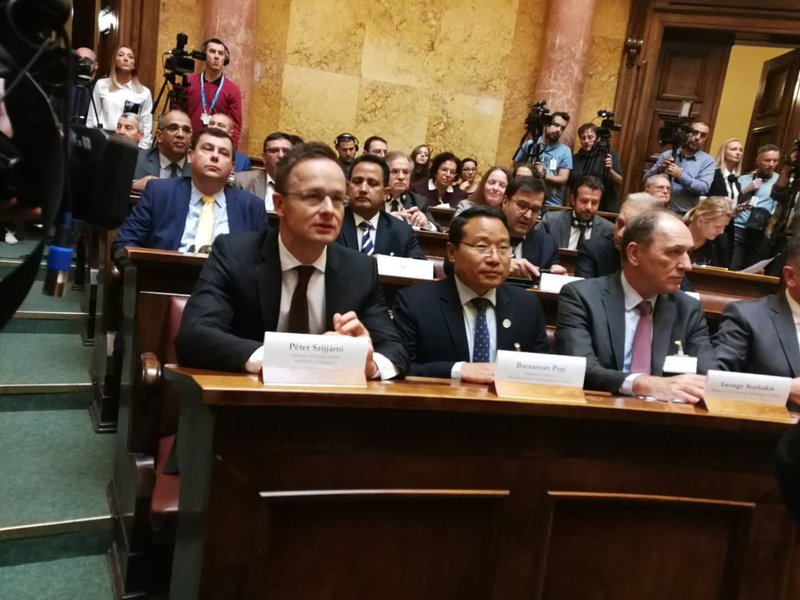 I believe optimum exploitation of hydropower resources with seasonal and daily storage capacities along with the use of locally available renewable energy sources like solar and wind, will be the key factor for a stronger and stable energy mix. Once we become able to generate energy source like this, our heavy dependency on imported fossil fuels will be greatly reduced through substitution with clean and renewable energy sources.
As 80% of the annual precipitation in our country occurs in four wet months of a year and the remaining period virtually passes dry, the Government of Nepal is willing to develop large Reservoir and Peaking Run off River types of projects. A number of such projects are at different stages of investigation and require large amount of investment. I invite key international hydropower developers, investment companies, sovereign wealth funds, utility companies from all around the globe to invest in appropriate hydro power projects, preferably large and reservoir ones, in a modality that fits in the investor's interest best. Appropriate modality could be negotiated and finalized.
We believe that regional energy connectivity is necessary for balancing energy supply and demand in the region. Regional Cooperation and Regional Connectivity seems a viable approach to the sustainable regional energy development.
We have SAARC Framework Agreement for Energy Cooperation (Electricity) and MoU on BIMSTEC Electricity Grid interconnection. These regional agreements provide planning agencies of the SAARC and BIMSTEC Governments to plan cross-border grid interconnections through bilateral/trilateral/mutual agreements, and to build, own, operate and maintain the associated transmission systems.
On bilateral level, we have entered into a "Power Trade Agreement" with India in October 2014. Through this agreement the two governments have agreed to speed up interconnection planning and construction, and to cooperate on policy harmonization for the realization of cross-border interconnections, grid connectivity and power trade.
Last year we have signed a Memorandum of Understanding on "Belt and Road" development initiative introduced by China. Through this initiative, amongst many other areas of cooperation, both the countries have agreed to strengthen cooperation on electric power grid connectivity. In June this year, we have signed a MOU with People's Republic of China on "Energy Cooperation". Likewise in August, we have signed a Memorandum of Understanding on "Cooperation in the field of Power Sector" with Peoples Republic of Bangladesh. Through these agreements and initiatives we believe that the cooperation at bilateral, sub-regional, and regional level for energy connectivity on electricity will be further enhanced to the benefit of all the member states. Here, I would like to emphasize that we intend to build on these bilateral and regional connectivity initiatives and extend these to Euro-Asia connectivity which ultimately would enhance the Euro-Asia energy security.
We have learned that "Euro-Asian Youth Council" is an integral part of this inaugural conference. I appreciate this initiative to involve students and young professionals in a forum like this where they can learn and exchange their views on the challenges in issues related to energy security, energy supply, global and regional cooperation. We look forward to participating in future forums and also cooperating at academic level.
I believe that the topics covered in this forum are complex as many players and stakeholders are to be involved in. No matter its complexities, we should persist to continue our engagement and dialogue as there seems no better alternative to address energy related issues of this era.