As Nepal is receiving the highest Foreign Direct Investment from little known countries, such as West Indies, directed at the service sector, the money will play only a very insignificant role to promote employment in the country. This will result in a very nominal contribution to social welfare.
Although, along with western countries and China, many other countries are competing to increase their investments, the current trends show that FDI coming from India is more comprehensive, covering industry, agriculture and service sector.
"First of all, the main focus we want to apply when talking about FDI in the course of this event is the issue of social justice, or to put it into simple questions: Does FDI promote social justice in general? What framework conditions what ways of implementation are needed for that? And last, but not least-Justice in what sense? Does FDI enforce the creation of employment and if yes for whom? Do we talk about low paid, unqualified jobs or possibilities for qualification and decent work conditions? What about huge projects e.g. in the infrastructure sector- are they contributing to improve the living conditions of many people especially those who are disadvantaged and deprived of equal changes and access to development. And about environment risks? Do short and mid-term benefits outweigh the long term costs in terms of loss of natural resources or a high vulnerability to natural risks?" said Annette Schlicht, Resident Representative of Friedrich-Ebert-Stiftung (FES) Nepal office. "Viewed against this backdrop it is, I think, easily understandable, why FDI as an important contributor to development besides public finance, remittances and official development assistance is indeed a very important topic to analyze in more details for all those close to the ideas of social democracy. And not only that, I think, for all those who are striving for social justice as it is also enshrined in the constitution of Nepal shaping the framework conditions for FDI in order to allow as many people as possible to benefit from it in the form of better living and working conditions is a must."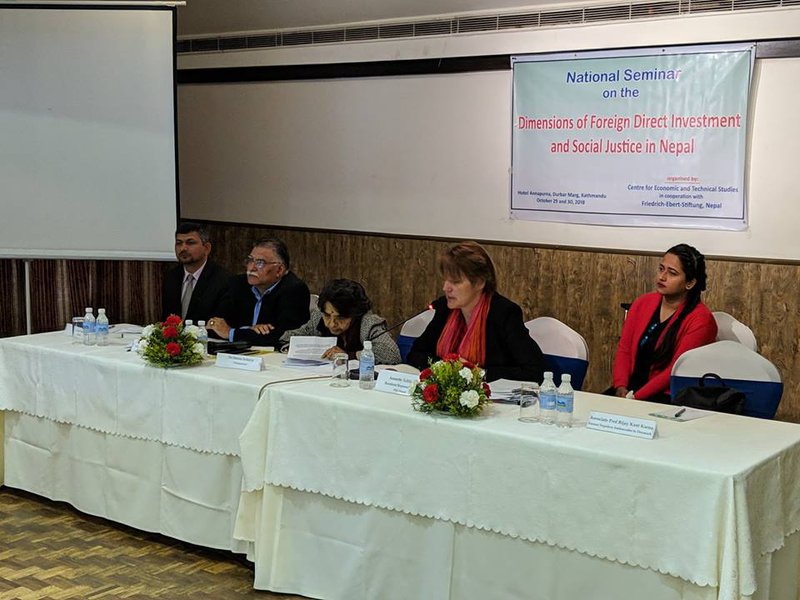 Given the current trends, FDI has made just a little contribution to address these issues. Confined to social sector, the FDI has little to do with increasing employment and giving social justice to many.
At a time when FDI is regarded to be a crucial factor for economic development and employment generation, Nepal has made a little gain out of this. Trapped in a weak legal regime, political instability and regional geo-politics, Nepal's FDI scenario is very bleak.
Recently, Chinese investment is growing in industries and service sector, it is yet to come to the agriculture sector. With a weaker internal market, legal hassles and uncertain polices, it is very difficult or impossible for western countries to invest in Nepal's industrial sector.
This is the reason investment is pouring in Nepal in service sector from the countries where the tax regime is non-existent and transfer of foreign currencies is easier.
Presenting the keynote address, former vice chair of National Planning Commission disclosed that out of 137.6 billion rupees in total foreign direct investment, West Indies is the number one foreign investor in Nepal with Rs.62. 8 billion rupees followed by India with 27.3 billion and China Rs.10.8 billion.
According to the paper presented by Dr Jagadish C. Pokharel, Singapore with 7.1 billion stood fourth followed by Ireland 5.8 billion. Other top countries in the list include Australia 3.8 billion, South Korea 2.9 billion, Bangladesh 2.5 billion, UK 2.3 billion, USA 2.3 billion and others 10.0 billion.
He also said that West Indies, Ireland, Australia and Bangladesh investment is directed at service sector only. India's investment is diversified in Industry, Service and Agriculture. However, China's investment is in industry and service sector.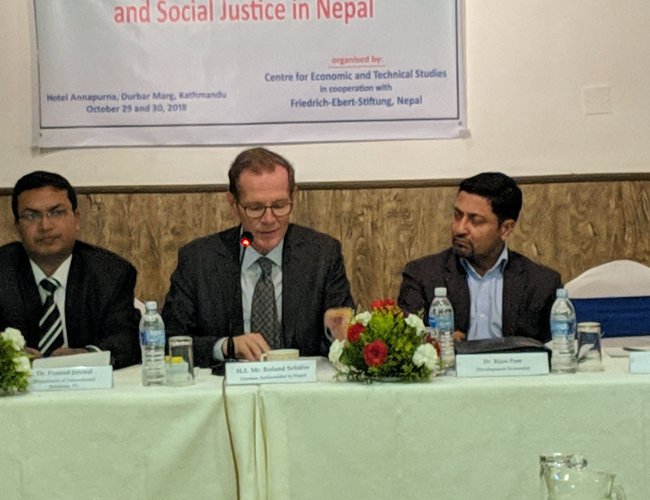 Organized by Center for Economic and Technical Studies (CETS) with support from Friedrich Ebert Stiftung (FES), various scholars presented their papers on the first day of the two-day national seminar on Dimension of Foreign Direct Investment and Social Justice in Nepal.
At the function, chaired by Dr. Meena Acharya, Birendra Saud, advocate and investment expert, welcomed the guests highlighting Nepal's legal and policy lapses in inviting the foreign investment in Nepal.
Opening the program, economist Dr. Hari Bansha Jha highlighted its importance. From the chair Dr. Acharya said that there was the need to have a balance between FDI and Social Development Goals.
Professor Madan Kumar Dahal chaired the function in which Dr. Jha presented a paper on Chinese Investment in Nepal in the context of other countries in South Asia, Africa and South East Asia followed by advocate and FDI expert Birendra Saud.
Chaired by Professor Kedar Nath Sharma, SVCC/ Embassy of India, the second session began with a paper presented by Atul K Thakur, deputy secretary, Chamber of Commerce and Industry, New Delhi, on Indian Investment in Nepal: Keeping high promises, coping big challenges.
In his absence, Binayak Basnyat, Program associate, The Asia Foundation, read the paper. Commented by Madhukar S. Rana, economist and former finance minister, Thakur replied to the queries from SKYPE.
Participated by over 100 experts, economists, political scientists, students and people from different walks of life, the first day's session concluded with the remarks by Sharma.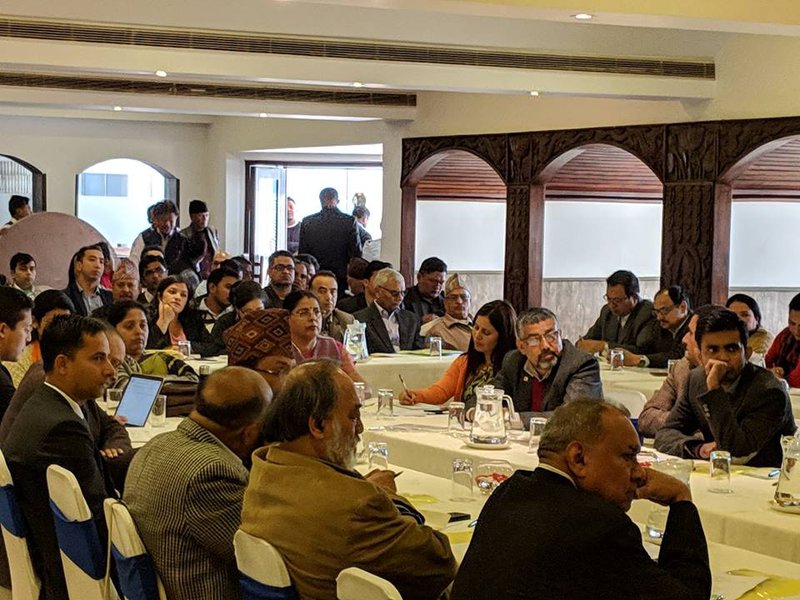 To be presented the following day, a paper on Western Investment in Nepal was by Professor Meena Vaidaya Malla with comments by senior advocate Dinesh Tripathi.
The last session was to be chaired by German Ambassador to Nepal Roland Schafer on Socially Just Development in Nepal and the role of FDI. Yet another session was to be chaired by Dr. Minendra Rijal and paper presented by Achyut Wagle.
Panelists included Padma Jyoti of Jyoti Group of Industries, Baljit Vohara, Lous Berger, Dr. Pramod Jaiswal, TU, Bijan Pant, Development economist, Dr. Bhaskar Koirala, China Expert and Professor Anila Pradahn.
At a time when Nepal is searching the way for foreign investment in Nepal, the workshop helps to understand handicapped, regional geo-politics and constraints of the nation to decide.