Finance Minister Dr. Yubaraj Khatiwada launched Nepal Development Update (November 2018) amid a function on Thursday. Delivering a keynote address , chief Guest Dr. Khatiwada, said that the update gives a broader views of Nepalese economy and thanked The World Bank Nepal team for bringing out such an important document.
Finance Minister Khatiwada said the government has been working on policies and reforms to strengthen the investment ecosystem create a suitable climate for foreign direct investment and encourage the private sector to achieve their productive potential.
"Our development model of "Prosperous Nepal, Happy Nepali" aims to achieve faster growth through higher levels of investment, productivity, and effective public institutions that can crowd in private resources," said Dr. Yuba Raj Khatiwada, Minister of Finance, Government of Nepal. "The Government is already working on policies and reforms to strengthen the investment ecosystem, create a suitable climate for FDI and encourage the private sector to achieve their productive potential. An international investment summit to capitalize on development of industries has been planned for March, underlining our commitment to the private sector," he added.
According to a press release issued by the World Bank, crowding in the private sector and maximizing finance from all possible sources will be critical for Nepal's ambitious-but-realizable voyage towards a Middle-Income Country (MIC) by 2030, according to the latest edition of the World Bank's Nepal Development Update released today. The government has targeted a 10-percentage-point increase in investment by 2021, which is only possible with a shift from remittance-led and consumption-based growth to one driven by investment and productivity, the Update says.
In FY 2018, growth in Nepal remained strong at 6.3 percent despite less favorable monsoons and the slight easing of growth from the rebound following the trade disruptions in 2016. The report also highlights the increasing contribution of investment as a key driver of growth. The Update projects GDP growth over the medium term to average 6 percent, driven primarily by total investment. Inflation is expected to hover below 5 percent, assuming continued increase in oil prices and depreciation of the exchange rate.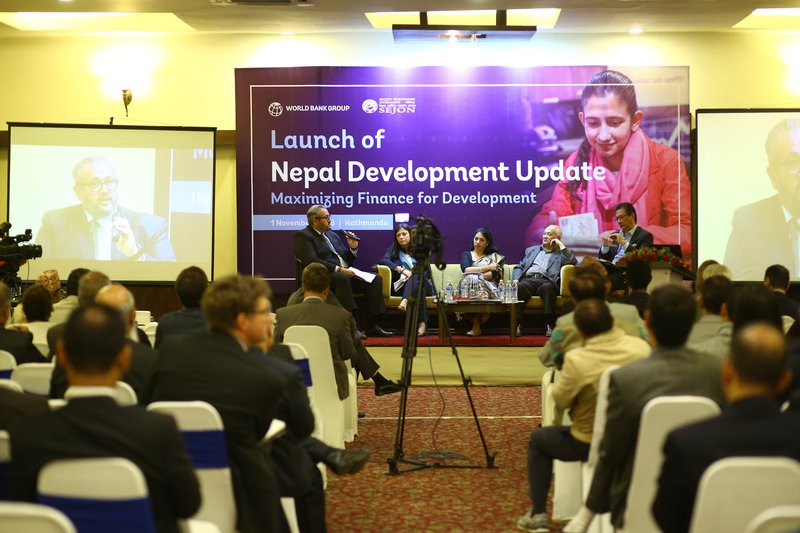 "Selected priority reforms to crowd in the private sector are a must, along with a strong emphasis on increasing firm competitiveness and exports," said Dr. Kene Ezemenari, World Bank Senior Economist and author of the update. "Promoting financial inclusion, developing long-term financing to invest in infrastructure, strengthening public investment management and public private partnerships (PPP) are the key priorities for Nepal to position itself as a relevant global player," she added.
In its Special Focus section, the report notes that Nepal's ability to integrate into the global markets is hampered by negligible Foreign Direct Investments (FDIs) over the past several years. To generate higher and more sustainable GDP growth over the long term, Nepal requires a transformative change in its FDI environment. This FDI will generate funds, support innovation and propel skills development. This, in turn, requires a revamped legislative and regulatory framework to facilitate both foreign and domestic investment. This includes, among others, enacting the Private Public Partnership (PPP) law, developing a pipeline of PPPs, and addressing constraints to skills and managerial capabilities especially in tourism, agribusiness and ICT. Easing restrictive policies on borrowing from foreign lenders, engaging foreign investors and deepening capital markets would also be needed.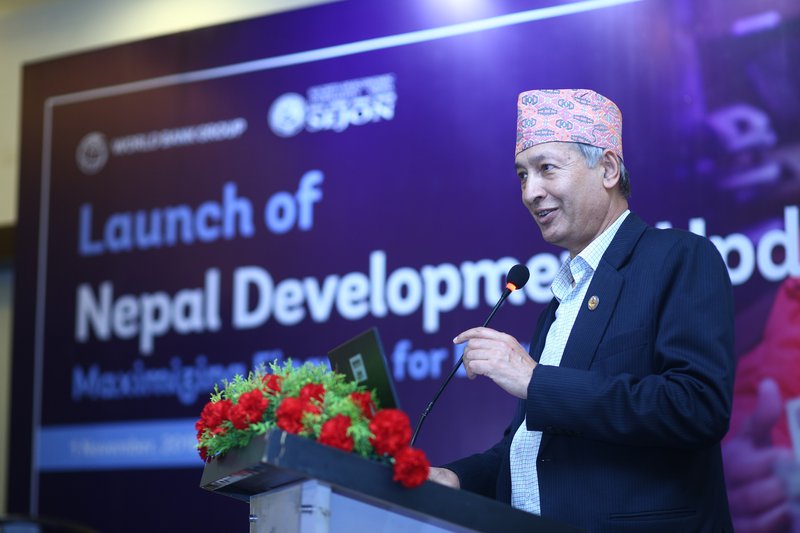 "The Government of Nepal will need to continue taking proactive and transformative steps to attract investments to drive its development," said Dr. Qimiao Fan, World Bank Country Director for Bangladesh, Bhutan and Nepal, "This is a new day for Nepal, and key policies and practices will be needed to signal to global investors that a new ecosystem is being put in place. As a trusted partner, the World Bank Group will provide all required support to this critical agenda."
According to the World bank, the Nepal Development Update is produced twice yearly with two main aims: to report on key economic developments over the preceding months, placing them in a longer term and global perspective; and to examine (in the Special Focus section) topics of particular policy significance. The Update is intended for a wide audience including policymakers, business leaders, the community of analysts and professionals engaged in economic debates, and the general public.
President of Society of Economic Journalist (SEJON) Pushpa Raj Acharya delivered vote of thanks.
Video Courtesy The World Bank Nepal