Host Pokhara Paltan lifted the first Pokhara Premier League (PPL) defeating Chitwan Rhinos by three wickets. Batting first Chitwan Rhinos placed the targets of 161.
In reply, Pokhara Paltan scored 161 in seven wickets in 19.2 over. Pokhara Paltan's Ravinder Singh played a crucial role to defeat Chitwan Rhinos and lift the Pokhara Premier League (PPL)'s trophy. Ravinder Singh scored 90 run hitting 13 fours and three sixes and Pokhara Paltan's captain Sarad Bheshwakar scored 22 run.
After winning toss, the home team, Pokhara Paltan, invited Chitwan Rhino led by Paras Khadka to bat. Captain Khadka scored half century, Sonny Patel scored 43 and Anil Shah 37 in 20 over. Chitwan Rhino scored 160 at the loss of five wickets.
From Pokhara side Mohammad Navid Ashik Shekh scored 25 and 12 runs respectively. Chitwan Rhinos made an astounding return after taking the wicket of Ravinder Singh in the 18th over. After two fresh wickets, Binod Bhandari hit a boundary to end the game.
According to a report by Deshsanchar, along with trophy, Pokhara also secured 2.7 million rupees cash and runner of Chitwan Rhinos secured 1 million cash.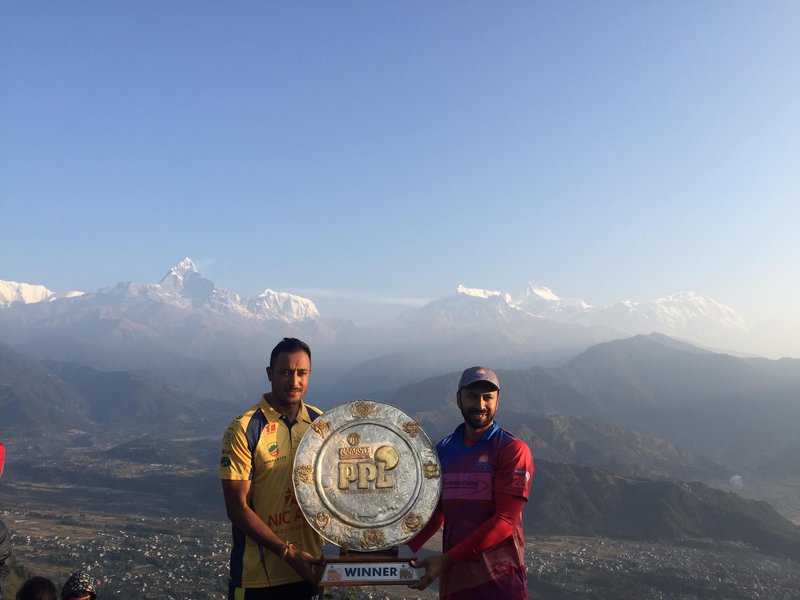 Photo courtesy: Deshsanchar