At least nine people have been killed and more than 150,000 evacuated as two big wildfires rage in California, officials say
Five people of the dead were found in cars in a town that was destroyed by the Camp Fire in the state's north.
West of Los Angeles, the Woolsey Fire jumped a major highway and headed into coastal areas, including the town of Malibu where some homes are ablaze.
Both fires are moving fast, fanned by strong winds.
The blaze spread rapidly overnight and jumped Highway 101, a major route west of Los Angeles.
At midday on Friday local time (20:00 GMT), it covered about 14,000 acres (5,665 hectares).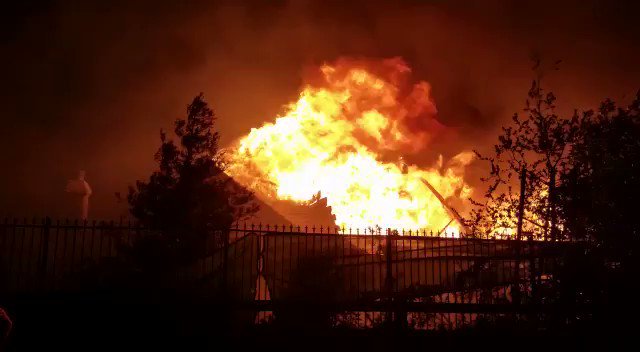 The fire broke out near Thousand Oaks, an area about 40 miles (64km) north-west of central Los Angeles where an attacker killed 12 people on Wednesday, prompting the evacuation of 75,000 homes.
Thousands more residents have now been ordered to evacuate from several more towns to the west of Thousand Oaks, including Calabasas immediately south of Highway 101 and Malibu on the coast, as well as from the western edge of Los Angeles.
Calabasas and Malibu are home to numerous celebrities and some have been posting on social media, including reality TV star Kim Kardashian. On Instagram she urged people to "pray for Calabasas". "Just landed back home and had one hour to pack up and evacuate our home. I pray everyone is safe," she wrote.
Her husband, the rapper Kanye West, said their family was "safe and close".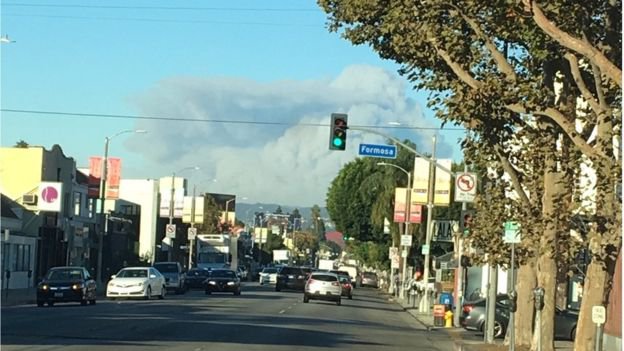 What has happened in northern California?
The 20,000 acre (8,100 hectare) Camp Fire, which started on Thursday near Camp Creek, has destroyed the town of Paradise.
The Butte County Sheriff's office said five victims had been burned to death in their cars and could not immediately be identified.
The fire is being driven west by 35 mph (56 km/h) winds, fire officials said.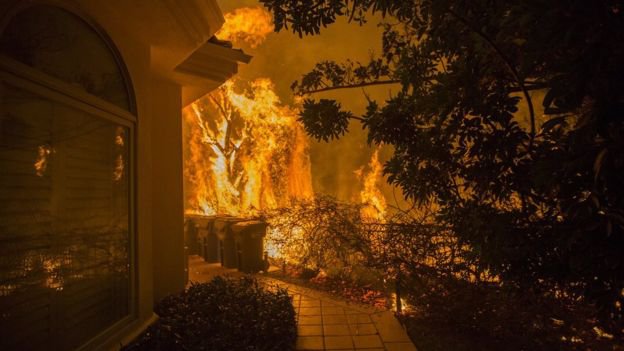 Courtesy: BBC