President Vidya Devi Bhandari visited Kamalpokhari and prayed for setting sun celebrating Chhath festivals along with other devotees from different parts of Nepal.
Along with Kathmandu, Chhath is celebrated mostly in province 2 of Nepal and many parts of India. According to media reports, Chhath parva is celebrated by natives of Mithila region of Nepal and India. This festival is dedicated to god Sun. Sun is called Surya in Sanscrit, Chhat parba is thanks giving to lord Surya for sustaining life on earth and to worship him to provide his continuous blessings to mankind.
The Sun, source power of nature, considered the god of energy and lord of the life-force, is worshiped in Chhath to promote well-being, prosperity and progress. Hindu people believe sun helps to cure many illness and diseases. Sun is considered as source of healing too. Sun is also considered as token of stability and prosperity. Therefore, people worship sun to ensure the longevity and prosperity of family members, friends and beloved ones.
When is Chhath Puja
Chhath parba is observed for 4 days from Kartik Shukala chaturthi to Kartik Shukala Saptami. This festival falls in October or November in the English Calendar.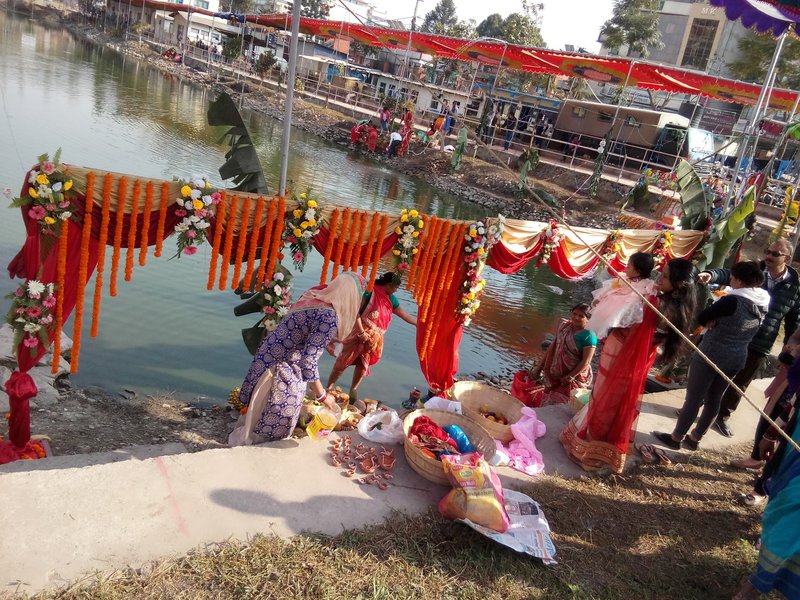 Chhat festival is celebrated for four days. The ritual of Chhat Parba includes taking holy bath, fasting, standing and worshiping sun for a long time and offering Prasad and Argha to 'Rising and setting Lord Surya". Some worshipers observe fasting even without water for 36 hours continuously.
The Yogic Philosophy of Chhath
According to yogic philosophy, the physical bodies of all the living organisms are highly sophisticated energy conducting channels. The solar bio-electricity starts flowing in the human body when it is exposed to solar radiations of specific wavelengths. Under particular physical and mental conditions, the absorption and conduction of this solar-bio-electricity increases.
The processes and the rituals of the Chhath puja aim at preparing the body and the mind of the Vratti (devotee) for the process of cosmic solar energy infusion.
The scientific process similar to Chhath was used by the Rishis of yore for carrying out their austerities without any intake of solid or liquid diet. Using a process similar to the Chhath puja, they were able to absorb the energy needed for sustenance directly from the sun, instead of taking it indirectly through food and water.