Inspector General of Police (IGP) Sarbendra Khanal and two members of Nepal Police team are participating in 87th General Assembly of INTERPOL. Nepal is one of 173 countries taking part in the discussion about the future of crime fighting.
Along with IGP Khanal, head of Central Investigation Bueau Deputy Inspector General of Police Niraj Bahadur Shahi and head of Interpol section of Nepal Police Superintendent of Police Umesh Raj Joshi are also participating in the meeting in Dubai.
According to report in Arab news, with emerging technologies developing at a rapid pace in today's digital age, drug trafficking through the dark net is one field that global police chiefs are confronting as they upgrade their skills to confront the new reality.
As part of Interpol's 87th General Assembly, about 40 ministers and 85 police chiefs from around the world are meeting and for the first time discussed innovation in policing and today's major crime threats. "In the age of unprecedented information exchange, police the world over are increasingly facing new challenges," Kim Jong Yang, Interpol's senior vice president, said during the event's opening ceremony on Sunday.
"Interpol must evolve to continue strengthening its global early-warning system by means of policing capabilities, to detect and prevent the flows of transnational crime," he added. "Global connectivity is something Interpol strives for among law enforcement worldwide."
The event enables Interpol's 192 member countries to work together to fight international crime, and learn about investment in innovation, data overload and changing the culture of policing to keep pace with technology.
"It is a swiftly transforming environment, not least in terms of scope and technologies. This is the era of artificial intelligence, cyberspace unknowns and intensive digital activity," Kim said.
"A highly innovative outlook to how police traditionally operate is rapidly being adopted by many governments at the national level," he added.
"Criminal data and the rules surrounding its processing have become critical contours for shaping the work of international police cooperation."
"International police cooperation is important," Interpol Secretary-General Jurgen Stock said during a press conference.
"Interpol's database contains 93 million records, and they are being checked up to 200 times a second," he added.
"This is just a snapshot of the activity of our member countries, which doesn't include regional and global activities targeting all forms of crime by Interpol," Stock said.
"Every gap that remains provides opportunities for criminals to hide their terrorist activities, so it's important we strengthen this system."
Drug trafficking is a prime example of a crime affected by the digital revolution. "Drug dealers trafficking their drugs physically from place to place are still ongoing, but the new threat dimension is definitely drug trafficking with regards to the underground economy and the dark net," Stock said. "One of the challenges for global law enforcement is to adapt to new technologies."
Johan Obdola, president of the International Organization for Security and Intelligence, said cyber threats presented an extraordinary security challenge to the world, especially the Gulf Cooperation Council (GCC) member states.
"Saudi Arabia is already facing some level of underground criminal activities, mostly related to money laundering and illegal drugs," he added.
"These operations aren't conducted in isolated ways; they're highly complex and coordinated regional and global operations conducted from several locations around the world, from where strategies, shipments, communications, money laundering and additional logistic services to these criminal enterprises are happening."
These transnational criminal groups have no limitations regarding countries and possess the capacity to undermine the stability of any nation if they reach a level of national underground control, Obdola said.
"The dark web is the most ideal cyber tool for criminal and terrorist groups to operate, as it provides the anonymity and hard-to-track platform required for these groups," he added.
"From anarchists to terrorism, criminal activities including prostitution, assassination services, weapon sales, radicalization literature, child prostitution and money laundering are provided, acquired and coordinated through the dark web."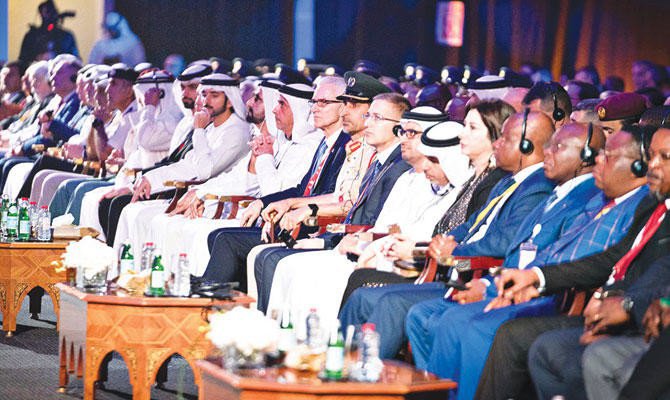 But global crime is becoming more complex and international in today's digital age, requiring police chiefs and ministers to address complex terrorism and crime threats, Stock said.
Interpol's number of Red Notices, a request to locate and provisionally arrest an individual pending extradition has been on the rise, reaching 57,289 to date.
Daily arrests of murderers, rapists, perpetrators of sexual child exploitation, drug dealers and other members of organized crime take place throughout the world.
"In the past few years, we have also strengthened the legal framework behind the system of the Red Notice to ensure every notice request is assessed by an international legal team," Stock said.
"It is quite clear all these phenomena can't be fought in isolation. No country or region can fight these in isolation, so this strengthens our global fight against terrorism and crime."
Increased use of artificial intelligence and robotics, as well as innovation in the field of forensics, is high on the event's agenda.
As societies continue to change, and with more than 55 percent of the world connected to the Internet, Stock said a more hyper-connected world and the "Internet of Everything" will provide unprecedented opportunities for criminals to attack private computers and critical infrastructure, including the health system and water supply.
"This needs to be protected, and police work needs to adapt to this new environment. Police agencies need to invest in capabilities, in expertise and investigation in the dark net, where you can simply click and buy drugs which will then be sent, or buy and rent a botnet, hacking tools and organize a criminal group through the Internet," he added.
"That's a new dimension of crime, which all member countries are facing, so modern policing needs to be innovative."
During the event, Interpol will elect a new president and consider the membership applications of Kosovo, Kiribati and Vanuatu.
The organization's former president, Meng Hongwei, resigned by letter tendered by the Chinese government last month over "suspected corruption," before disappearing. Interpol has come under increased pressure to provide answers as to his disappearance.