After a half day's intense discussion among different stakeholders, National Bal Kachahari 2018 concluded by issuing18 points Kathmandu Declaration calling for elimination of child marriage and promotion of child rights.
Presented by Madhab Raj Neupane, Executive Director of Karnali Integrated Rural Development and Research Center (KIRDARC), Rajesh Poudel of Good Neighbors and Tillotam Poudel, participants of Balkachahari 2018 has endorsed the Kathmandu Declaration urging the concerned stakeholders, including the local level, provincial and central level to effectively implement the related laws and programs and eliminate child marriage.The declaration call for broader coalition to implement the child related acts, polices and strategies.
Endorsed by people from different walks of life, including human rights activists, child rights activists, Police, government officials, civil society members, and celebrities, teachers and children leaders from different parts of the country calling for promotion and protection of Child Rights and solidarity Against Child Marriage, the declaration draws the conclusion that child marriage is one of the major one out of many forms of violence against children,
The children said that the article 15 of Constitution of Nepal 2015 and Children Related Act 2018 empower them and protect against all forms of violence. They call for strong solidarity to achieve it.
As the government has already announced to end child marriage by 2030, the children realizes the needs of all the stake holders to be united further need to implement anti-child marriage strategy, laws and policies. In their Kathamndu Declaration the children expressed their commitments to launch nationwide campaign with a slogan "marriage after 20 years".
Children Kachahari also expressed the commitment to work with all the stake holders in the society to end the child marriage and violation against children. The children has also expressed commitments to make child marriage eliminated villages, towns and districts with the support of all concerned stake holders.
They also call to make Nepal Police more responsible and accountable to prevent the child marriage. The children has also demanded formulation and implementation of a special policy directing to individual, family, community, schools and public space to end all forms of violence, murder, rape, discrimination, exploitation. Children also draw the attentions all concern to make Wards, Rural Municipality and Municipality Child-Friendly Local Governance (CFLG) and urges for effective implementation.
To reduce rampant prevalence of child marriage, they draw the attention of Local Level, Provincial and Central Government to launch legal literacy and education for parents, boys and girls Gils n through civil society institutions.
Kachahari Program
Inaugurated by Minister of Women, Children and Senior Citizen Tham Maya Thapa, child right activists, child workers, civil society members and government officials intensely interacted in the half-day program before issuing the declaration.
As soon as organizers provided the floor, Anushka Rawal, 15, of Bajura district of Far-West province of Nepal boldly presented a pathetic state of children in her areas. "Of course, the situation has changed a lot following the implementation of laws and regulations to protect the children, child marriage and abuse of child rights continue," said Rawal, member of Child Club, at National Bal Kachahari 2018 organized to promote child rights and eliminate child marriage at Nepal Tourism Board.
At the event attended by 40 children from 13 districts, Rawal was not alone to present such a scenario and call for more efforts to end the violation of child rights and child marriage.
"Our experiences have shown that the constitution and laws are not enough but there is the need of changing the mindset of the people. This requires more awareness programs," said Rawal, a class 10 student of Deval Bain of Budhiganga Municipality. "Children need protection. Without strengthening the child, development is impossible as they are the future leaders. "I have been actively taking part in programs to eliminate the child marriage. I even took a group of people to cancel a child marriage in my neighborhood but we were unable to do so because of the protection given by elected representatives."
Fourteen years old Pushpa Raj Budha of Chhaya Sara Municipality of Mugu district shared his own experiences. Student of class 10, Budha, member of Child Club, holds the view that there is the need to launch more awareness campaigns to eliminate child marriages like this. "Of course, local levels are given more power to deal with child rights. However, they don't have adequate budget to run awareness campaigns. Thanks to KIRDARC and World Neighbors, we are able to attend this kind of program and learn issues related to child rights," said Budha, who had also participated in a program earlier in Surkhet a year ago.
"This program gave us exposure and helped us learn about the way to prevent child marriage and work to promote child rights. It is unfortunate that our district still has the highest prevalence of child marriage. What I can say now is that this program has inspired me to launch more effective programs in my areas. We have child clubs and are launching programs in collaboration with local level and NGOs and INGOs like Good Neighbors. Despite several incidences of child marriage, the local levels and local administration always refuse to register complaints."
Another young girl from Kharpunath Rural Municipality of Humla District had her own experience to share. "This is my first visit to Kathmandu where I learned a lot of issues related to child rights. Child Club has helped to reduce the number of incidents of violation of child rights. We do hold the meetings regularly and decide the matters related to child rights. We have been launching drama, balkachahari and other issues. After taking part in this Kachahari, my knowledge on child rights has enhanced widely."
Debaki Dhami, a resident of Malikaarjun Rural Municipality of Darchula, is the vice president of a Children's Club. She holds the view that there is the need of more awareness campaigns to change the mindset. "Of course, local levels are more powerful but local leaders themselves encourage child marriage privately. Unless, we generate awareness among them, nothing is possible. This national Kachahari has given us certain guidelines."
Fourteen years old Ain Bahadur Budha, a residence of Tila Gufa Municipality, ward 1, of Kalikot District, is a student of class nine. Having joined the child club two years ago, he is aware of child rights and is involved in launching various programs with his colleagues against child marriage. "I am very happy to be a part of national level Bal Kachahari. I learned so many things here from friends from different parts of the country. I will more vigorously get involved in the rural level programs."
Along with other girls, Bipana Budha Magar, 17, remote village of Myagdi district, a member of children friendly club, sees participating in a national level Balkachahari boosted her confidence to do something more to eliminate child marriage. "There are rampant child marriages in our village. Despite the legal and constitutional provisions, children are exploited and denied their basic rights," said Magar. "After this meeting, I understand now where to go to complain and how to effectively implement the rights."
"Government, local levels, civil society organizations like NGOs and INGOs, child rights group and children need to go jointly to promote child rights and eliminate child marriage," said Minister Thapa. She thanked KIRDARC and World Neighbors for organizing such an important program.
Member of Human Rights Commission Moina Ansari thanked KIRDARC and World Neighbors for organizing such an important program, inviting children from different parts of the country. "There is the need of more programs like this to generate awareness and share experiences."
Speaking on child protection mechanism and service delivery, Tarak Dhital, ex-executive director, Central Child Welfare Board, pointed out weaknesses in the present state. Child right activist and central committee member of NGO Federation Mlan Dharel said how participation of families and communities and their mobilization can work in reducing child marriage. Child activist Madhu Dawadi and senior advocate Upendra Keshari Neupane also presented their views.
Walkathon To Generate Awareness
Marching with women, girl children and people from different walks of life almost an hour long walkathon started from Bhrikutimandap to Shantibatika. Rekha Thapa, prominent actor and anti child marriage campaigner, the Ambassador of the campaign, has shown that there is still the need to take efforts to eliminate child marriage more seriously.
Carrying the slogans for the protection of child rights and elimination of child marriage; those in the procession drew the attention of pedestrians and other walking on the road.
"Eliminating child marriage is an urgent need. I am proud to be a part of the campaign," said actress Thapa while addressing the children and others at Shanti Park. "I will take the necessary steps in siding with the children."
To highlight the state of girls and generate awareness to illuminate the issue of child marriage, Karnali Integrated Rural Development and Research Centre (KIRDARC) Nepal in collaboration with Good Neighbors International (GNI) had organized National Child Rights Campaign with the slogan of promoting Child Rights, Eliminating Child Marriage.
Walkathon was one of the activities in a week-long campaign on child rights on the occasion of International Child Rights Day. On 17th November, people from different walks of life participated in National Child Rights Walkathon; Promoting Child Rights and Eliminating Child Marriage. The rally which started from Bhrikutimandap, ended at Ratnapark, Shantibatika.
"Walkathon and Kachahari gathered a wide range of stakeholders working for child rights and helped to draw the attention of concerned stakeholders to protect and promote child rights in Nepal and eliminate child marriage," said Gobinda Bahadur Shahi, Program Director, KIRDARC Nepal.
Protecting as well as promoting child rights in Nepal has been one of the challenges for a long time. Prevalent socio-cultural practices have been major hurdles. Among them, child marriage is one of the deeply rooted socio-cultural problems our country.
The key to the problem is getting children to stay in schools once they are there. They have to resist the wishes of their parents who want them to marry at an early age. According to human rights groups, the government must also create more jobs for females, so that they have a chance to work after their education.
Child marriage is illegal in Nepal and has been since 1963. However, in fact, Nepal has the third highest rate of child marriage in Asia, after Bangladesh and India. Child marriage is a serious violation of a girl's human rights, denying her voice, choice and control, robbing her of the right to choose her own future and putting her at a greater risk of dropping out of school and dying through early childbirth. In this connection, National Child Rights walkathon and National Bal Kachahari were important.
Despite several efforts and acts, child marriage is common in Nepal. According to an estimate over half the adults married when they were still children. A UNICEF study reports that 60% of Nepalese women were married by the time they reached 18.
When girls marry at such a young age they leave school and start taking care of their parents-in-law. After they have children only a very few of them have the chance of going back to school. They spend their time working for their new families.
Now the Nepalese government and human rights groups are working together in order to help such children and teenagers. They are trying to show them how bad marrying at such an early age can be. By adopting Kathmandu Declaration on eliminating child marriage, KIRDARC Nepal and Good Neighbors International Nepal have shown that change is possible only through close collaboration between the center, province, local level government, civil society origination and stakeholders. This message of Kathmandu Declaration was clear and concise.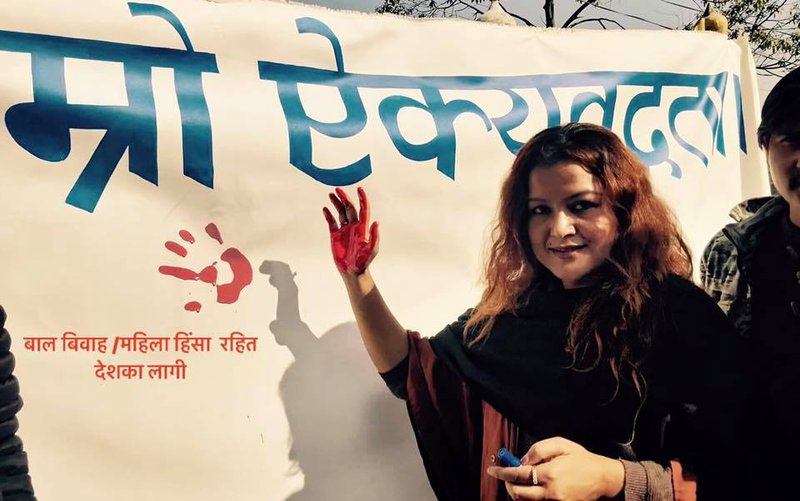 Actor Rekha Thapa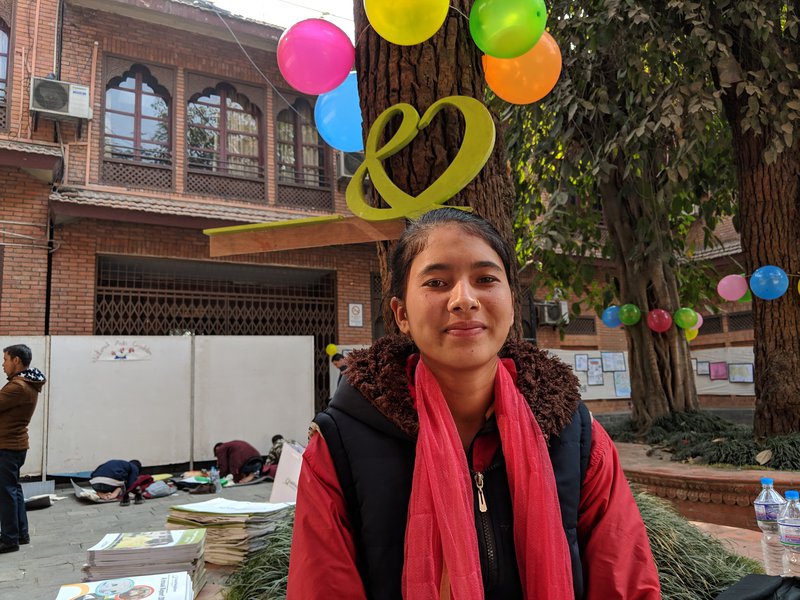 Children Leader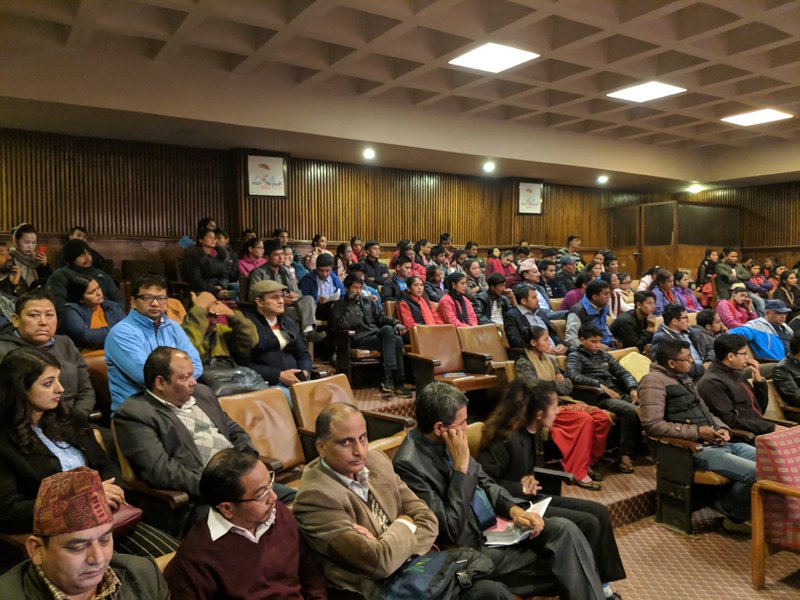 At Kachari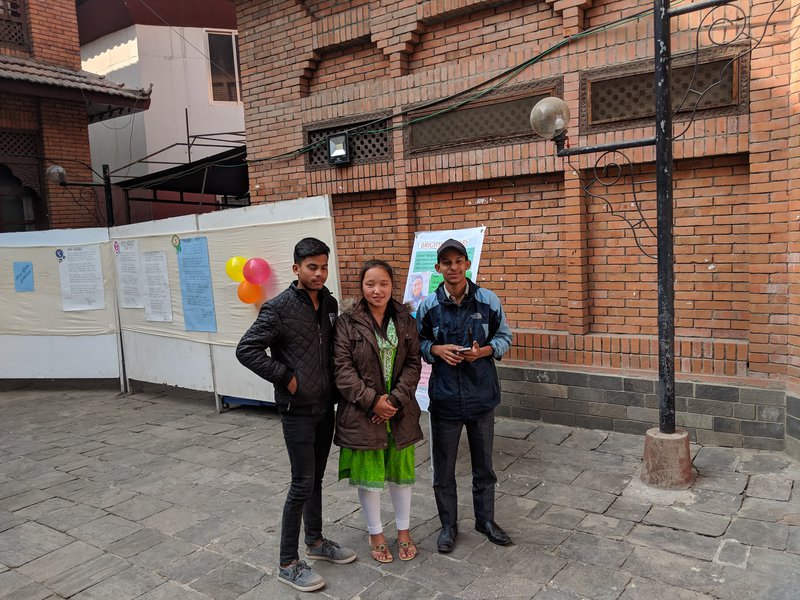 Three child leaders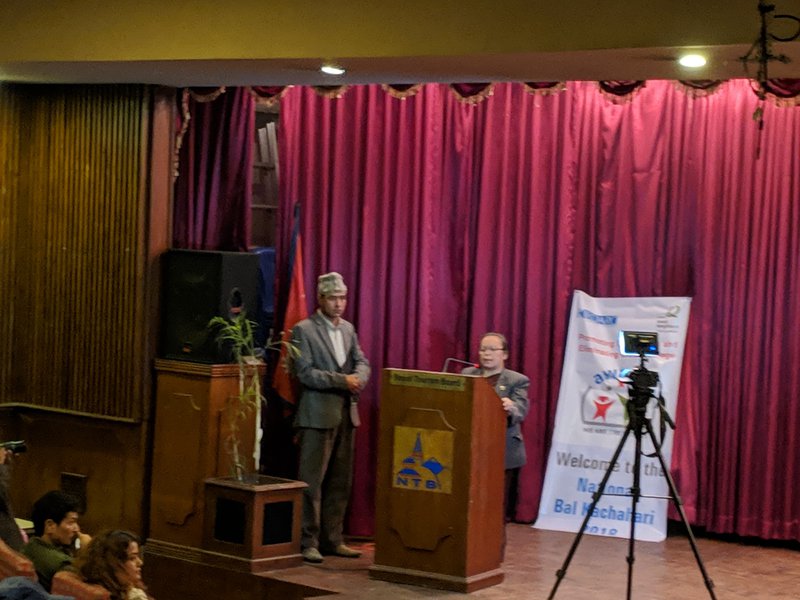 Minister Thapa inaugurating the Kachari