Saturday's fixture between River Plate and Boca Juniors was going to be the biggest club match in the 127-year history of Argentine football.
For once, the Copa Libertadores final was getting worldwide attention from fans salivating at the prospect of two of the bitterest rivals in world football taking each other on for the right to own South America again.
Whichever way you looked at it, the occasion could not fail to deliver excitement, drama and a story that would be talked about for years.
The Boca Juniors team bus was attacked by River Plate fans on its way to the game at River's Estadio Monumental.
Boca, who were held to a 2-2 draw in the first leg, had urged South American football's governing body Conmebol to take action and allow those affected by Saturday's incidents to recover further.
"Club Atletico Boca Juniors made a formal presentation to Conmebol on Sunday to request that the final of the Copa Libertadores be played in conditions of equality," said a club statement.
"After the acts of violence suffered in the vicinity of the stadium, having noted the magnitude and seriousness of them and the consequences they have generated in the establishment, Boca considers that these conditions are not met and requests the suspension of the match."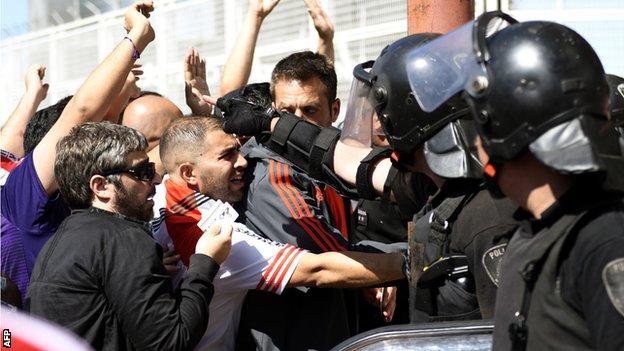 A statement from Conmebol confirmed the match would not take place on Sunday, adding: "Conmebol president Alejandro Dominguez recognized Boca Juniors can't play today."
Boca players suffered cuts from the glass from broken windows on Saturday and were also affected by the tear gas used by police to disperse the crowds.
A number of players, including Boca's former Manchester City, Manchester United and Juventus striker Carlos Tevez, reportedly suffered from dizziness and vomiting and were being treated by club doctors.
Footage, apparently from inside the Boca dressing room, showed the players groggy and disorientated.
Reports said Boca's Pablo Perez and Gonzalo Lamardo had been taken by ambulance to hospital, the former with slivers of broken glass in his eyes and the latter a cut on his head.
The game was rearranged for Sunday at 20:00 GMT, 24 hours later than planned, but was postponed three hours before the new kick-off time.
A decision on whether the match will be rearranged for another date has yet to be announced.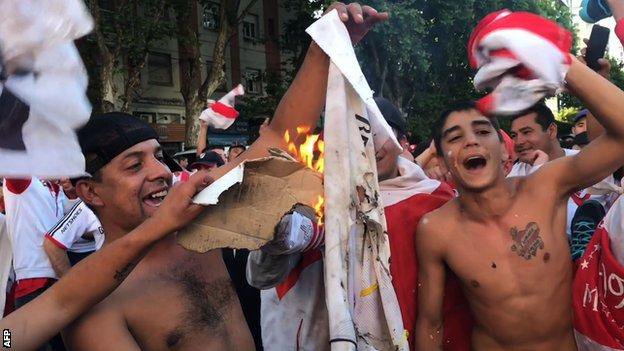 Dominguez called for help from authorities to "identify, capture and prosecute those responsible."
The Copa Libertadores is the showpiece club competition in South America, equivalent to the Champions League in Europe. The clubs had agreed to a ban on away fans which mirrors an existing ban in domestic football in Argentina.
Three years ago, a last-16 Copa tie between River and Boca at the latter's La Bombonera ground was abandoned at half-time after Boca fans attacked the River players with pepper spray in the tunnel.
Boca were kicked out of the competition, while River were given a bye into the quarter-finals.
Courtesy: BBC