A magnitude 7.0 earthquake that struck near Anchorage, Alaska, on Friday morning crumbled roads and splintered buildings, sent residents scurrying for cover and triggered a tsunami warning for a time, authorities said.
The booming quake hit about 8:30 a.m. (12:30 p.m. ET) some 10 miles northeast of Anchorage, at a depth of 21 miles, according to the US Geological Survey. Aftershocks continued after the tsunami warning was canceled.
"It was very loud when it came," Anchorage Mayor Ethan Berkowitz said. "It was very clear that this was something bigger than what we normally experience. We live in earthquake country so folks ... but this was a big one."
At KTVA-TV, a CNN affiliate, equipment was left hanging from the ceiling, windows were blown out and the roof collapsed.
It was absolutely terrifying," Kristin Dossett, a resident of Palmer, Alaska, told CNN.
Despite the confusion, Anchorage authorities said Friday night that no fatalities or serious injuries were reported.
It was the most violent quake she felt in her 37 years in a region where temblors are common, Dossett said. One aftershock moved her piano a foot and half from the wall.
"It shook like I have never felt anything shake before," she said.
"It just didn't stop. It kept going and got louder and louder, and things just fell everywhere — everything off my dressers, off my bookcases, my kitchen cupboard. Just broken glass everywhere."
Anchorage Mayor Ethan Berkowitz said it was clear this earthquake was bigger than what the city normally experiences.
"We live in earthquake country, so folks here are used to small tremblers," Berkowitz said. "But this was a big one."
The US Geological Survey has reported dozens of aftershocks. The largest, registering 5.7, was located in the city of Anchorage. Seismologists predicted many more in the coming days and weeks.
FOLLOW LIVE UPDATES ON THE QUAKE
The Anchorage Office of Emergency Management for a time urged residents to shelter in place.
The Municipal Light & Power utility reported that between 7,000 and 10,000 customers were without power.
"I could tell this was bigger than anything I'd been in before, and it wasn't going to stop," resident Philip Peterson said.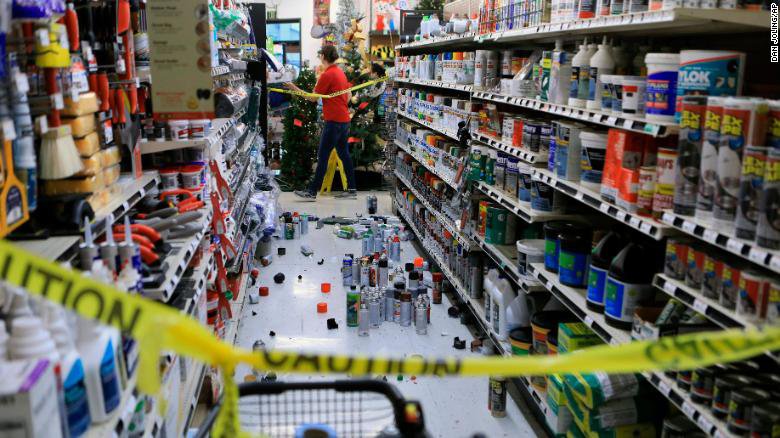 Michael West, the Alaska state seismologist, told CNN the 7.0 earthquake was felt up to 400 miles outside of Anchorage. West said damage reports across the region were beginning to arrive at the Alaska Earthquake Information Center.
West called it the most significant earthquake in Anchorage since 1964.
"I think it's safe to say that, not measured in magnitude or location but in terms of how strong the ground itself shook during the earthquake," he said during a question-and-answer session at the University of Alaska, Fairbanks.
No fatalities were reported.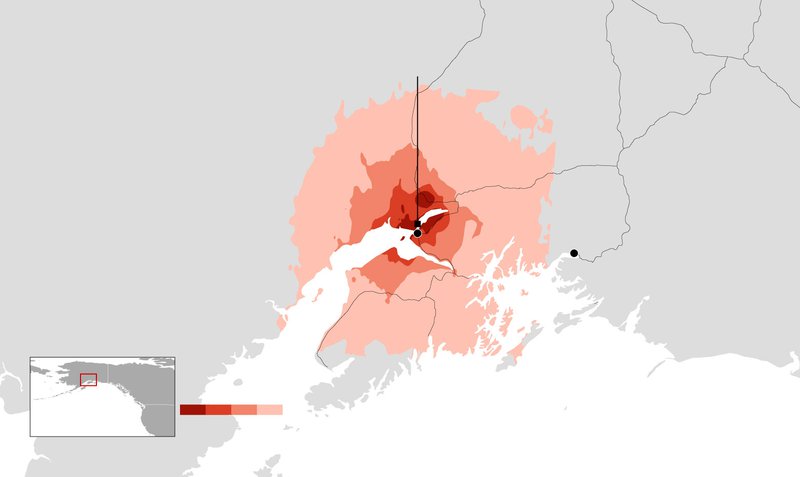 Teachers 'keeping us under our tables'
High school student Alyson Petrie dove under tables in her classroom.
"I'm shaking and our teachers are keeping us under our tables and telling us there will be an after shocks maybe in 5 minutes, or tomorrow, we don't know," she tweeted. "I'm in the art classroom and everything is literally destroyed."
The Anchorage School District asked parents to pick up students when it was safe. The district posted on Facebook that it was assessing damage and safety at buildings.
Dimond High School senior Anna Krsnak was in second period when the earthquake hit. She told CNN that students were evacuated after the first main aftershock.
Courtesy: CNN