Prime Minister KP Sharma Oli said that the 21st century should mark a common initiative for favorable justice, peace, equality, development and prosperity.
Prime Minister Oli said that international community has learned from Nepal's successful peace process urging international community to work together for the world peace.
Along with the Prime Minister Oli, heads of states and governments including Cambodian leader Hun Sen and State Counselor of Myanmar Aung San Suu Kyi, former Indian prime minister HD.Devegoda, former prime minister of Pakistan Syed Yusuf Raza Gilani and India's ruling party leader Vijaya Jolly also addressed the inaugural session.
The 'Asia Pacific Summit-2018' has officially kicked off in the capital city this morning. Heads of states and governments from six countries along with distinguished guests from other countries are participating in the two-day conference.
Organized by South Korea-based Universal Peace Federation and supported by the Government of Nepal, 1,500 guests, including Myanmar State Counselor Aung San Suu Kyi and Cambodian Prime Minister Hun Sen, are taking part in the event.
Other notable attendees included senior leader of India's ruling Bharatiya Janata Party Vijay Jolly, former Indian prime minister HD Devegowda, former Pakistani prime minister Syed Yusuf Raza Gilani, Nauru President Baron Waqa, Philippines Vice-president Maria Leonor G Robredo, Samoa Head of State Vaaleto'a Sualauvi II Tuimalealiifano and Tuvalu Governor General Iakoba TaeiaItaleli, according to Bishnu Giri, media coordinator for the event.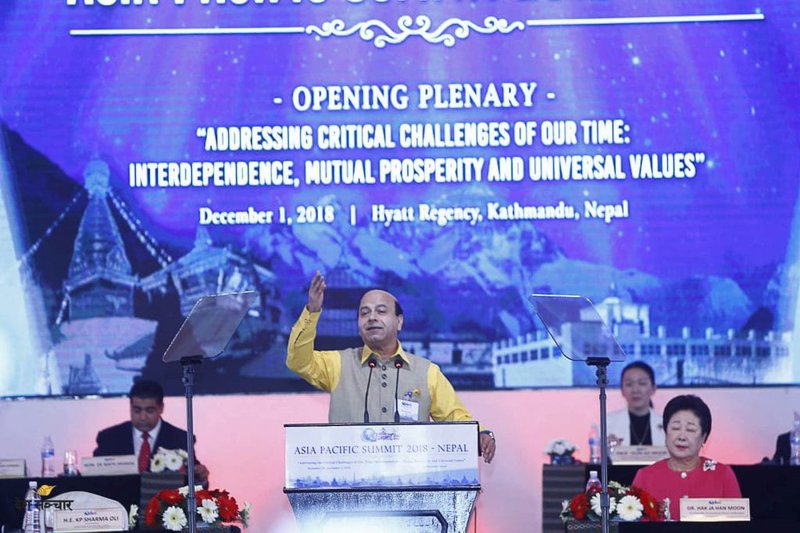 Speakers of parliaments, parliamentarians, religious leaders, women leaders and representatives of the media, academia, business, arts and civil society are also attending the event.
'Addressing Critical Challenges of Our Time: Interdependence, Mutual Prosperity and Universal Values' is the theme of the summit that will see debates and discussions on various contemporary issues concerning the world. The summit will conclude with a Kathmandu Declaration.
Separate sessions will then follow on climate change, peace initiatives, good governance and role of MPs, role of civil society, role of media, world peace process and peace projects, according to the organizers.