Minister for Health and Population Bhanu Bhakta Dhakal has disclosed that a 19-year-old woman who arrived in Kathmandu on Tuesday from France through Qatar transit has been tested positive for the infection of COVID-19.
Out of tested over 600, this is the second positive case in Nepal. "The infected woman is receiving treatment at Shukraraj Tropical and Infectious Disease Hospital in Teku," said Ministry's Spokesperson Dr Bikash Devkota.
Earlier, Nepal has already treated one case of COVID-19 cases in Teku successfully. Minister Dhakal said a Nepali person was also tested positive for the virus and has been cured after 10 day's treatment. He pledged that the infected woman would also be provided with proper treatment and cured.
He said the government would rescue and provide free treatment to COVID-19 infected people. "Any infected person will be rescued through airway or land and treated," he said at a press conference the Ministry called over coronavirus crisis. He also urged the adoption of additional caution following the confirmation of an infection case today.
"Family of the infected woman has been quarantined. A search has been launched for her friends, who reached Kathmandu along with her. All of them would be quarantined," he said.
Minister Dhakal also said those who have come in contact with her would be quarantined and provided treatment.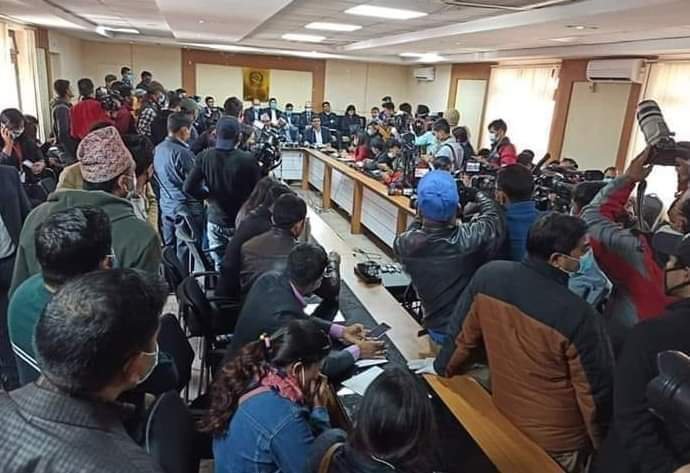 Although the decision was made not to allow entry to passengers coming to Nepal from 55 countries hardest hit by COVID-19, those entering Nepal as an exception case were sent for home quarantine.
According to him, the quarantine at Kharipati in Bhaktapur will house those entering Nepal through airways and having no preparation for home quarantine. The government has also arranged quarantine facilities in various places for those arriving in Nepal and suspected of contracting COVID-19.
Minister Dhakal informed that the modern and well-equipped lab like in Sukraraj Tropical and Infectious Diseases Hospital at Teku, Kathmandu will be built in all seven provinces.
Emerging from the meeting of Chief Ministers from all seven states and Ministers for Social Development, Minister Dhakal shared that hospitals would be built especially for the treatment of COVID-19 infected patients.