On behalf of the Royal Thai Embassy, it is my honor to welcome all of you at the Opening Ceremony of the Thai Food Gala to showcase authentic Thai cuisine and culture, which has now gained popularity worldwide.
The Thai Food Gala today is held in accordance to the Royal Thai Government's policy "Thai Kitchen to the World," which aims to provide a genuine experience of Thai food and culture to our friends all over the world including our Nepali friends. We strongly believe that the taste of our finest cuisine and the original touch of our cultural performance tonight, will allow you to feel more Thainess and know a little more about Thailand.
What makes Thai cuisine so special is simply like what David Thompson, a Michelin star's chef and an expert in Thai cuisine, said during his interview with the Guardian that "Thai food is like playing chess." It is the unique blend and balance of tastes consisting of spiciness, saltiness, sourness, and sweetness emphasized by all the fresh and aromatic Thai ingredients. Also, the combination of Thai herbs such as galangal, lemongrass, kaffirlime leaves, coriander and bird's eye chili, really make all of the Thai dishes delectable and beneficial for our health.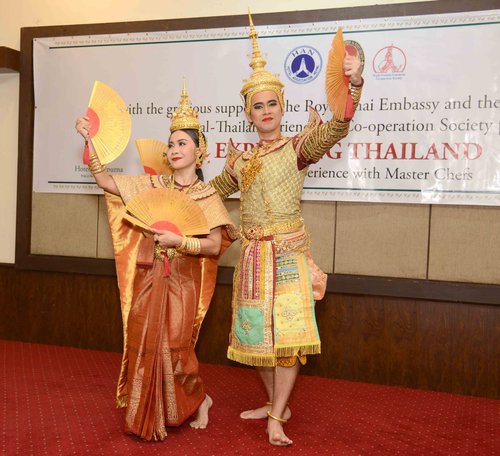 I am proud to inform you that recently 5 Thai dishes - Tom Yum Kung, Pad Thai, Som Tam or papaya salad, Massaman Curry and Green Curry have been ranked among the World's 50 Best Foods by CNN Travel readers on its Facebook poll. This is a concrete proof of how Thai cuisine has come to the forefront of the global culinary. I am delighted that all of you are interested to learn how to cook Thai dishes properly as every Thai dish is unique and has its own charm.
The first three dishes will be served tonight and you can enjoy the other 2 dishes during the next three days at the Thai Buffet corner of Sunrise Restaurant in this hotel. All of these Thai dishes are testaments of the intricacy, attention to detail, texture, color, aroma, and combined tastes of our Thai cuisine which attracts the taste buds of people from everywhere in the world.
Apart from the authentic Thai cuisine that you will have the chance to try tonight, you will also witness traditional Thai cultural performance with colorful and delicate costumes, portraying the distinct history of Thailand, stories of our culture and society as well as the lives of the Thais in the countryside. I highly encourage all of you not to miss the miniature puppet show which is an extract of a selected episode, derived from the Hindu epic, Ramayana.
I hope that through the authentic taste of Thai food and traditional Thai cultural performance tonight, you will have a deeper understanding of Thailand and Thainess and become a friend of us, Friend of Thailand.
Last but not least, I would like to thank Hotel Yak & Yeti for partnering with us in making this event successful. My gratitude also goes to our 3 Thai chefs from Suan Dusit International Culinary School, Bangkok, for preparing the delicious dinner tonight, as well as our 7 Thai performers from Bunditpatanasilpa Institute for their beautiful show.
This event is held in accordance to the Royal Thai Government's policy "Thai Kitchen to the World," which strives to promote a deeper understanding of Thai cuisine and culture to all countries around the world, including our dear friend like Nepal, where the popularity of Thai cuisine has tremendously increased over the past years.
 I hope by the end of the demonstration, you will gain knowledge and skills in cooking authentic Thai dishes that will be useful for your work and culinary career.
Last but not least, I would like to thank Hotel Association Nepal (HAN), Nepal-Thailand Friendship Co-operation Society, as well as Hotel Annapurna, for the collaboration in making this event possible. My gratitude also goes to our 3 Thai chefs from Suan Dusit International Culinary School, Bangkok for their cooking demonstration.
On behalf of the Royal Thai Embassy, I would like to thank the Hotel Association Nepal(HAN), Nepal-Thailand Friendship Cooperation Society, and Restaurant and Bar Association of Nepal (REBAN) for hosting the event and for collaboration in organizing the cooking demonstration at Hotel Annapurna this afternoon. I hope all participants enjoyed the demonstration and gained some useful skills and tips of cooking some authentic Thai dishes.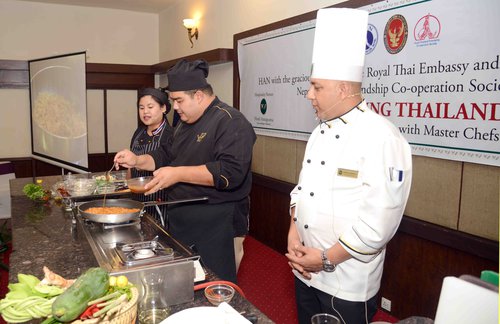 Nepal and Thailand have been officially friends for 58 years. Thai people stood by our Nepali friends during the hard time of the earthquake 2 years ago. We know each other through culture, religious belief and tourism. The event today is another way to forge closer bond of friendship through food. The Royal Thai Embassy organizes this event in accordance with the Thai Government's policy of "Thai Kitchen to the World," aiming to promote Thai food and culture to every country possible. We strongly believe that people-to-people contact is one of the effective ways to promote closer relationship between two countries. Food is a part of our culture. The better you know about Thai food means the better you know about us, your Thai friend. Or we can call that this is our Thai Food Diplomacy.