Gender violence is one of the most serious issues facing modern Nepal, a nation that is still firmly patriarchal. The nation's women experience societal discrimination, and they frequently lack access to fundamental education, quality healthcare, and financial stability. At least one in five women in the nation had been victims of either domestic or sexual abuse.
Cultural discrimination against women is pervasive in Nepal; in fact, the country ranks 96th out of 136 nations for gender disparity in the 2022 Global Gender Gap Report.
There is a distinction between rural communities, where there is a lot of discrimination against women, and metropolitan areas, where women have better access to healthcare and education.
Nonetheless, gender-based violence is still a problem in both zones.
The interviews performed by the non-profit VIN, which seeks to "empower vulnerable communities via equitable, inclusive and comprehensive development projects," which includes empowering women in Nepal, in Basantapur, a central part of Kathmandu, serve as evidence of this.
Nearly all of the women interviewed, who ranged in age and social class, had a tale of experiencing violence. Only a few stories were included in the piece, and anonymity was maintained by not mentioning any names.
A twenty-year-old unnamed female from eastern Nepal claims to have experienced sexual harassment since a very young age. She was sexually assaulted by her cousin, who resided in the same home, when she was six years old. She describes how she was confused about what was happening and had no idea how to get assistance. She was beaten daily by her cousin, who committed domestic violence against her, and it wasn't until years later that she realized she had been sexually assaulted.
Her family eventually relocated to Kathmandu. When her brother-in-law first began molesting her, the girl was nine years old. She approached her mother for assistance after learning from her experience and then separated from her. They have been living together since 2022 while she attends university. She claims that these events, which appear to have followed her throughout her whole life, have left her traumatized.
Numerous young girls describe hearing similar tales. Both within and outside of the house, strangers might engage in sexual harassment. The country has a long history of sexualizing and objectifying women and girls. Sadly, victims frequently find it challenging to disclose the abuse to the police, particularly if their conservative families do not support them.
The story of a woman in her forties who is selling sacrifices for the gods adjacent to the temples in Durbar Square is told by the woman as she describes her experience of domestic violence.
She claims that soon after their marriage, her husband began beating her every day. He frequently beat her up after drinking. Her husband is also jobless after losing his job as well. He consumes alcohol considerably more frequently, and the woman's husband steals money from her to pay for the booze. She has never asked for assistance and has accepted her lot in life. She has endured everyday domestic abuse for more than 20 years; for her, it is a routine daily occurrence.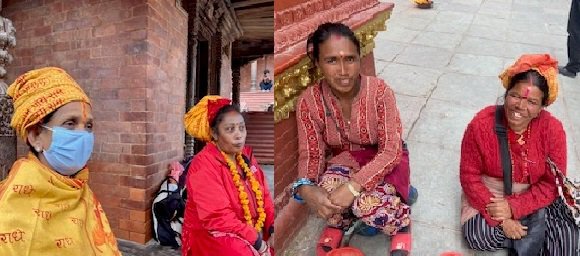 This is a highly typical occurrence; in fact, a UNFPA Nepal study found that the phenomena of domestic violence seemed to be seen as a "normal" component of marriage, which was supported by the interviews that were performed.
The topic of female independence and polygamy was raised in a third interview. The story centers on a 29-year-old woman who sells handicrafts made in her community and describes how she married a violent and possessive man when she was only 15 years old. He left his first wife in dire financial problems and abandoned their first kid a few years later after being married to another lady. She was still able to launch a small business and achieve independence.
Yet, she claims that occasionally, her spouse comes back to her, aggressively harasses her, and embezzles her earnings. She is a victim of polygamy, which, despite being prohibited by law, is one of the main reasons for violence and prejudice against women since remarried husbands often treat their first wives harshly. As a woman who lives alone and aspires to independence, she nevertheless endures significant social prejudice.
The final tale is presented by a woman in her thirties. She is from Bandipur and had two previous husbands. Her first marriage was quite violent, and because of her inadequate dowry, both her husband and family persecuted her.
She reported the abuse to her family, who encouraged her and provided travel assistance so she could move to Kathmandu, where she is now employed as a domestic helper and has at last met a guy who values and respects her.
She was a victim of the dowry system, which is one of the reasons why her husband and the rest of the in-law family frequently commit domestic abuse.
The brutal reality that many women are victims of is described in these interviews. Domestic and sexual violence are the most prevalent types of violence (rape, sexual harassment and polygamy).
Sensitizing the populace to the issue of gender-based violence, which can take both physical and psychological forms and is not only physical but also must be prevented, is vital. There are still many measures to be taken before Nepalese women may actually have the same advantages as men and lead respectable lives free from stigma. In order to prevent gender-based violence, it is imperative to raise women's awareness of their worth and to continue both male and female education.
In Nepal, there are a number of anti-violence organizations that can support women in challenging circumstances, including WOREC. Yet, preventing gender-based violence still requires raising public awareness and educating the public.
Malena Villa is an intern from Switzerland