My first association with Ms Shailaja Acharya was only in 1997 when she became the Deputy Prime Minister of the Ministry of Water Resources where I had been posted as Officer on Special Duty (OSD) from Nepal Electricity Authority. I had heard that she was a no-nonsense, straight-forward lady who resigned as Minister of Agriculture citing corruption at the ministry. At meetings in our Ministry, she sometimes used to tell us, 'Mero ta bachcha bachchi chaina. Tapaiharu ko bachcha bachchi ko Bhabisya ko lagi kehi na kehi garnu parchha!' Such wise words! I cannot forget a similar sentiment expressed by a Black American at a meeting in the hall of Water and Energy Commission in Singha Durbar. I can not remember his name but he was President Clinton's Assistant Under-Secretary of Energy who had come to Nepal for the first time probably to push forward Enron's attempt to get the Karnali Chisapani license. During his talk, he said 'I see that Nepal has plenty of water resources. When developing it, do not compromise the Future of the future generations of Nepalese to come.' Though I worked under DPM Shailaja for a very short period, I found her very frank, outspoken, principled and patriotic.
An attempt is made below to portray some of her qualities from my short association with her:
i) Foundation Laying Ceremony of Chilime Hydropower Station at Syapru/Rasuwa: Dr. Damber Bahadur Nepali, the Project Manager of Chilime Hydropower Company, had invited DPM Shailaja Acharya to lay the foundation stone at the site in Syapru/Rasuwa. She was planning to go there in a vehicle but Prime Minister GP Koirala instructed her to go by helicopter as the CPN-Maoists were very active in that area. I had also been invited and went there in a vehicle. A good crowd of local villagers along with the local political Netas had assembled. At the ceremony, DPM Shailaja Acharya, the local Netas and the Project Manager gave their speeches regarding Chilime hydropower and the Rasuwa district.
After the ceremony, lunch had been arranged for the DPM and the local Netas in a room where I was also present. The local Netas sat around the DPM and as usual talked Rasuwa politics while eating. A local Nepali Congress Neta, putting his half-eaten plate under his chair, got up and folding both his hands in Namaskar told the DPM that as he had another function at Dhunche, he was taking leave. A clearly irritated DPM, pointing to the half-eaten plate under his chair, said 'Ke gareko tyo? Hamro kati Nepali haru khanu na payera adha pet basnu pareko chha.Tyo phaleko?' The speechless Neta merely gave an embarrassed smile. Such was her character.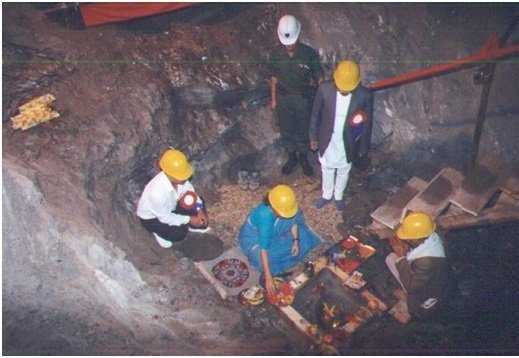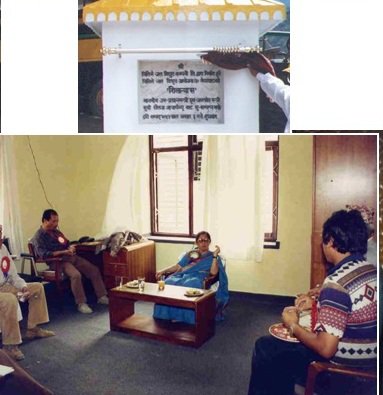 ii) Quest for Upper Karnali, 'the Jewel in the Crown': Nepal's power sector had just opened up to the private sector and, instead of adopting the competitive bidding process, followed the questionable scandalous MOUs route. So while the American multinational, Enron, was busy chasing the 10,800 MW Karnali Chisapani Multipurpose Project, Canada's SNC Lavelin had its eyes fixed on the 300 MW Upper Karnali. Under the World Bank finance, the feasibility study of Upper Karnali was conducted by the Canadian consultants and hence SNC Lavelin was well aware of the attractiveness of the 'Jewel in the Crown' Project. Prime Minister GP Koirala was approached by SNC Lavelin and despite the opposition by Water Resources DPM Shailaja Acharya, he was adamant on awarding the Upper Karnali license to SNC Lavelin on the MOU basis. In fact, the SNC Lavelin executive came to the Water Resources Ministry and informed the officers there that if the Upper Karnali license was not given by the next day, he would be leaving Kathmandu as he had an appointment with Bangladesh Prime Minister Khaleda Zia the day after that – so powerful and arrogant are these multinational executives!
Hence, we (MOWR Secretary Bishwa Raj Regmi, Joint Secretary Ratneshwar Lal Kayasth, EDC Chief Dr. Kishore Babu Aryal and I) went to the DPM and related what the SNC Lavelin had said and told her that such an attractive project should not be given on an MOU basis. She told us that she had failed to convince the Prime Minister and called over for discussion Dr. Rameshananda Vaidya, member/water resources at the National Planning Commission. The DPM then suggested that we all go to the Prime Minister ourselves and convince him. She rang up the Prime Minister's office and arranged our meeting immediately with the PM.
At the Prime Minister's office, he listened to our pros and cons of the MOU versus the competitive bidding. Prime Minister GP Koirala then immediately concluded 'Teso bhaye, tes lai tehi bhani dinu' and in a warning tone added 'Ra uslai eta uta na hallai rakhnu!' An elated group returned to the DPM office to apprise her of the Prime Minister's decision. So overwhelmed was Joint Secretary Ratneshwar Lal Kayasth that he effused 'Pradhan Mantrijiu kasto dynamic, kasto turunta decision dine!' An un-impressed DPM Shailaja Acharya rebutted 'Ho, decision ta turunta dine tara ke garne sabai wrong decision bhayera po!'
SJVN Chairman and Managing Director Nand Lal Sharma reaffirmed SJVN's commitment to complete the construction of 900MW Arun-3 hydropower project in Nepal by the fiscal year 2023-24, one year ahead of the scheduled commissioning of the project in February 2025, 'DPM Shailaja Acharya, a dedicated Nepali Congress patriot, unfortunately passed away on June 12, 2009 at the age of 65 years.'
In support of DPM Shailaja Acharya's characterization of Prime Minister GP Koirala, the writer would like to exemplify it with the World Bank-led 201 MW Arun III episode. Yes, in 1994 not only Nepal's local but also international anti-Arun groups were heavily lobbying for its cancellation. Yes, the CPN-UML General Secretary MK Nepal on October 18, 1994 did send that much-quoted letter to World Bank President expressing his 'serious concerns over the proposed Arun III' and that the caretaker Nepali Congress government ''…does not have the right to conduct any negotiations or reach into agreements that may have long term consequences in the interest of Nepal or the Nepali people….' Many charge that this October 1994 letter of Secretary General MK Nepal delivered that fatal knock-out blow to Arun III. But very few are aware that actually Prime Minister GP Koirala had already unwittingly delivered the fatal blow to Arun III. In order to 'teach' his renegade Congress MPs a lesson, Prime Minister GP Koirala decided to call an uncalled-for Mid-term election on July 11, 1994. The World Bank had the scheduled Board meeting on July 26, 1994 to finalize the Arun III Project. Due to this Mid-term poll announcement, the Bank decided to postpone its Board meeting to November 3, 1994. It is believed the July 26, 1994 Board meeting would have definitely approved the Arun III Project. If Prime Minister GP Koirala had delayed his Mid-term poll decision by only 16 days then the Arun III Project would have been approved by the World Bank. Hence, Prime Minister GP Koirala is actually responsible for firing the fatal shot at Arun III. Secretary General MK Nepal merely delivered the coup de grace!
iii) 10,800 MW Karnali Chisapani – Enron Episode: With Nepal's power sector wide opened to the private sector, Enron, America's seventh largest multinational, came hunting for the 10,800 MW Karnali Chisapani Multipurpose Project license in late 1996. Due to pressures from Enron's local agent, Prime Minister Sher Bahadur Deuba, without consulting his Water Resources Minister, Pashupati SJB Rana, was on the verge of signing the letter authorizing the license. Just before signing the letter, when Prime Minister Deuba did consult his Minister Rana, he was persuaded to retract. Despite Nepal's then fluid politics, Enron kept up the pressure to acquire the Karnali Chisapani license. In fact, in February 1998 Enron's President, Joe Sutton, made a half day visit to Kathmandu and yet was able to meet Prime Minister Surya Bahadur Thapa and Water Resources Minister Pashupati Rana. Both the leaders gave 'positive assurances on granting the American conglomerate what it has been seeking – a survey license for the Karnali Chisapani'.
Later in July 1998 during Prime Minister GP Koirala's tenure, Deputy Prime Minister and Water Resources Minister, Shailaja Acharya, delivered the final coup de grace to Enron. Her Water Resources Ministry wrote to Enron's David Ramm that until '… an understanding is reached with India for fair and reasonable settlement of d/s (sic downstream) benefit issue…' the government would like 'to request you for your patience in the Karnali matters…' There were uproars among Nepalese parliamentarians, both Nepali Congress and CPN-UML. They vociferously vented their ire in the Parliament at Deputy Prime Minister, Shailaja Acharya, for having dashed Nepal's opportunity to get rich quickly. Enron, in October 2001, shocked the US market with a loss of US$ 638 million and a write-off of US$ 1.2 billion. Two months later in December 2001, Enron declared bankruptcy. In 2004 Enron's Chief Executives Kenneth Lay and Jeffrey Skilling were indicted for fraud/insider trading and in 2006 found guilty. Kenneth Lay is dead and Jeffrey Skilling is serving a 24 year jail sentence. While Ms Shailaja Acharya is unfortunately no longer in this world, those who vented their ire against her in the then parliament are all alive and kicking!
iv) Nepal's Hydropower Development with Nepalese Skill and Resources – DPM Shailaja Acharya believed in the famed Schumaker's philosophy Small is Beautiful. She firmly believed that Nepal's hydropower must be developed with Nepal's own resources and Nepal's own skill. As Chairperson of the Nepal Electricity Authority Board, she formed a sub-Committee (comprising of water resources member from National Planning Commission, Water Resources Secretary, Finance Secretary and NEA MD) to study and prepare a Report on Power Purchase from small private hydropower developers. As per that Report, DPM Shailaja Acharya-chaired 286 NEA Board meeting (2055 Marga 7 – 1998 November 23) made the following decisions to encourage small private hydropower developers:
a) 100 KW to 1 MW – Wet Season (Baisakh to Mangsir end): Rs 3.00 per Unit
Dry Season (Poush to Chaitra end): Rs 4.25 per Unit
Price will be escalated at 6% for 5 years and after that period it will be reviewed.
b) 1 MW to 5 MW – Same above rates will apply after 2059/60 fiscal year.
c) 5 MW to 10 MW – Power purchase agreements at appropriate rates on Competitive basis.
Thus, DPM Shailaja Acharya came up, for the first time, with the above historic dry and wet season tariff. With such guaranteed electricity rates, local banks supported local developers who started constructing viable small hydropower projects providing works for both the local contractors and local people. DPM Shailaja Acharya is, hence, responsible for kick-starting the development of small hydropower with Nepal's own finances, skills and contractors. That path, charted by her, flowered into a multitude of projects, the largest one being the 456 MW Upper Tamakoshi, financed entirely with Nepal's own resources!
v) Congress Ticket for Election – Before concluding, I would like to relate an interesting incident she related to us at the Ministry. The then office of the Nepali Congress Party was at Maharajgunj. Election was coming and she was sitting at the Party office when Dr. Thakur Nath Pant, ex-Finance Secretary, came to her room. Dr. Pant, garbed in that traditional gamcha of Nepali Congress, told her that he had been sent by Kishanji to meet her and get the Nepali Congress ticket for the upcoming election. She is supposed to have immediately flared up with 'How can a bureaucrat like you get the Congress ticket when there are people who have given their entire life for the party?' Such was her forth-rightness and many, of course, were not happy with that character of her.
To conclude, when the media reported DPM Shailaja Acharya was at the ICU in Teaching Hospital, I felt that I should pay her a visit. Prior to getting sick, she had been appointed Nepal's ambassador to India. At the ICU I found her lying on a bed with a lady sitting next to her. I did my Namaskar and told her who I was. When I saw her merely gazing at me, I reminded her that I worked under her at the Water Resources Ministry. Only then the lady sitting next to her told me that she cannot speak as she is on ventilator. As there were no facial changes on seeing me, I concluded that she did not recognize me at all. The lady sitting next to her then told me 'Let us go out. We are not allowed to talk here.' On the way out, she told me she was Ms Shailaja's buhari, her brother's wife. Outside the ICU, I related her some of the above interesting episodes with the DPM regarding her frankness and outspokenness. Shailaja's buhari (with due apology for quoting without her permission) commented 'She is not a diplomat at all. My sasu is an excellent diplomat!'
May her Soul rest in peace!
1 Joint Secretary RL Kayasth later became Secretary at the Agriculture Ministry. After retiring, he joined Upendra Yadav's Madhesi Jana Adhikar Forum and became the first Governor of Pradesh Number 2.
2 Arun III was initially a 402 MW project but when India gave her discreet 'nayet' to 200 MW import from that project, the World Bank downsized it to 201 MW and in 1995 abandoned it totally. Water Resources Minister Gyanendra Bahadur Karki then floated the global tender for the 402 MW Arun III in 2006 and India's Satluj Jal Viddhyut Nigam was awarded the project in 2008. After the Energy Ministry upgraded Arun III for 'optimization' to 900 MW, the project was transferred to the newly 2011 established Investment Board of Nepal. Thankfully, after 17 years the 900 MW Arun III is slated to be commissioned according to SJVN Chairman and Managing Director Nand Lal Sharma 'one year ahead of the scheduled commissioning of the project in February 2025'. - The Kathmandu Post, February 28, 2022
3Alliance for Energy led by Bikash Pandey and Arun Concerned Group led by Gopal Sivakoti 'Chintan' in Nepal.
4 USA's International Rivers Network Centre led by Lori Udall.
5 The 36/Chhattise MPs of Nepali Congress.
6Dr. Janak Karmacharya, Arun III Project Director, told this writer that the Consultants had already calculated that even if USA, that was not happy with Arun III, voted against the Project the World Bank Board would have voted for the Project. Voting was based on the share weight-ages of the country. Though USA had the largest share, it still could not out-vote the rest of the shareholders who were for the Project – Arun III's consultant was from Germany and the already decided Civil Contractors were Italian and French.
7The Kathmandu Post, February 19, 1998.
8 The other members of the NEA Board were: MOWR Secretary Bishwa Raj Regmi, Himalaya SJB Rana, Bharat Krishna Sharma-Deputy Governor Nepal Rastra Bank, Ananda Raj Mulmi-Chairman/FNCCI, Gauri Nath Sharma and NEA MD Devi Prasad Banstola.