Mahseer Trust helped to coordinate a mini conference to discuss building local capacity for holistic conservation methods, an angling and art program for children between the ages of 8 and 12, and the establishment of a freshwater aquarium at the Central Zoo to showcase indigenous fish and freshwater ecosystems.
In collaboration with National Trust for Nature Conservation, these events took place over the weekend, with 30 delegates attending the conference and 15 children learning angling skills within the framework of understanding and conserving river ecosystems.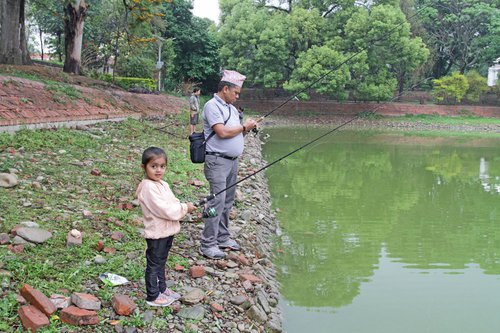 Other local participants in the events included Department for National Parks and Wildlife Conservation, WWF-Nepal, ICIMOD, PAANI, Green Institute, Nepal Forum of Environmental Journalists, Youth Alliance for the Environment, plus a number of scientists working in many areas of concern within river habitats, and other local conservationists.
Mahseer Trust has been involved with World Fish Migration Day since 2014. This bi-annual event showcases the importance of migratory fish to the wider river environment and how people rely upon that same environment.
This is the first year WFMD events have been held in Nepal. The official date of the event is Saturday 21st April, but events are running up to three weeks either side of that date.
Freshwater ecosystems, especially wild rivers, are an important part of the connection between wildlife, forests and human activities. Still, there are many things we don't fully understand about the connections between the flora and fauna of these fragile ecosystems.
It has been said that fish are often ignored because they are 'out of sight, out of mind.' But freshwater fish are an essential food source for rural communities, and also play a cultural, sometimes religious role in the many rivers of Asia.
IUCN, who issue Red Listing status for all plants and animals, claim that "freshwater fish may now be the most threatened group of vertebrates".
About Mahseer Trust
Mahseer Trust was founded in 2008, in the UK, with the express aim of creating and sharing scientific information about the species of mahseer found in India.
Following the appointment of Adrian Pinder (Bournemouth University, MT Director of Science) and Steve Lockett (Education and Outreach Officer, formerly acting Chair) in 2012, the remit was expanded to include all mahseer species in every range country, and to include focus upon safeguarding habitat as the primary conservation driver.
Following field work in the period 2014 to the present, Mahseer Trust have authored and contributed to a number of detailed scientific papers to the limited amount published about wild mahseer stocks. Other field work studies have allowed a detailed picture to be built up about successful conservation programmes in range countries, which is then used as models for sharing across the range.
Mahseer Trust is a UK registered charity, run by a board of five trustees. Well known Indian field biologist, Dr AJT Johnsingh is patron.
About Mahseer
Mahseer are large fish of the Cyprinid (carps) family. They are easy to recognise due to their large heads compared to overall body length, as well as large scales, four barbels (short whiskers) at the corner of the mouth and a fairly streamlined body shape.
The distribution range of mahseer includes Afghanistan (this is subject to species confirmation), Bhutan, Cambodia, China, India, Indonesia, Laos, Malaysia, Myanmar, Nepal, Pakistan, Sri Lanka, Thailand and Vietnam.
Preferring to live in fast flowing, well oxygenated rivers, there are currently three recognised species of mahseer in Nepal. Tor putitora, also known as the golden mahseer, is the most widespread and well known species. Tor tor is a deeper bodied fish, and Tor mosal has a two-toned colouration and an underslung mouth. In recent years, several T. putitora between 30 and 35kg have been caught by recreational anglers from the Mahakali River, on Nepal's western border with India.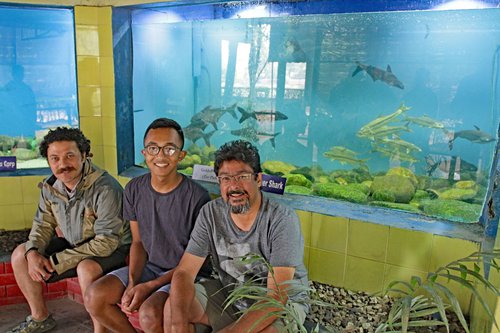 True mahseer belong to the genus Tor. There is a closely related genus called Neolissochilus that also swims in the same rivers. Sometimes called copper mahseer, or chocolate mahseer, these fish are typically smaller (at maximum size), have a shorter head, and prefer to feed off the surface of the river.
Mahseer are omnivores, eating a wide range of foods, including algae, weeds and underwater vegetation, small invertebrates, larger freshwater shrimps and crabs, fruit from overhanging trees, and other fish species.
In many range countries, mahseer are protected, often due to religious significance, especially where Hinduism is the predominant religion. This is due to mahseer being recognised as matsya, an incarnation of Vishnu.
In some countries, especially Indonesia, Malaysia and Nepal, mahseer fetch a very high price as a fish for eating.
There are still many aspects of the ecology of wild mahseer stocks that are not understood. How and when they breed is not sufficiently well documented. Even the full taxonomic and genetic description of each species is still a work in progress.
Some conservation information
Mahseer are good bio-indicators thanks to their position towards the apex of the freshwater food chain, and intolerance of polluted waters. They demand clean gravels for reproduction, and a fast water flow to oxygenate their eggs.
Changes to habitat in mahseer rivers not only affects the fish, it also has repercussions for human populations. Removal of riverside vegetation means rain water and snow melt run-off much faster. This increases the threat of flooding incidents, and also stops the natural recharge of groundwater resources. Likewise, removal of sand and gravel for building, or lining rivers with concrete also brings about the same threats.
Slowing the river, by damming, for instance, stops the migration of mahseer (and other fish like eels and trout), increases evaporation from the impounded river, stops the natural flow of sediment which is used as fertiliser by subsistence farmers, and runs the risk of increased disease prevalence.
 "Mahseer suffer from a number of threats, either directly, or to their habitat. The most important are: pollution; fishing with destructive methods like dynamite, poisons and electric currents; loss of habitat through logging and removal of sand and gravel; construction of dams that block migration for breeding; introductions of invasive or alien species."
"We are currently engaged in a large-scale holistic conservation project in the basin of the south Indian River Cauvery. This is expected to be a role model for other projects across the distribution range. It includes scientists from a number of different disciplines, as well as local NGOs, all working with a common theme: to empower local communities to better protect the river habitat for common good."
"Mahseer Trust have studied ecotourism programmes in Malaysia, India and Thailand. We share the best aspects of all these schemes so that others who live in mahseer range countries can benefit from stocks of the fish remaining in the river."
Quotes from Steve Lockett - Personal opinions, not to be attributed to Mahseer Trust, or to Steve Lockett's role within Mahseer Trust
Conservation versus development:
"All Mahseer range countries have obligations to protect their biodiversity, yet very often, the pressing need for water or power means large scale development takes precedent. There are ample ways to tread a third way, to better balance conservation needs with development. To do so requires wider involvement and consultation with those who have most to lose: the people who live with and understand the local environment," said Steve Lockett, an expert.
 "Too often, the conservation agenda uses the phrase 'biodiversity hotspot' in a glib manner. We should, rightly, be proud of the valuable biodiversity that all mahseer range countries possess. However, we should also take note of the fact that the name 'hotspot' is used by scientists to signify the extreme fragility of these areas. Indeed, each one is under huge threat, and the all-too-easy use of the phrase has undermined the true meaning."
 "There is a desperate need for all those who profit from river environments, those engaged in what is often called ecotourism, to pay towards the conservation programs being put into action to save those fragile ecosystems."