Patan is the third-largest city in Nepal, situated in the southern-central section of the Kathmandu Valley. Patan city is known for its rich culture, tradition, arts and crafts. Initially Patan is a Buddhist city that was created in the third century and has a formal layout based on the Dharma Chakra and the Buddhist wheel of righteousness. Pilachhen is one of Patan's toles. Pilachhen is said to have been founded at the same time as Patan.
About 2 kilometers east of Pulchowk is the Pilachhen hamlet. Pilachhen is claimed to be named after the "Laakhey" known as "Pila" who used to dwell there, and "Chhen" is the home of this Laakhey. According to Newar's believe, Laakhey is portrayed as deadly red wild face, big teeth, and unmanaged long thick hair, who is said to be the protector of the people in the Kathmandu Valley.
Pilachhen is a one-of-a-kind Newar settlement with its own culture, tradition and history. Pilachhen's population is quite homogeneous, with Newars accounting for 100% of the population and Maharjans making up the single ethnic community group with roughly 108 homes.
Pilachhen has both tangible and intangible heritage sites such as Bhimchandra and Hemchandra Mahabihar, Pilachhen Manka Guthi, Ganesh temple, Pilachhen Manka and Sana Guthis, Falchas (Patis), Indra Jatra, Machhindranath Jatra, Ghantakaran Jatra, Khyak Nach, and others. Pilachhen's concrete and intangible heritages are inextricably intertwined, making the hamlet extremely rich in history and culture.
Tangible Heritage
Pilachhen is home to several tangible heritage sites, including archeological, artefacts, and monuments that are significant to a community. These are the constructions that mimic Newar architecture.
Ganesh Mandir: The Ganesh Mandir (temple) at Lachhi tole is unique in its own right. It depicts Ganesh in a dance stance as an idol. In the Kathmandu Valley, it is the only one of its kind. If you worship the dancing Ganesh, it is said that you would be blessed with a son. It is venerated on a regular basis and is most popular during Indra Jatra, when the Golden Mukut (Crown) is on exhibit. Its origin date is said to have been in 832 B.S.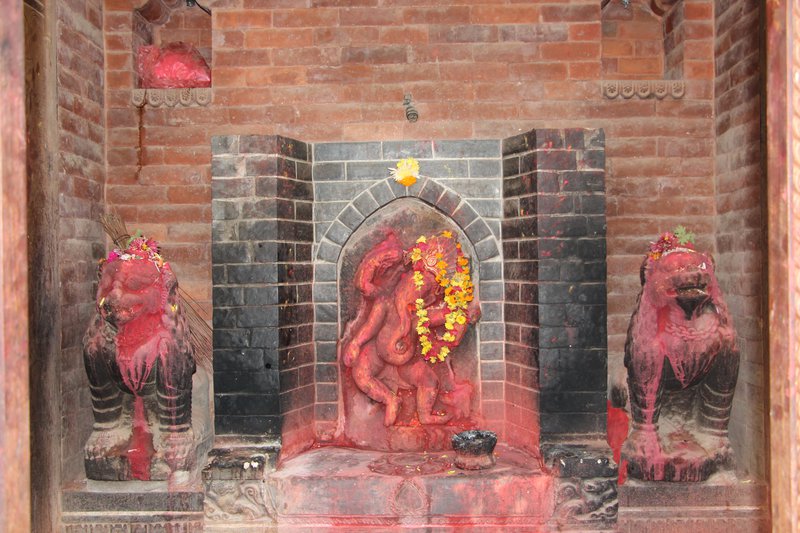 Falcha (Pati): Falchas are traditional public places, mainly used by elder people. The two Falchas in Pilachhen, Lachhi tole, are Tadha Flachi and Chidha Falcha. Every day, people come to the Falchas to recite Bhajans and devotional hymns. These Falchas are regularly visited by the local people either to recite Bhajans or simply take some rest.
The Bhajans sung in Tadha Falcha are chanted throughout the year except for the month of Asar (June-July). Majority of people in Pilachhen are farmers so the Falcha is closed during that month such that the farmers could focus on plantation during the month of Asar (June-July).
Every day in Chidha Flacha, Namsangati is chanted, which continues throughout the year (365 days) and it stops on the day when someone dies. In the Falchas, young generations are taught Namsangati. "Bhajans" are also chanted when someone is going through difficult times in their life.
Guthi Buildings: The Pilachhen Manka Guthi is a Guthi building in Pakha Keba. The "Dyo" in the Guthi Building is venerated during Dashain festival. The Guthi buildings are used during the special events for Guthi members.
Lachhe is home to the Pilachhen Sana Guthi. It is utilized by the residents of the neighborhood for special feasts on special occasions. It is also utilized for ceremonies when members of the community pass away.
Bahal: In Pilachhen, there are two well-known Bihars, Bhimchandra and Hemchandra Mahabihar, both of which are located in Bacha.
Intangible Heritage
Non-physical behaviors, beliefs, traditions, and folklore that are part of a community's legacy are known as intangible heritages. Pilachhen has its own set of beliefs and customs that are exclusive to Pilachhen and cannot be found anyplace else in the Kathmandu Valley.
In Pilachhen, there are a variety of Jatras and festivals take place throughout the year. Pilachhen's Jatras and festivals include Indra Jatra, Machhindranath Jatra, Ghantakaran, and Dashain. The locals of Pilachhen still follow the traditional way of celebrating these festivals and are still authentic unlike the ones performed by people elsewhere in the Valley.
Every year, a puppet play called "Khyak Nach" is shown during Indra Jatra in Pilachhen. The performance takes place at Pilachhen Manka Guthi's residence and is displayed through its window. A ritual ceremony is performed in front of the Ganesh Mandir before the puppet show starts.
Although the Khyak Nach is exclusive to Pilachhen, it has been imitated outside of Pilachhen in Patan in recent days. The Khyak Nach is a very old custom, and it has been a major source of entertainment to the people of Pilachhen since many centuries. The origin is not known to people. However, speculations is that it started during the Rana Dynasty since the puppet show mostly involves the dancing of the puppet with no dialogue which is quite like how the Rana's treated the civilians when they used to rule the country.
The tole Secretary of Manka Guthi, Pilachhen Mr. Ratan Maharjan, 58 expresses his desire to share the culture of Pilachhen to the world. Rather than promoting the physical aspects like the tangible heritages, Mr Maharjan wishes to share the intangible heritages instead. "We want to show tourists our culture and tradition not buildings" he says. The people of Pilachhen host a number of rituals and ceremonies around the year like rice feeding ceremony for new-born babies, "Ketapuja" (performed before the boy becomes a teenager), "Ehee" (pre-adolescent girls are married to the Bel, which is a kind of fruit) and "Baara" (performed for a girl between 12-14 years old before menstruation).
2015 Earthquake
Pilchhen too, was unable to avoid the 2015 Earthquake. During the earthquake, it was estimated that more than 70% of the homes and other structures with magnificent Newar architecture were destroyed, severely affecting both the physical and intangible heritages in Pilachhen.
It was a big challenge, especially in a site like Pilachhen, to restore the demolished architecture without destroying traditional and aesthetic look. Late Mr. Ramesh Maharjan, Chairperson of Maya foundation initiated and put lots of efforts to re-build Pilachhen without destroying traditional and aesthetic look in the aftermath of the 2015 earthquake. Mr Maharjan's initiative played an instrumental role to re-build Pilachhen, bringing back to its previous state while preserving Newar tradition and culture. Unfortunately, untimely and unexpected demise of Mr. Maharjan was a big setback for Pilachhen to complete its re-construction activities as planned.
In addition, European Union's SWITCH-Asia-funded Sustainable Tourism and Green Growth for Heritage Settlements of Kathmandu Valley (Parya Sampada) project, implemented by UN Habitat, is working to restore the area's original aesthetic appearance by preparing a heritage settlement recovery plan, revitalizing Pilachhen pond, constructing Pilachhen Falcha, assisting with home design, developing a tourism development plan, and providing various skill development training, including music. The project's efforts have made a substantial contribution to revive Pilachhen's both tangible and intangible heritages, which carry cultural and historical values as well as play an important role to preserve ancestral lifestyles and lives of Newar settlement community in Pilachhen, ultimately, contributing to promote tourism industry of Lalitpur municipality.
Tourism
Pilachhen hosts a number of well-designed and attractive tangible heritage sites along with a culture that consists of customs, tradition, festivals and other intangible heritages, which have huge potential to attract both internal and international tourists.
People of Pilachhen had hopes of turning Pilachhen to a tourist hub like all three respective Durbar Squares in Kathmandu, Patan and Bhaktapur. However, the goal is yet to achieve. Mr Dipesh Maharjan, 42 from Pilachhen says that after the reconstruction there has been progress made in the town, but the lack of tourists is still disappointing. People of Pilachhen are trying to push home-stay accommodation to attract more tourist but the progress is not so impressive.
Mr. Rabi Maharjan, 40 year old, Secretary of Pilachhen Guthi adds that Pilachhen has a huge potential to attract tourists, but they need to overcome certain barriers. There is a lack of business policy in Pilachhen. Even though the local businesses have seen a lot of progress since the reconstruction, people still need to learn proper business management. There is lack of communication between people and the tourist. One of the key problems is a language barrier and sharing.
Way Forward
People of Pilachhen are proud of their identity. They are well aware of the potential that their culture holds. They are very much keen to promote tourism in Pilachhen, and aware that they need to enhance more skills such as entrepreneurship and business management, language skills, technical improvement, in order to capture the benefits of Pilachhen's culture and traditions.
Most importantly, all the efforts and supports provided by various entities need to be sustained jointly by people of Pilachhen, preserving both tangible and intangible heritage in order to attract tourists, which are a means for their economic growth.
Sreejan Shrestha is an Intern at UN-Habitat