The 27th Session of the Conference of the Parties (CoP 27) to the UN Framework Convention on Climate Change (UNFCCC) has, for the first time in 2022, recognized 'the critical role of protecting, conserving, and restoring water and water-related ecosystems in delivering climate adaptation benefits and co-benefits, while ensuring social and environmental safeguards'. The window for international undertaking through the climate negotiation process is now open to address the adverse impacts of climate change on water resources. Now countries like Nepal experiencing severe effects of climate-induced disasters namely flood, landslide and drought may wish to lobby for ongoing threats and explore opportunities for accessing funds, technologies and building in-country capacities.
About two-thirds of the human body contains water - critical life-supporting resource. Water is used for drinking, irrigation or energy generation, livestock and aquaculture production, and improve sanitation and health. Several mining or manufacturing industries use water extensively to produce goods and services. Wetlands, watershed and soil management, and agroforestry expansion all require significant quantity of water. Environmental flows or dry season minimum flows to maintain downstream aquatic ecosystems have been a major concern in recent years. Furthermore, water is used to convert waste-to-energy or change the modes of transportation and to meet water requirements of human settlements in urban areas.
Water resource is unexpectedly and rapidly affected by frequent and intense extreme weather events. Heavy monsoon rains have claimed human lives and property in Shankhuwasabha, Panchthar and Taplejung in the third week of June 2023. The flood completely damaged the under-construction Super Hewa Hydroelectricity Project at Chainpur and destroyed Hewa bridge and other infrastructures. In mid-August 2023, unexpected flood in Kagbeni - religious place in Mustang district experiencing rain-shadow effect - swept away nearly two and half dozens of residential buildings and hotels. The Kag river was dammed by a landslide, burst and flooded in the lower reach, and displaced more than 150 people. These two examples provide clear evidence of climate-induced disasters.
In early August 2023, Nepal's largest 456 MW Upper Tamakoshi Hydroelectricity Project faced low water flow and extreme weather conditions, which resulted in low electricity generation. It is reported that dry season flow from April to June was notably worse as compared to the previous year and the Project could not supply 50 percent of the contracted energy, resulting in penalties(https://www.spotlightnepal.com/2023/08/04/upper-tamakoshi-faced-significant-setback-year-due-low-water-flow-ceo-mohan-gautam/).The 2014 study on economic impact of climate change in key sectors estimated loss equivalent to an annual cost of 1.5 to 2% of GDP from current climate variability and extreme events. It predicted future economic costs of climate change equivalent to an additional 2 to 3% of current GDP/year by mid-century. After nearly a decade of this study, Nepal is frequently experiencing direct effects of climate- and water-induced disasters on economic sectors such as agriculture and water resources. National economy is further affected by the destruction of roads and energy generation facilities. Less clean energy supply and damage to infrastructures will have direct economic loss in multiple sectors.It clearly signals to consider change in climate system, assess vulnerabilities and risks, and take actions to reduce potential and/or integrate climate science while utilizing water resources.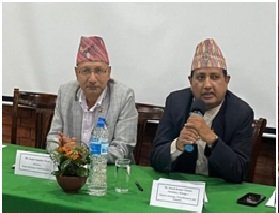 The ICIMOD study informs the melting of about 36 percent of glaciers in the Himalaya by the end of this century even if temperature is maintained at 1.50C as per the Paris Agreement. This is due to predicted higher temperature by 0.30C to 0.70C in the Himalaya. A recent study of ICIMOD further informs glacier loss by 65 percent. Overall water availability is expected to decrease by the end of this century. This is an urgent call to build capacity for climate change adaptation to survive from forthcoming climate-induced disasters and direct impact on water resources, economy, and ecology.
Nepal has developed several policies and plans to address climate change impacts. Implementation for SDG 6 (clean water and sanitation for all), National Adaptation Plan (NAP), Nationally Determined Contribution (NDC) and net zero emissions by 2045 require multi-billion $. Non-implementation of ambitious national commitments will further affect our economy and ecology. Nepal will further experience increased frequency of climate- and water-induced disasters that will continue to claim lives, properties, natural resources, and infrastructures, including water infrastructures.
Studies inform water sector policies yet to focus to make water resources climate resilient, promote ecosystem-based adaptation, adopt nature-based solutions, and maintain ecosystem services. Recalling the importance of waterfor both climate adaptation and mitigation, Nepal is yet to realize water inclusive climate policies and climate-smart water policies and plans.
Review of the progress of SDG 6 urged to take urgent action on water resources management and WASH services. This provided a basis to develop a Global Water Leadership (GWL) Program to explore possibilities to make water sector climate resilient and inclusive and address climate risks and opportunities. GWL is under implementation in 10 countries of Asia and Africa. In Nepal, WECS is coordinating and leading this program through multi-stakeholder consultative processes. In July 2022, this consultative process prioritized policy implementation, institutional coordination and data and capacity building as the key barriers. Stakeholders also prioritized root causes for barriers such as inadequate political will, incoherent approach for policy formulation, and inadequate capacity to implement existing policies. Overlapping of roles and responsibilities in 3-tiers of government is prevalent. Nepal lacks a policy for data generation and sharing, including institutional memory and knowledge-based human resources to implement the priority actions. Within a year, a response strategy has been drafted through multi-stakeholder consultative process.
On 18-19 August 2023, this consultative meeting was addressed by two secretaries of the Government of Nepal. Er. Dinesh Kumar Ghimire, Secretary at MoEWRI reiterated the delay in enacting water resources bill to implement the National Water Resources Policy (2020) and realized the need for sensitizing parliamentarians on the bill for early approval to sustainably manage water resources and expand its sustainable use for economic prosperity. Mr. Ghimire informed the strong commitment of the ministry to internalize and implement the response strategy and actions to minimize the adverse effects of barriers and their root causes.
Sushil Chandra Tiwari, Secretary at WECS underscored the importance of water for economic development and considered inadequate implementation of policies such as on integrated water resources management. Er. Tiwari informed nearing to completion of the river basin plans and stressed the need for a regulatory institution on water resources to ensure strong coordination, and monitoring. Er. Tiwari also informed the need to discuss the response strategy with the concerned ministries and development partners and water institutions.
The strategy is expected to contribute to make 'climate-smart' water resources policies and plans, and 'water-inclusive' climate policy to address the adverse impacts of climate change by accessing and mobilizing bilateral and multilateral funding sources, including the climate finance.
Photo courtesy Tejendra G.C.